On Sunday 9th October 2022 an Infotex team completed The Suffolk Whole Hog – a gruelling 5 miles (8km) run through multiple muddy and wet obstacles. This time the team was raising money for BIG KID Foundation which strives to see no young person lose their life or potential to youth violence.
We have combined our fundraising efforts with a team of runners who were tackling the London Royal Parks Half Marathon and so far have raised over £12,000.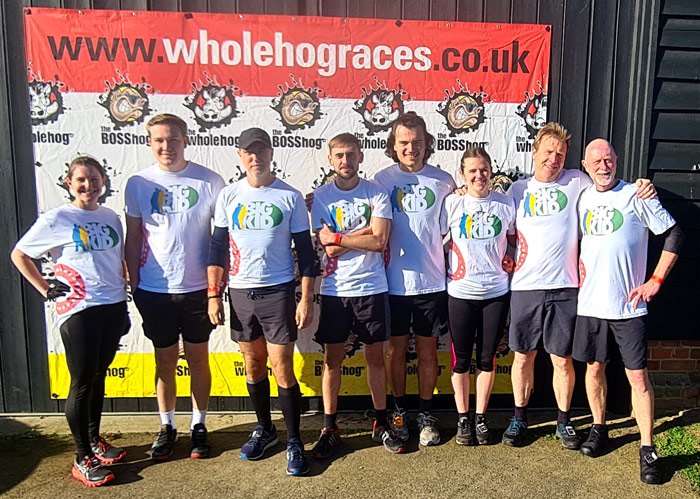 The Team
On the start line were Ant Agar, Chloe Agar, Katie Robinson, Matt Adlem and Will Ridd from Infotex. A special thanks goes to Will for stepping in with just 2 weeks' notice after James Fulford suffered an injury. The numbers were swelled by friends and partners Kevin Bolton, Shaun Bailey and Theo Glashier.
The Race
Taking place in the picturesque surroundings of Wantisden Valley, there was an early morning nip in the air following overnight lows of 4°c. However, by start time the sun was out and the mercury was just breaking through double figures.
A group warm-up was led by the enthusiastic Whole Hog staff and followed seamlessly into the start of the race, with the team's pristine white t-shirts disappearing into the distance. Thanks to Suffolk company EcoTeePrints.com for all the help with our amazing shirts – they definitely made our team easy to spot.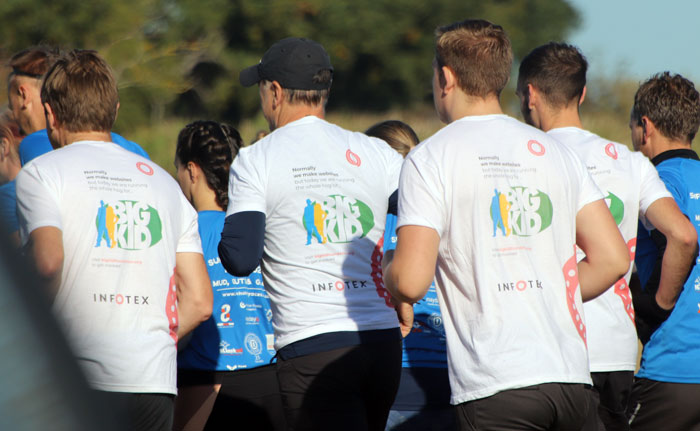 Thereafter followed 5 miles of off-road running, which involves a nice early soaking from a firehose to get the blood chilled and obstacles that wouldn't look out of place in a SAS selection course.
The ones the team talked about most after the event described a lot of in-the-water, under-the-water, in-the-tunnel experiences, enhanced with an infusion of mud, so that it seemed to be coming out their pores when they returned.  Some of the mud, we understand, was more-than-mud, the clue being surrounding fields of free-range pork in production.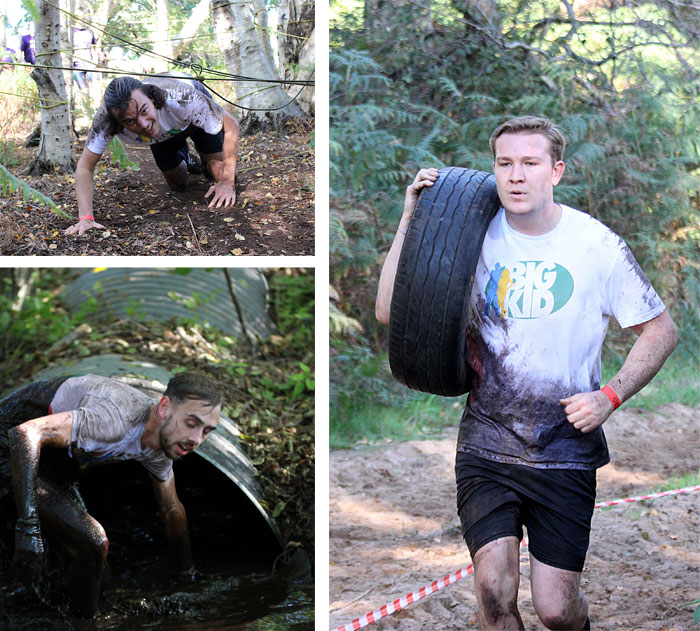 One section late in the course saw competitors scrambling through a tangle of elastic ropes while being showered by freezing water, then up a hill to rapidly slip down into a deep, dark and murky pool to go under and over a series of beams.
As they got out of the water the foul stench of the following obstacle was met by equally foul language as they realised they had to go under a low cargo-net through some mixture of thick sticky mud and other unidentified farm-yard deposits.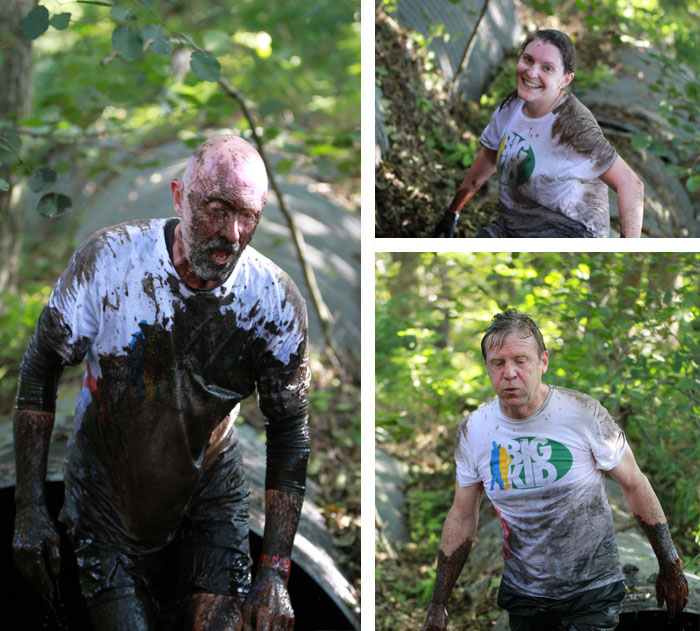 The run into the finish culminated in a steep rope climb up a 10ft stack of hay bales, before a staggered descent down the other side.  Then a welcome rinse under a hose, which the organisers had thoughtfully provided.
The Results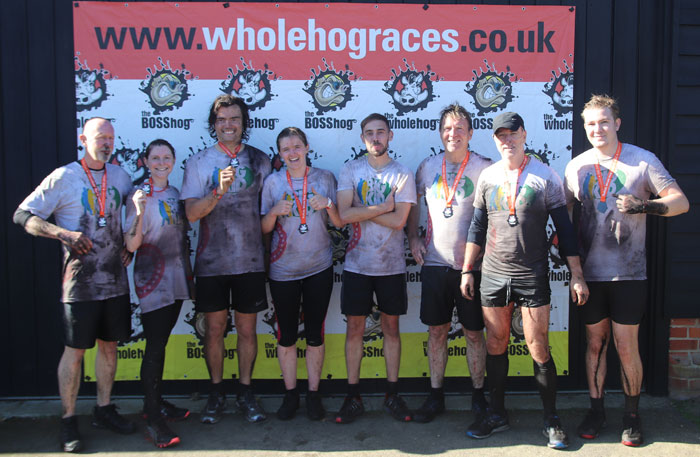 Matt and Shaun came home first and second from our team and, despite being sent temporarily the wrong way by marshals, beat last year's time by some distance (52:54 / 56:10). These fantastic times put them in 4th and 6th overall for the entire event!
Theo beat the hour mark with a 59:59 (9th overall), and Kevin not far behind in 1:00:16 (11th overall).
Our Production Manager Katie clocked 1:04:36 which made her 4th fastest female on the day!
Father / daughter combo Ant and Chloe crossed the line together, followed not long after by Will – all finished in under 1 hour 20 minutes and in the top 105 competitors out of 659.
About BIGKID Foundation
If you wish to find out more about why we're supporting BIGKID this year please view our "A Whole Hog and Half a Marathon for BIGKID" article.
To find out more about the charity itself visit www.bigkidfoundation.org
Finally, and most importantly, to support the efforts of our team (and our friends who ran the Royal Parks Marathon) you can still donate here.