Remember, tailoring your site to search engine rankings improves the user-experience of your site to no end. With so much competition out there, SEO is crucial to your website's success.
What is Search Engine Optimisation (SEO)? 
SEO is the process that ensures your website ranks as highly as possible in organic search engine results. This improves traffic to your website and attracts relevant consumers to increase conversion rates.
Most people involved with SEO are predominantly concerned by Google's ranking algorithms, as Google is by far the most popular search engine.
Ranking Factors
Search engine rankings are based on a series of algorithms that take into account numerous factors to deliver the most relevant, safe and accurate results to a search engine user.  Google Search algorithms determine the results of a search query by looking at the relevance, quality, usability, and context of a site, and each factor is weighted differently depending on the user query.
These algorithms never sit still. Search engines are always looking for the next best way to serve you the highest quality results for your search. So, SEO that worked for you in 2014 would fail in 2021. No one can know Google's exact algorithms, but you need a team with their ears to the ground at all times, looking for these changes, to ensure search performance security.
On-site and technical SEO
On-site SEO refers to the optimisation of the elements of your website controlled by you, including the code and website content.
Content
Your page content should always be specific and target the right audience. It should be high quality and offer accurate information in good detail, as algorithms often favour more content than less. As well as high-quality writing and images, your content can be easily optimised by keywords and video to attract relevant queries.
Keywords
Each keyword on a website grasps a business opportunity at the exact point the user shows intent. Making sure these keywords represent your business goals is the key to a successful SEO strategy.
Video
Like text and keywords, video is rankable on search engines. Videos are also a good option because they are easily shared on social media, which in turn helps your page ranking in search engine results. Read our blog to find out more about how video can help your ecommerce website.
User Experience
Google monitors user-experience metrics in order to get a picture of how well users are responding to a particular website. This is measured mainly through click-through rate, bounce rate, and time spent on site. If a site has a high bounce rate, for instance, it indicates that the site might be drawing in the wrong audience. This means that your site design needs to be appealing and easy to navigate.
Core Web Vitals
Core web vitals were recently added to Google's ranking algorithm and indicate the functionality of your website loading speed, responsiveness and stability for its visitors. The metrics are designed to improve the quality of the internet by measuring numerous areas of a website.
Mobile-friendliness
Having a site that is user-friendly across multiple platforms is an important ranking factor, especially mobile. This means that you need to ensure your mobile website has a mobile friendly design and fast mobile loading time to keep your visitors happy and your rankings up.
Security
More often than not, Google ranks HTTPS websites more highly than HTTP ones, as they are more secure.
Business Information
If a user searches your business you need them to find out all of the correct, updated contact information. So, remember to always update your name, address, and contact number both on your website and on the relevant business listings online (such as Google My Business) and online directories.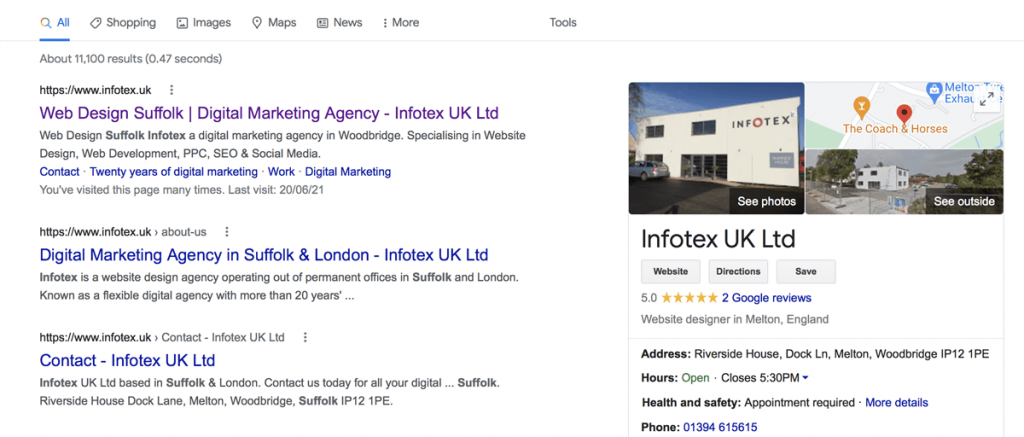 It's also common for users to search queries including "near me" in the search bar, so it's vital that you have your location up to date, especially if you deal in local business.
Off-site SEO
Off-site SEO refers to when Google or other search engines use information from places on the web other than your website to affect its ranking. In other words, Google looks to the rest of the internet to assess the importance of your website.
Backlinks
The most important of these is backlinks, that is, other website links that mention you. This has been a crucial ranking factor since Google's inception – and things don't look like changing. The quality of your website has to resonate across the entire web.
Google Ranking algorithms tackle web spam
In this Google Search Central Podcast, a member of the Google Search Quality team specialising in spam explains how algorithms fight spam websites and websites that are at risk of being targeted by spam. Google demotes sites specifically built for spam so that they don't show up in search results. Less than 1 percent of users land on spam pages on Google despite 40 billion spam pages showing up on Google every day.