It may have killed the radio star, but it can sustain your business
With internet sales accounting for over a third of all retail sales in the UK, we thought we would dig deeper into the trends keeping ecommerce businesses ahead of the game. And first, it is video.
You may know already that the younger generation are the video generation… and they're only going to continue growing. TikTok, Amazon Live, InstagramTV… it's hard to ignore that video is the desired content. In fact, data from The State of Video Marketing Survey 2021 suggests that the average person watches 18hrs of video content every week (2.5hrs per day).
No wonder YouTube remains the second largest search engine in the world. Since its first video upload ("Me At The Zoo") in 2006, it has grown and grown. Easy to upload to, and easy to embed into your site, it can also help you gain additional exposure in search engine result pages. And it's free.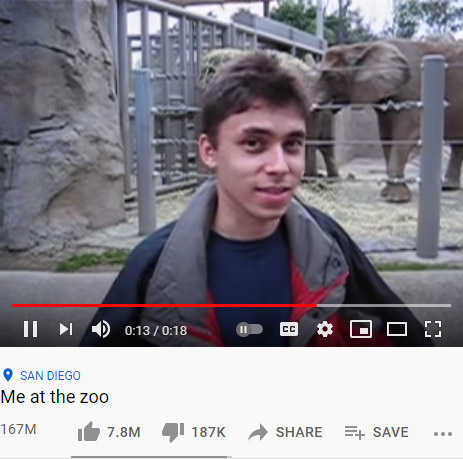 Video is the best virtual option for bringing people closer to a real-life retail experience. ASOS were one of the first to allow users to get a view of how their clothes look on a real person while they walk up and down – not exciting, but video that is certainly well appreciated by their customers.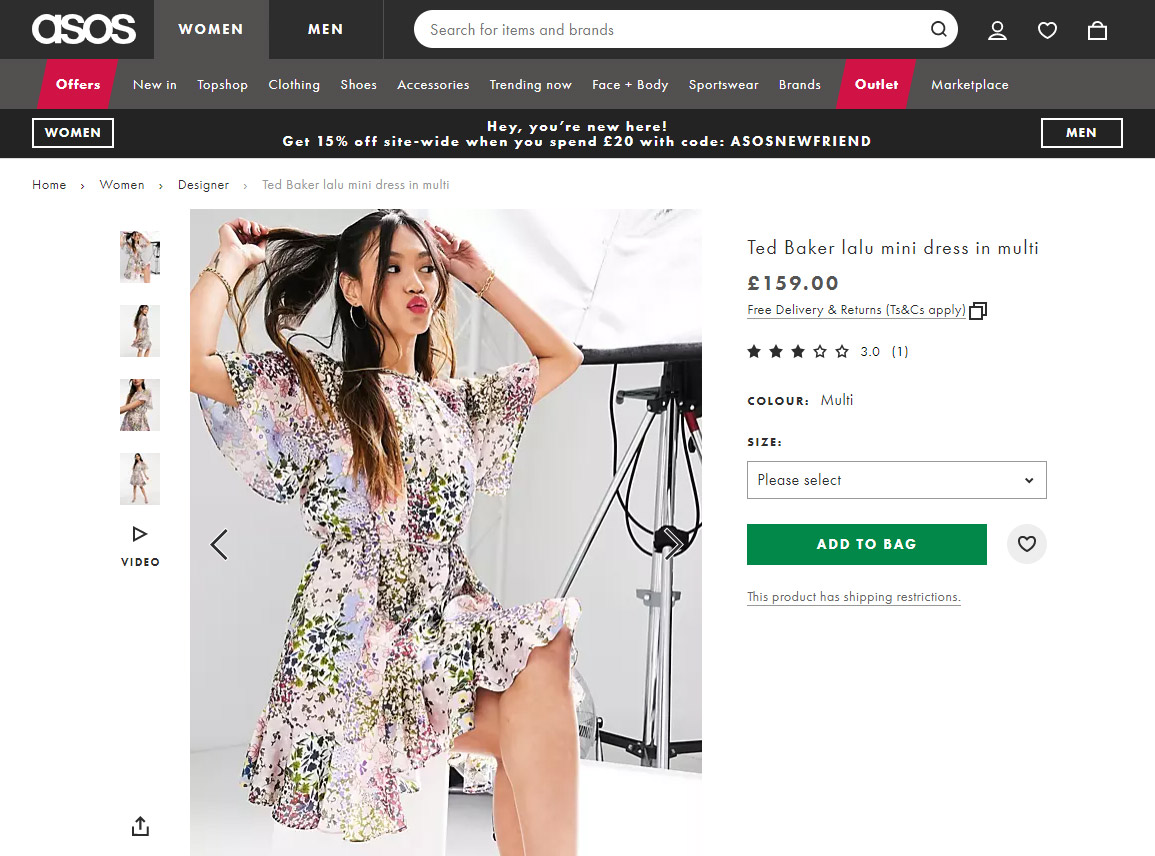 Now some stores even have virtual fitting rooms – like Visualook – so that you can make sure you get the perfect size. In our current pandemic situation more than ever, people are looking to live out physical experiences recreated as closely as possible online. 
How does video help you reach customers, and keep them?
You've probably heard by now that, as a result of technology, most people online have a shorter attention span than a goldfish (8 seconds compared to their superior 9). This means that there is a small window to catch someone's attention on your website homepage or in their social media thread. Videos are proving the most effective way to do that. 
Videos get more likes and shares
In case we need confirmation of the attention-grabbing quality of video… it says it all that people are twice as likely to share video content with their contacts than other types of content such as text, images or audio. This has big benefits for social media expansion. 
Video benefits SEO
Video is rankable on search engines, and so it can help increase traffic to your website in the same way as text and keywords can. Videos will not only increase your organic traffic in this way, but are easily shared on social media, which in turn leads users to look up your product in search engines for more information. 
Videos build trust
Having videos on your ecommerce website builds trust between you and your customer. Clients can more clearly and accurately see the product depicted, and are therefore more likely to believe that they will get what they pay for. What's more, the investment you make in the creation of the video informs your client of how strongly you believe in the value of your product.
Video increases ROI, sales, and reduces returns
When customers feel properly informed about a product, they are more likely to convert to sale. Similarly, knowing what to expect in a product means that customers are less likely to return an item if they've seen it on a video.
What kind of ecommerce videos work?
The most commonly-created type of video for ecommerce are explainer videos. Quite simply, they explain your product or service. Often animations, such videos provide the means to concisely and effectively communicate what your business proposition has to offer. Dropbox notoriously found its market through its explainer videos released by founder Drew Houston to communicate his concept. 
One of our clients, Access Garden Products, uprooted some of their archive video guides from the 1990s and recreated them for their current products. Take a look on their website: www.garden-products.co.uk.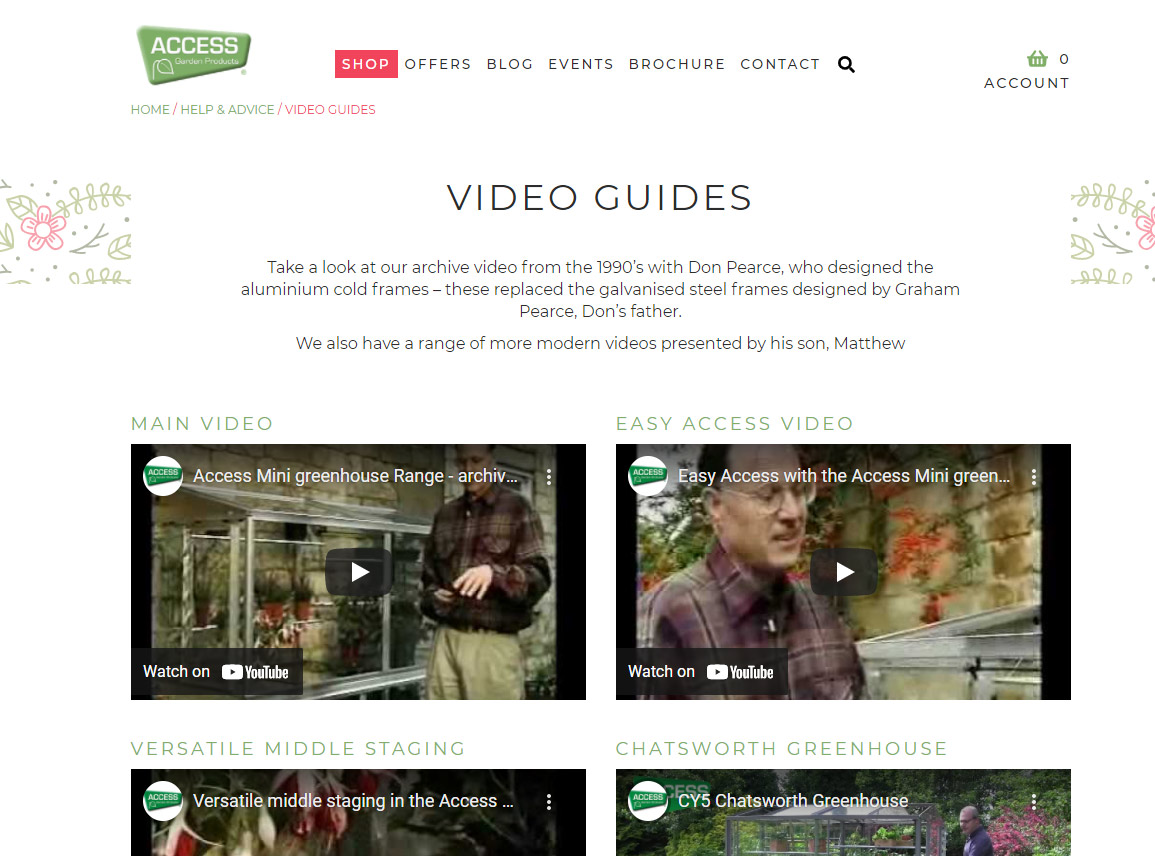 Which video types might you have on your ecommerce website?
Product demos
The closer a product looks online to how it really is when a customer receives it, the less likely it is to be returned. Product demos help a client to know what to expect from a product, and this increased trust means increased conversions.
Unboxing videos
Take away that element of dissatisfaction that flashes across a customer's face when the parcel just isn't quite what they expected… Are mugs usually so small?
"How-to" videos
By offering a step-by-step guide to how to use your product, your clients will  know what to expect and thus feel more secure in their purchase decision making. 
Story videos
Everyone is drawn to narratives, so having a short story video on your site can be an effective way to get clients interested in your brand or product in a personal way. 
Comparison videos
Online shopping can be overwhelming, even just in terms of choosing from the sheer range of products on offer. A comparison video can help a client decipher between two similar products on the market, and clearly outline the pros and cons of each to take away some of that purchasing reluctance, and help them make an informed choice. 
Testimonial videos
User-generated videos are on the rise, and, in the same way as written reviews, can do wonders in building a potential client's trust in your product or service.