Swiss Farm are focused on giving customers both excellence and value for money – a place where advice, inspiration, and products of excellence are all just part of the service.
They wanted to bring their traditional values and great service ethic to a 21st century digital audience. The new website had to showcase not just the skills and product on offer, but also had to engage and interest the audience.
We wanted to create a feel of where customers could feel as if they were at Swiss Farm, and develop a rapport with the business and its vision.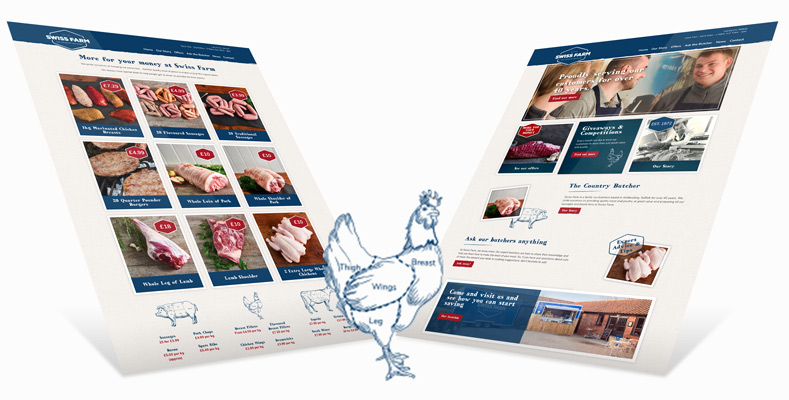 We designed and developed simple, clean and well-structured pages that mirrored Swiss Farm's honest, wholesome, and approachable attitude.
One of our aims was to create a relationship between Swiss Farm online and consumers. We managed to achieve this by including an 'Ask the butcher' section where customers could write in and ask for advice and find ideas – just as you would at a traditional butchery counter, strengthening the personal touch.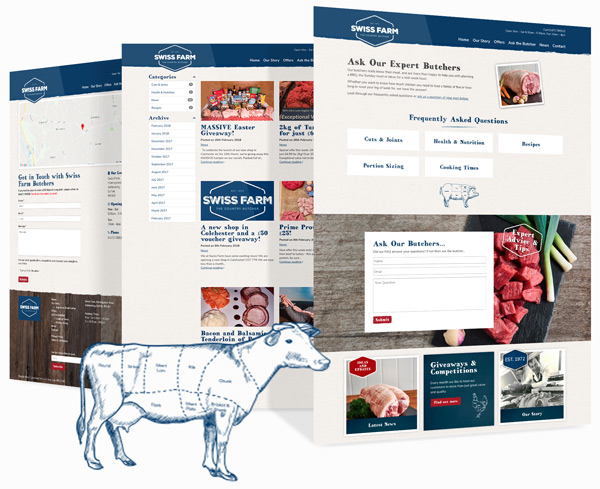 Throughout the build we were conscious that we needed to ensure the message of quality and value shone through. We accomplished this by developing a fuss-free layout, using a few bold, but traditional colours which didn't detract from the product offering.
With our interactive question and answer page, we also successfully gave Swiss Farm and their customers an online portal through which they could communicate. This direct link gave Swiss Farm the opportunity to speak to local customers as well as those further afield.
Working on this project has given us further insight into how to position an existing brand so that it appeals to a broad digital audience whilst maintaining the traditional values at the core of the business. Visit: www.swissfarm.co.uk