In March I reported on our office closure.  Last week we held the first of our quarterly "All Company Gatherings" since then.  The format of these gatherings is an evolution of how we used to gather together in previous years – in an age before words like "covid" and "pandemic" were in our vocabulary.  We have enjoyed on many occasions the opportunity to spend extra time together, and do something unusual, not specifically about our work, but often related to it in some way.  Events have usually been based in Suffolk, which is where the company is rooted, and included sailing trips, barbeques in remote fields, country house sleepovers, and visits to arts and crafts centres.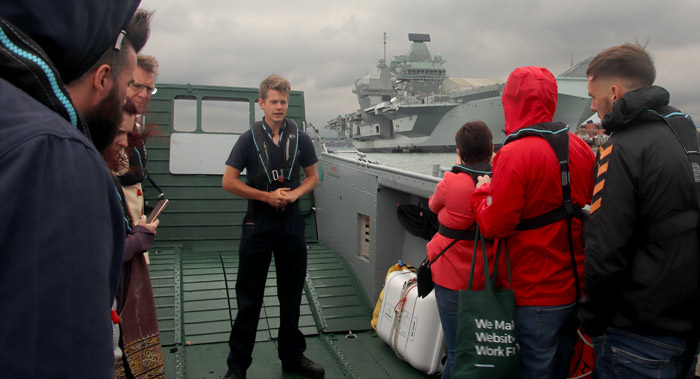 This time, released from our "Suffolk HQ" constraints, we branched out and chose Portsmouth as the location. The rationale behind this decision was characteristically eclectic.  In January we had set the dates for 4 gatherings across the whole year, and asked everyone to keep their diaries free.  Around that time, I also happened to enter my newly acquired sailboat in the Round-the-Island race, which is a 1200-yacht yacht race around the Isle of Wight.  This was on 25 June, the day after our Summer Gathering.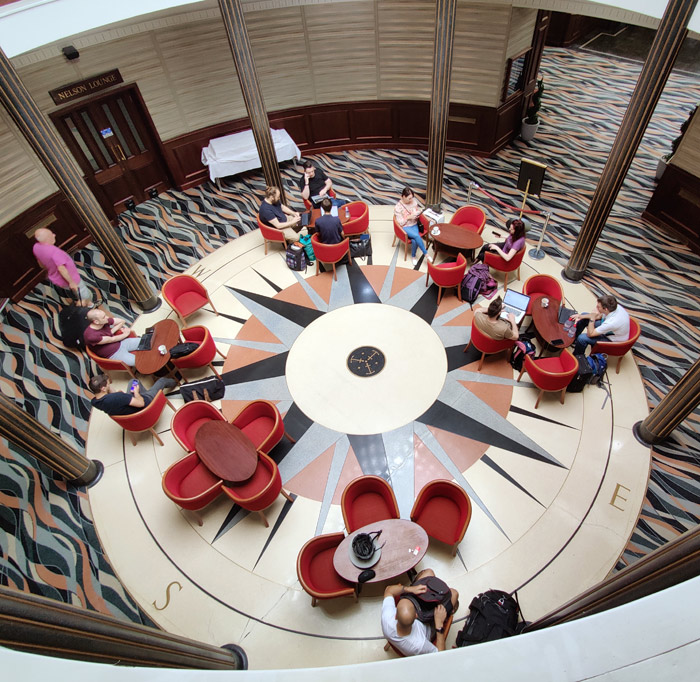 Realising I had a formidable logistical challenge looming – to spend 2 days with the company and then get onto the water and across to the island on the Friday evening – I just needed to persuade our head of production Katie, who has assumed the role of "chief gathering organiser", that we could go to Portsmouth.  Leveraging some of the tactical persuasive skills learned from my children, I was able to make the argument that it was high time we headed further afield, several of our staff live and work in Surrey, Sussex, Kent and London, so how nice it would be for them to have the Suffolk mob make the effort this time.  She was quickly persuaded and seized the opportunity to create a fantastic company event. 
In our maritime hotel next to the historic Portsmouth Historic Dockyard, we all soon grasped what a fascinating and fun place Portsmouth is – steeped in maritime history, packed with things to do and interesting mixture of serious stuff going on – university, MOD, shipping, business – blended with a holiday atmosphere, the bars and restaurants of course all brimming with potential.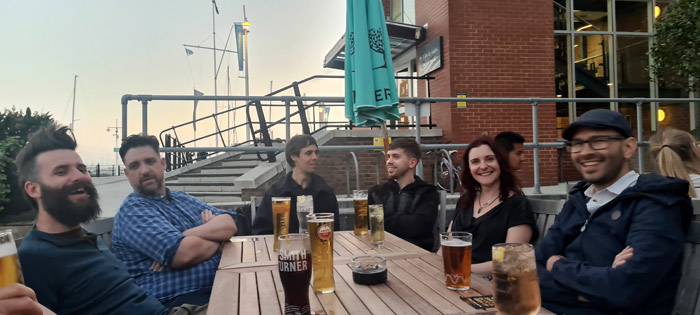 During our visits, we were able to carry on working operationally, and also spend a useful afternoon discussing the world we are in, our place in it and our own strategy for the business. Reflecting on these, we set ourselves the challenge "how  can we improve Infotex in a time of climate emergency and facing economic uncertainty".  We have committed the business to work on projects that aim to do more with less, so that we can help our clients to beat inflationary pressures, and we can operate using fewer resources. Over the summer, our ideas will be developed into projects, and when we next gather in October, we aim to pick up the best projects and move these forward.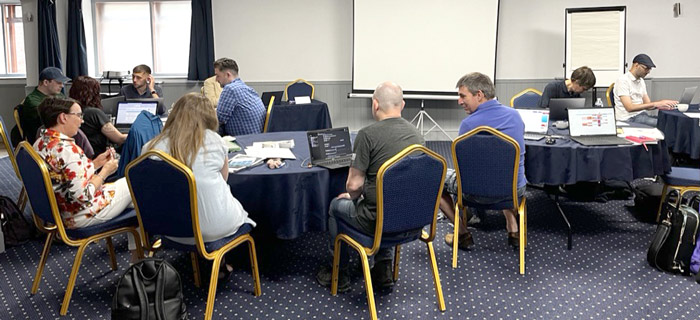 Outside of work, we had a vibrant and competitive escape room session, which taught us all more about ourselves, followed by a visit to Boathouse 4 in the Royal Naval Dockyard, and a tour of Portsmouth harbour in their restored landing craft, which everybody who likes boats and naval history (like me) loved, but that might not have been everybody!