Imagine the excitement of going travelling, visiting those far-off places that you've always dreamed of.
Perhaps you're finishing university and intending to take a gap year (or two) to travel the world. Maybe you're taking your family on their first holiday abroad or simply heading off with friends for a well-earned holiday. Whatever the reason, the challenge of storing your travel documents securely, whilst ensuring you have access to everything you need in an emergency is vital. That's where Mayday comes in.
Mayday is a web portal that can be accessed via a physical QR-coded tag, which can be worn as a bracelet, necklace, or simply as a keychain on a bag. Mayday offers vital support in a range of situations, including:
Emergency – In an emergency (e.g. you fall seriously ill) the QR code can be scanned by a 3rd party which will bring up critical data to assist you such as medical information, allergies and emergency contact details. There is also a local language 'help message', should the 3rd party not speak English.
Document storage – store all of your travel documents, itinerary and other important files. Access them from anywhere in the world at any time, perfect to avoid lots of printouts or needing access to a printer, and as a back-up in case your phone gets stolen.
Family & Friends – share your QR code and a PIN with friends and family so that they can access your itinerary and other documents as needed. No more panicky phone calls from worried parents!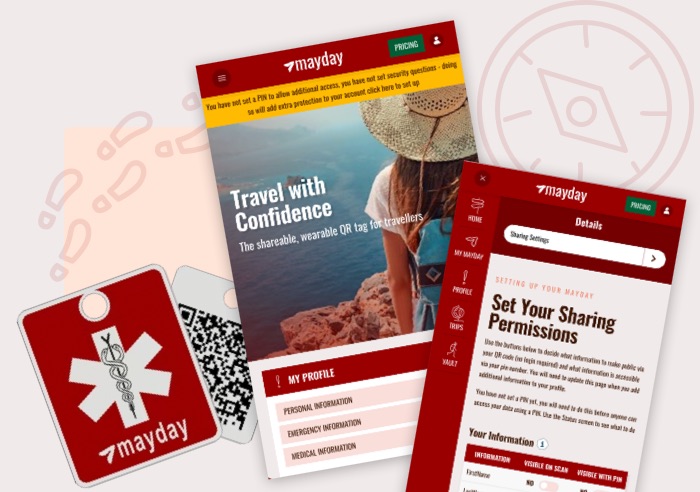 User experience and security were at the forefront of this project. With highly sensitive and personal information, we needed to be sure that everything was stored securely. Therefore we have added varying permission levels which are controlled by the account holder so that only the correct information is displayed upon scanning the QR code.
Our design team worked closely with our technical team to ensure that we developed an intuitive on-boarding process with clear signposting throughout.
"The Mayday team were a delight to work with. They 'got' the brief right away, hit the brand position first time, and delivered on time and on budget."
James Dunford Wood, CEO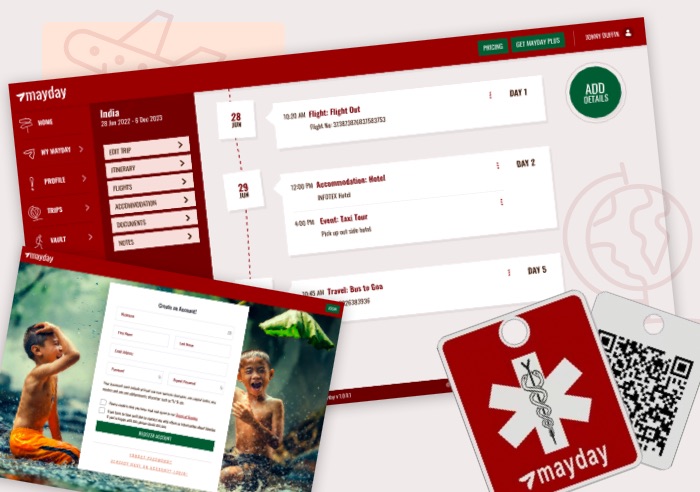 Mayday provides reassurance to both the traveler and their friends and family and we're excited to continue to support Mayday as the platform grows.
Head over to mayday.travel to take a look and sign up for yourself.