Learn how to promote your business with Google My Business posts. Google are continuing to release new features for Google My Business in 2019. Back on the 22nd June 2017, Google announced they were launching Posts, their long-awaited addition to the Google My Business listing platform. This feature is available to all businesses and you are given a range of options to regularly post content onto your Google My Business (GMB) listing. Posts are like free mini-ads that show up in your google organic and maps search results (knowledge panel).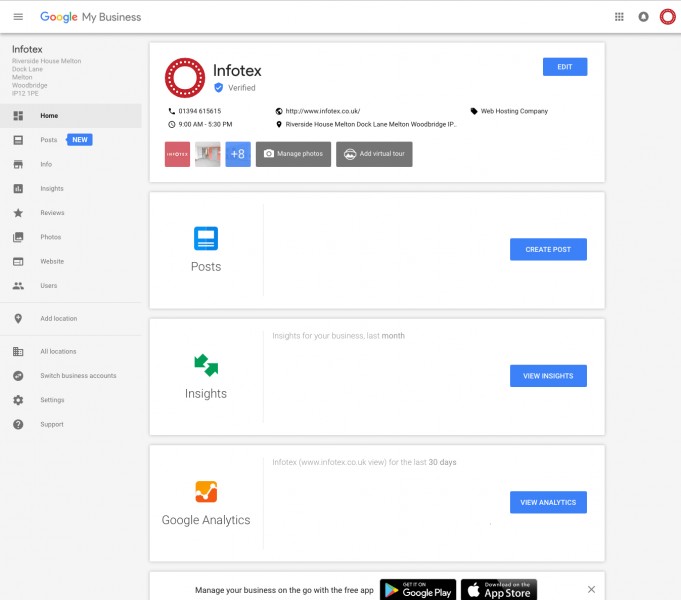 If you haven't already got a Google My Business listing then what rock having you been living under!? It provides those searching for your business with all the important information they will need such as:
Click-to-call button
Link to your website
Directions to your location
Your company Name, Address and Postcode (NAP)
Questions & Answers (Q&As) – where a potential customer can ask a question to the company
A short business description so the user knows what product or service you provide
In addition to this, a Google My Business listing is essential to a website's local SEO, especially those searching using local terms. Fully optimising your listing could help improve how your website ranks organically on Google for a whole array of search terms related to your business.
The best thing of all? It's completely free!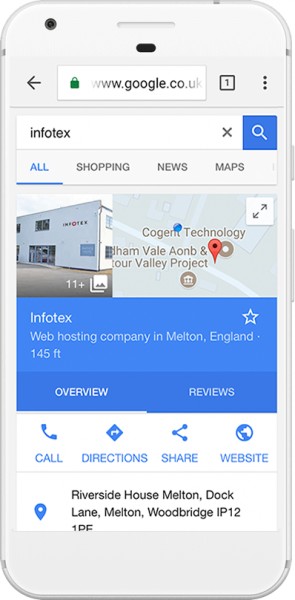 Posts is one of the latest features to be added and just another reason why your business should be taking full advantage of what a GMB listing could offer.
Recommended Factors to Optimise your Local Ranking on Google
Complete all your business details
Verify your Google My Business (GMB) location(s)
Keep your business hours up to date
Respond to reviews left by customers
Remove duplicate and spam GMB location listings
Building quality relevant citations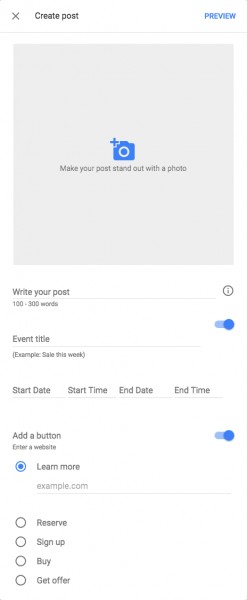 The Posts feature in Google My Business allows companies to post an image with short write-ups accompanied by "calls to action" below in the form of buttons. The variety of opportunities that this gives small businesses to promote their product/service are endless –
A WEDDING COMPANY –

Title – Open Day July 15th
Post – Come and visit our stunning wedding venue on July 15th from 9am-3pm. It'll be dressed for the occasion and we'll be handing out free champagne!
Call to Action – Reserve. (Link to page for open day)

AN ONLINE RETAILER –

Title – Summer Sale Now On – 50% off!
Post – We're celebrating Summer in style – For the next week everything in our summer range will be 50% off. So visit our online store now and grab yourself some bargains!
Call to Action – Get offer. (Link to summer sale page)

A LOCAL RESTAURANT/PUB –

Title – Sign up to our newsletter for exclusive offers!
Post – We're all about rewarding loyalty for our valued patrons. Sign up for our newsletter and receive regular discounts on meals, drinks and win vouchers!
Call to Action – Sign Up (link to newsletter signup page)
Those three examples are just the beginning in how you could use Posts to market your business directly onto the Google search results page. These posts would also expand the size of your listing, a huge bonus due to the hypercompetitive nature of the Google SERP.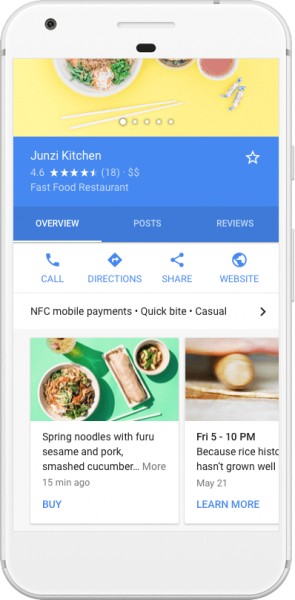 Once setup, there wouldn't be any extra work involved in posting here if you are already using social media outlets such as Twitter/Facebook. This is the answer to the question "How can I promote my business on Google without spending loads of money?"
If you are interested in setting up a Google My Business (GMB) listing and utilising Google Posts then please get in touch with us and we'd be glad to guide you through the process. Our marketing department have a wealth of experience helping businesses improve their online presence through Google My Business.