The OVO Tour Of Britain is a multi-stage cycling race on British roads. It is conducted in 8 stages in which participants race across Britain to complete in the race in the fastest time.
On the 8th of September 2017, the race speeds through our county of Suffolk, from Newmarket to the finish line in Aldeburgh. We have always loved the race at Infotex – the cyclists pass our offices and last year for the Women's Tour we were out on the road cheering them on.
This year in 2017, we had the chance to get closer to the event, and become even more of a participant. Suffolk Coastal District Council, together with the fantastic marketing company The Bridge, approached us to become a sponsor of their Taste of the Tour campaign, a campaign which supports the Tour itself by engaging with the community and local businesses through bike trails, family activities, and encouraging local food businesses to give a 'taste of the tour' by coming up with menu specials and special events.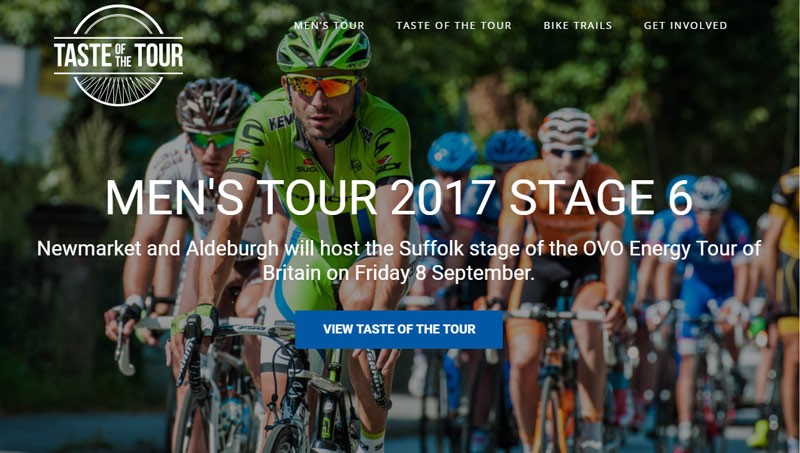 Infotex is always keen to contribute to events that benefit the local community, especially an event such as this which promotes local business, family activity, wellbeing and engagement. Through consulting with Suffolk Coastal District Council we were delighted to be offered the opportunity to produce a unique logo for The Taste of the Tour, and building them a website which encourages engagement and participation in the campaign.
Our design team worked on a logo that incorporated the spokes of a bike within a strong stamp brand, and created a website with stunning visual scenes of our beautiful local area, together with clear information on local activities and events.
It was really pleasing to see the momentum grow with the Taste of the Tour, with more companies joining up to take part along the way. The culmination, of being at the finish line waiting for the cyclists to hurtle through the High Street of Aldeburgh, felt truly exciting. The kids from the local primary in Aldeburgh had their own mini race which was really delightful. People from the whole area were lining the streets – whole area was buzzing with excitement.
We were so pleased to be working with Suffolk Coastal District Council on Taste of the Tour, and we look forward to going on Tour next year! We are also please that they delighted with the results [get quote], and we look forward to working with them in subsequent years to build and celebrate the Tour of Britain with The Taste of the Tour campaign.
Cllr TJ Haworth-Culf, cabinet member for Customers, Communities and Leisure, said:
"Thank you to Infotex for putting their hard work and creativity into the Taste of the Tour website.

"The platform allowed us to promote the OVO Energy Tour of Britain in an exciting way and to encourage more people to get involved with the international cycling event.

"We've had some great feedback from families taking part in the bike trails and we hope we can build on this success as cycling continues to grow in Suffolk Coastal."