For the majority of the time, the Infotex team are working from home. We asked some of our team what their setup looks like, and what tools they have at their desks to help them get on with work more productively. 
Cameron
When I started working from home, working at the kitchen table did not work for me at all. Working at a single screen in a non-professional space was unlikely to be productive so now I have a small home office set up in the box room. I have a shelf above my desk for my laptop and screen. It is also the dressing room, so the views are limited… but I make sure to take good breaks at lunch and walk the dog.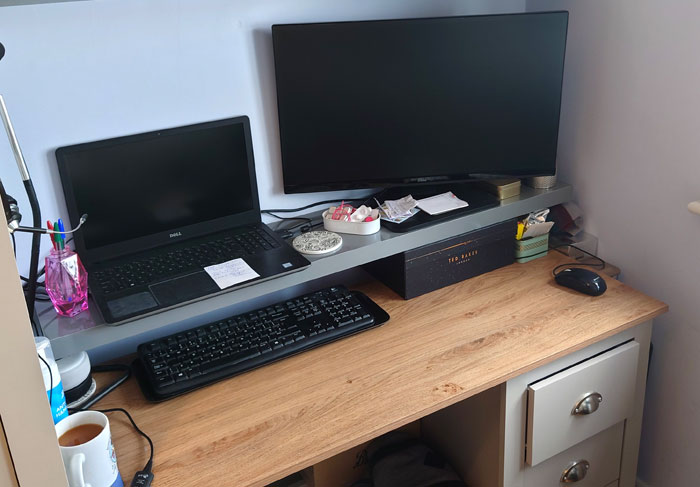 ---
Debbie
I am fortunate that my children have grown up and flown the nest so I have set up my office in one of our spare rooms. I have a stand for my laptop, a special chair for my back, and a homemade footstool because being short I can't touch the floor! I do not have any particular gadgets for my desk but I do take an extra-strength vitamin D tablet every morning. From my office window, I am able to see the blackwater estuary in the distance.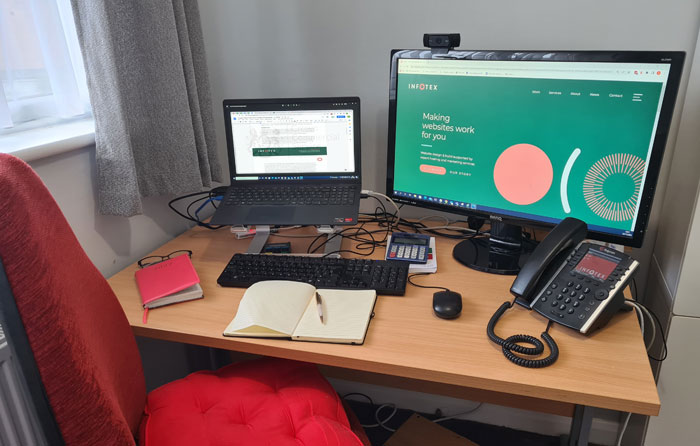 ---
John
I work in my home office which also doubles as a bedroom. I started out with a portable table and never really liked it so over Christmas 2020 I spent a day making a custom desk – it's one of the best things I've done. Being custom the height is just right and it is relatively sturdy with no wasted space. Best of all the monitors are raised giving additional space and the right height. When I was in the office I had persistent neck pain but since the change I haven't noticed it. Next step is to varnish the desk top, which should be over the Christmas break this year.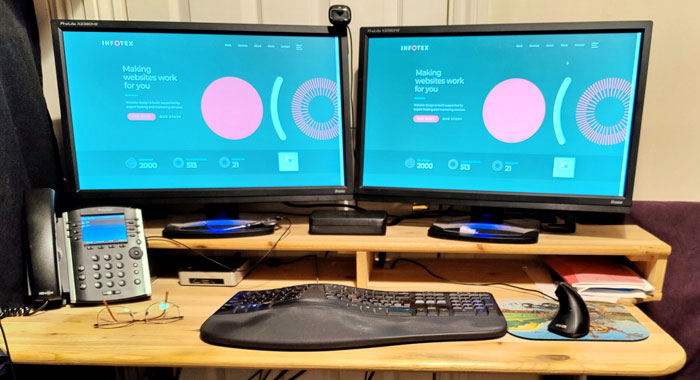 ---
Katie
After 3 months of working at my kitchen table, I needed more space and longed to not have to pack everything away each evening. I am now in what used to be my children's playroom, it is quite small but works perfectly.
My monitors are on adjustable arms to give me as much desk space as possible. As well as a lamp directly above my desk I have a light therapy lamp for the winter time which does help with the lack of daylight.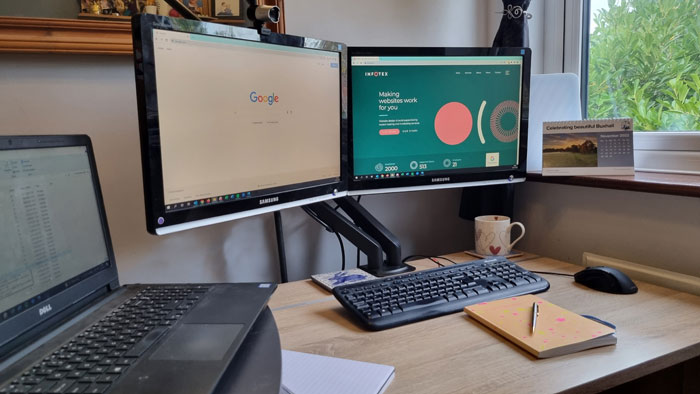 ---
Michael
I have been working from home since before it was cool, so I have spent a lot of time and effort getting my setup just right. My main hobby at the moment is video game development, so I spend a lot more time behind my desk than the average person.
Here is a breakdown of what I use:
Mechanical Keyboard: 

I use a mechanical keyboard as they are tactile, durable, and responsive (

editor note: and very noisy

). The one I use can switch between multiple devices with the push of a button.

Headphones:

 People often recommend noise-cancelling headphones, I do not agree with this, sometimes you need to hear things around you (like the doorbell) – so there are headphones with a "passthrough" feature that plays back whatever is being recorded by the mic (you can turn it off).

Chair:

 I've got a Herman Miller Aeron – even refurbished this was an expensive investment but I spend a lot of time in it.

Monitors:

 I prefer large high-resolution monitors so I can fit lots of open windows on them and it helps switch to different tasks quickly.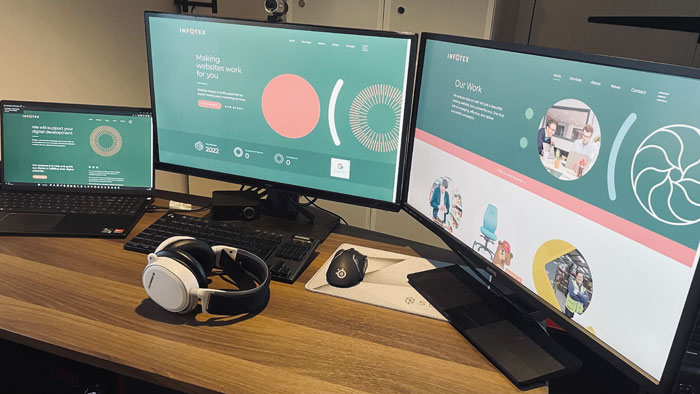 ---
Richard H
From my home office window I can see the tops of some bushes and trees with a rambling rose growing over it which looks lovely when it is in bloom. For a change of scenery, I'll occasionally work in the living room or conservatory. 
Lighting is important to me – I don't use anything special, just a 100W equivalent LED bulb so that there are no shadows in the room.
I've built a monitor stand out of some old kitchen units to support my two monitors to get them to the correct height. I've raised my desk to a suitable height using bricks as an adjustable desk is excessively expensive! I have a decent adjustable chair (but I do partially regret not getting a proper osteopath approved one) and a foot-stool built from more old kitchen unit pieces! Why didn't you buy one: They are expensive and I like upcycling spare items.
---
Chloe
Being a one-screen worker, and not nearly precious enough about my back, I like moving around and working from my laptop with cable headphones in whichever library, café, or kitchen will have me! Because of my work I have few meetings and so can afford to be in more bustling, noisy places, or in silent zones of a library, and find I really thrive off the changes in scenery.
On days when I work from home I have a desk that belongs more to the house plants that live there than it does to me, but they make space for me when they have to…