Google Analytics is a (usually) free web tracking tool, and the most popular visitor analytics service. It tracks users across websites it is installed on, and provides data on how people are using and interacting with the site. The majority of websites that use Google Analytics are using Universal Analytics.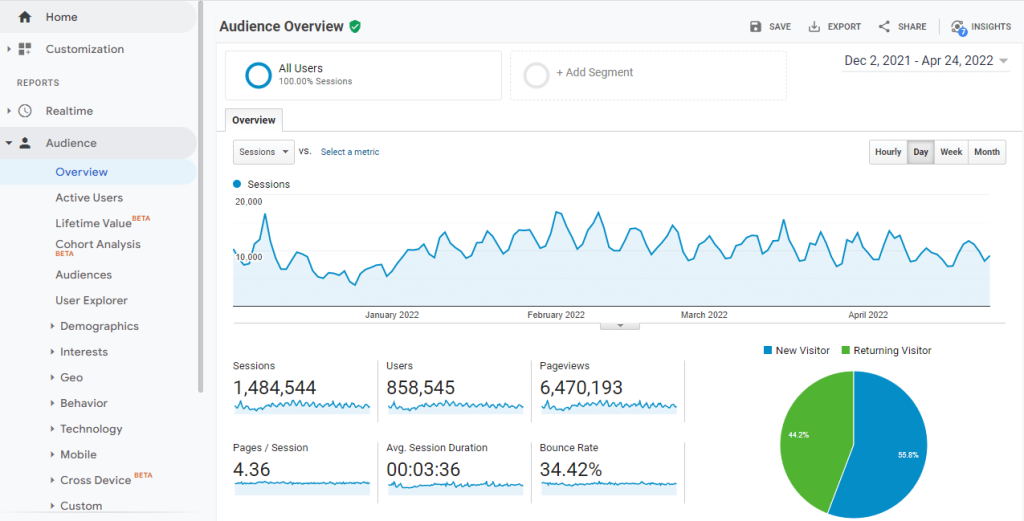 In October 2020 Google launched Google Analytics 4, and in March 2022 Google announced that Universal Analytics (sometimes called GA3) will no longer process new data from 1st July 2023. This leaves just over one year to make the transition to Google Analytics 4. After this date, Google's analytics solution for websites will be Google Analytics 4.
Google Analytics 4 marks a large shift in terms of both measurement and reporting moving from session based to event based. The new version is cited as privacy-focussed, as it will eventually become a cookie-less solution and as standard has IP anonymization on by default. It will also utilise machine learning to fill in the gaps of web users who opt-out of cookie tracking and help make predictions on your data.

This change in measurement from session based to event based means much of the existing reports and metrics in the current interface are either removed or replaced.  Don't expect to see the same reports that you're used to. While some data is lost from moving away from session based data, the new event model includes certain events being measured automatically including scroll tracking, outbound clicks (clicks to other sites), file downloads and video engagement.  
What does this mean for you?
In the period between now and July 2023 we are recommending sites implement the new GA4 version of Analytics and run this in parallel with their Universal Analytics. This gives a window of time to not only get used to the new version, but also to collect data to allow date comparisons for reporting. If you'd like to get a taste of what the new Google Analytics 4 reporting tool looks like you can access Google's Demo Account.
Currently, GA4 feels a little way off from becoming the web's primary analytics tool but we expect to see it grow in functionality and popularity as the July 2023 date nears. However, GA4 is the next generation and in 2023 and beyond it's a tool we will all be using a lot more.
If we're working with you on marketing and reporting and you're not already on GA4, we'll be in touch to discuss making the transition. If you'd like more information about GA4 or to discuss getting started with GA4 on your website, please do get in touch with us.