Our summer gathering took place last week, back in Suffolk again. It felt like the Spring Gathering had been the day before, but when we paused to consider, we found that a lot had been going on in the world, and in our world.
Early in June I attended a conference in London hosted by GYDA, who provide strategic advice to digital agencies. With the CEO's of about 100 digital agencies and 30 or so associated professionals, the talks and workshops were all about the state of the market and what you, our clients, are going to need from us, in the context of two increasingly urgent areas of change – Global Warming and Artificial Intelligence. The day was spent focussed largely on these two themes and we learned some useful facts and some of the latest thinking on how to adapt our businesses in response.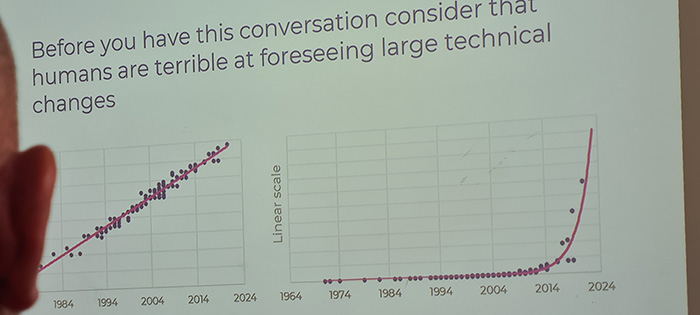 I returned to Suffolk with a strong sense of the need for us to focus on our priorities with more energy. Talking to the team, as time was limited ahead of the summer gathering, we decided to prioritise AI, as it is a natural extension to the productivity workshop we held in our Spring Gathering, dubbed Project Dylan.
Meanwhile we have contacted a specialist Carbon Measurement consultancy to commission a carbon audit. This will establish how well we are doing towards our ambitions to reduce and eradicate carbon emissions, so that we can pick up on this in our Autumn Gathering to take further action, and nurture our connection with start up agency GreenPixie.
Setting the Stage for Innovation
So, in our gathering, we engaged at short notice some outside assistance in the shape of Neil Collard, who had presented at the GYDA conference. A consultant with extensive knowledge and experience in how agencies are adapting to ways that AI is already shaping how they work, Neil has kindly agreed work with Infotex as our catalyst for action.
Neil raised some provocative points about what impact AI could mean in the next 12 months and beyond, and his presentation sparked lively discussion (exactly as he had intended) and aided our understanding on the opportunities it presents. Neil tasked us to actively seek opportunities where AI can augment our work, and fuelled our desire for continuous learning to stay abreast of the latest advances so that we can fulfil our purpose, which is to guide our clients.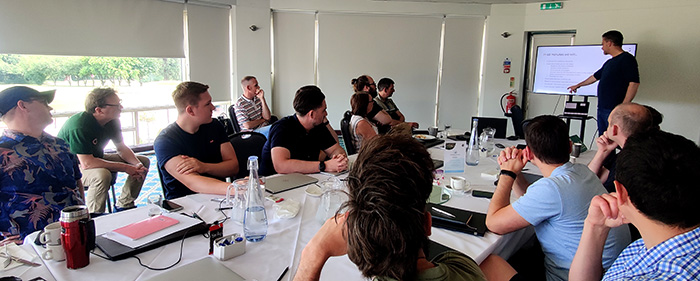 One group session saw us reviewing AI tools that we could start using straight-away to help us in our day to day work. These varied widely, from the well-known ChatGPT, to lesser known tools that would aid our DevOps team in monitoring and maintaining website performance.
The meeting was an opportunity for us to collaborate, brainstorm, and push the boundaries of AI applications within Infotex's business landscape.

Birdies, Ahoy
The sun was shining Friday morning, and it saw us take to the mini-golf course at Ufford Park. The Congo Rapids course starts with a self-propelled raft across a raging river to the first hole. The course is heavily themed with animated dinosaurs, a volcano and even a crashed plane.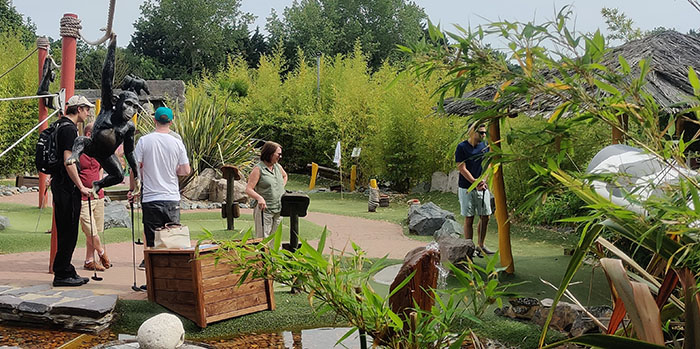 There were holes-in-one a-plenty, as well as some higher scores, but thankfully individual holes are capped at a maximum of 6 strokes. Overall winner was Gareth, scoring an impressive 50 over the 18 holes.
With our clubs put away, we were welcomed aboard HMS Vale's Deben Café for a team lunch. This refitted former Swedish Navy missile attack craft now serves food and drink moored on banks of the river Deben in Melton. AI talk continued over our food, and the afternoon session saw furthering discussions on our ongoing efforts towards improving website speed and performance.