Greenpixie provides cloud emissions data to help companies take control of their carbon footprint, reduce spending, and lower their emissions. 
We spoke to the CEO of the company, former Infotex employee John Ridd, to find out a bit more about his journey, cloud computing emissions, and Greenpixie's mission to help reduce them.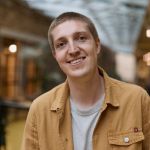 How did you come up with the idea for Greenpixie?
It would have been about two years ago from ideation when me and my co-founder, Will, CTO of the company, had the idea during a hackathon. We had heard about digital emissions making up over 2% of global emissions, which was more than that of the entire aviation industry.
We felt that there was a real business opportunity to quantify this issue and perhaps reduce it using the scalability of digital and the availability of data for this particular sustainability issue. 
We created an MVP (Minimum Viable Product) and first focused on websites: we came up with a way to quickly estimate the emissions of our website homepage, which we sent out via email marketing and got a lot of responses – we thought, we're onto something here! That started our journey into digital sustainability. It just so happened we didn't end up doing websites, but cloud computing emissions, however the principles that we started with remained the same: a scalable way to measure and reduce digital emissions. 
Can you explain a bit more about where cloud computing emissions come from and why it's such a big issue?
By 2030, digital emissions are predicted to be over 10% of global emissions due to continuing demand for data. A large amount of these digital emissions is cloud computing, but also the internet itself; Chat GPT, streaming services – it all ends up with data centres, which suck up an incredible amount of electricity. A lot of metals and rare minerals are used to create all this hardware server equipment and continually replenish it – I think the average lifespan of a server in a data centre for cloud computing is only about four years. A recent Telegraph article refers to data centres outside of London as 'energy vampires' because of their electricity usage impacting residential build plans. 
It's a combination of those two things, the huge amount of electricity used, and the materials and minerals needed. There's also a third dimension, which is water usage. Data centres take in a colossal amount of water in order to keep things cooled. One example is a data centre in Nevada, which was recently covered in BBC's Panorama programme a couple of months ago, Is the Cloud Killing the Planet?,  which used one billion litres of water a year.
That gives you an idea of how our digital world and cloud computing actually causes a very big sustainability issue.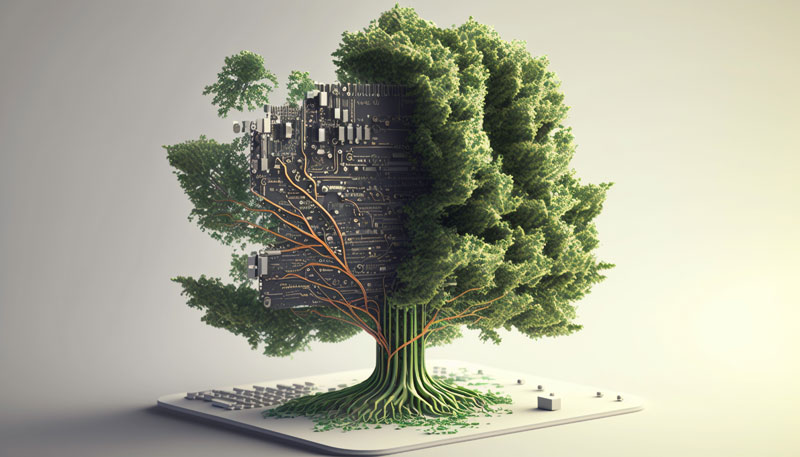 What is the technology of the services that you offer at Greenpixie?
This problem is really a business and enterprise problem. It's not going to change from us at home not watching Netflix so much, or reducing our own digital emissions, because that's a drop in the ocean compared to where the problem lies, which is with businesses and enterprise. So we focus on cloud computing. 
Software engineers in companies essentially rent servers from data centres owned by Amazon, Google and Microsoft, such as Microsoft Azure or AWS. Hundreds or even thousands of tons of emissions are created from renting all these servers. Currently, there's no real way for companies to have reliable cloud computing emissions data. This is due to cloud providers not being transparent enough to ultimately provide this information in a way that is really compliant with regulation due to multi-cloud setups within companies. 
Secondly, the big factor, which we focus on, is there's a large amount of cloud waste in the way that enterprises utilise the cloud. Software engineers over purchase server space when they are building out the tech corporations for companies. This means that 30% of servers that are being turned on, left on and used, don't need to be. So there's 30% more emissions which also correlates with a 30% overspend, and the companies are paying.
What GreenPixie does is provide companies with the data needed to comply to the latest regulations. One of the big ones is CSDR coming through the EU, which makes companies responsible for their cloud computing emissions, and falls under Scope 3 (the supply chain) in the ESG framework. Secondly, we enable software engineers to reduce emissions at source: we quantify the emissions that are being wasted and then they can clean up the waste through the way that they're building out their tech, saving money as they do that. 
Working in the space that you do, do you feel optimistic? Do you think we can keep increasing our use of cloud computing and also reduce emissions?
I would say when it comes to digital emissions, they're very actionable and very measurable when the right tools are out there. I'm actually very optimistic that we can reduce this '10% or more' figure by 2030. 
The truth is doing it for the good of the planet normally doesn't fly when it comes to business priorities, because everyone has so many other priorities. Leadership teams in companies often need to have successful sustainability initiatives of reducing at source so there needs to be cost incentives, which we provide. We're optimistic in our own focus that this is going to be adopted and there are going to be a lot of emissions prevented.
As a wider sustainability lens, there's been a move away from offsetting, because really what that is in practice is companies outsourcing their responsibility. There's been some high profile greenwashing legislation coming through, which it's going to stop companies getting away with that. As long as companies are clever in trying to incentivize the enterprises to reduce their emissions, we can get there. Cloud is a really good example of that, I think. 
Greenpixie was one of the first voices talking about the sustainability of the cloud. How do you manage the certain sort of responsibility that comes with holding that space?
We covered cloud emissions at COP 27 for the first time. And we have a really amazing advisory board that opens up opportunities like this. 
There is responsibility when it comes to putting out the best information, but there's a real network of businesses in industry sustainability at this point. So there's institutions, such as the SDIA (Sustainable Digital Infrastructure Alliance) who are focusing a lot on the science behind this. There is also open source tooling, Cloud Carbon Footprint, which we've built upon and improved to be able to give emissions data. We're connected into all the information to allow us to be leaders in this space. It's also become more mainstream now, on BBC One a couple of months ago cloud computing emissions were covered as a top level issue. 
There is awareness now, but we were one of the first to build a business around this. 
What's your future vision for Greenpixie?
We're fundraising in order to bring this to market in a very big way, and we've already got this data product that brings transparency over the issue and allows software engineers to start acting on it.
So really we want to go down the route of growing out the team. We've got six full time currently, but we want to get a lot bigger than that now we've brought a product to scale. So hopefully we can be servicing hundreds of company's cloud emissions in the near future, making enough revenue ourselves and ride the wave of what we've built.
And it all started with Infotex…?
Yeah, I have a lot to be thankful for for my time at Infotex. I actually did an interview fairly recently and I spoke about Infotex and about Tim Webster (My First Boss).
Infotex is a very giving company that enables companies like Greenpixie to emerge because of people like Tim. Infotex is generally very generous with their time and has this tech mindset that allows companies like this to be built.