This autumn sees the release of Apple's latest software updates across all of their hardware, in the form of iOS 15, ipadOS 15 and macOS Monterey.  The updates bring a range of new (and not so new) features to Apple devices, some of which will change the way online users engage with you and your website.
Before I get bombarded with feedback, I must state that many features released by Apple over the past few years were by no means pioneering… they had previously been successfully implemented on Android, Google or other manufacturer's operating systems for some time. And this year is no different.
So you might be wondering what it is about Apple's updates in particular that inspires me to take the time to write about them now, and why it is that is Apple is still the market leader. While Apple don't tend to be the first company to come up with the ideas that impact the online world of websites and marketing, there are a few unavoidable facts that make them noteworthy:
Market share
iPhone is the leader in the UK, holding just under 50% of the market share.  This means that a lot of new features will not be seen/used by a lot of users until Apple adopt them.
Their updates, on the whole, are more fleshed out
It's a classic hare-and-tortoise tale. Apple tends to take their time with their software features, and release them at their own pace.  While this has meant that with many features they are late, or often last, to the party, it does tend to mean that the features they invest in are here to stay.
In short, if Apple are releasing it, there is a higher chance that it could impact the wider world of online.
Browser Colour
Starting off with the smaller, 'fun' update:  Apple is updating their browser (Safari) for a more immersive experience for users across all their devices.  This will involve allowing the website to dictate the colour of the search bar and control panel.  A feature that is already available on android, it is a small but elegant upgrade that will help make websites more impactful and give them a 'wow' factor if implemented correctly.
To ensure that your website is compatible with the new change, please don't hesitate to get in touch.
Privacy
Moving on to the bigger, slightly more serious part of the OS updates. Privacy. Unsurprisingly, privacy is becoming a bigger and bigger issue online.  Apple will be introducing new features this year to their iCloud subscribers that will help protect their customer's privacy and will have a huge impact on online advertising and email marketing.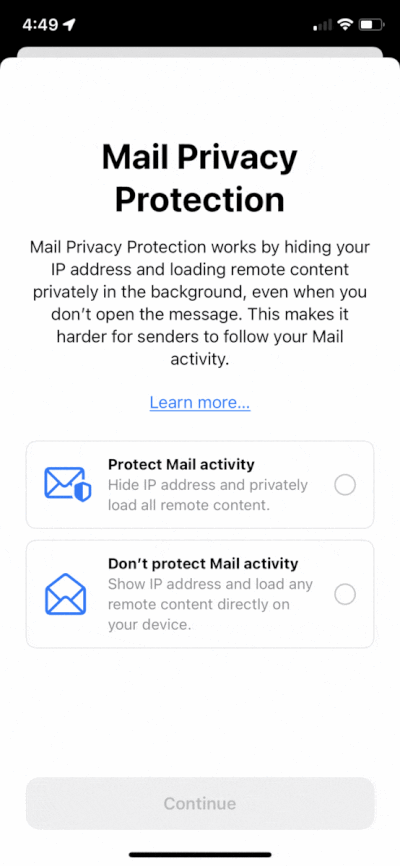 Hiding emails
Apple's new Mail protection stops email marketeers from seeing users IP addresses and timings of when the message was opened. Previously invisible tracking pixel would be downloaded only when a user viewed an email. These pixels are now loaded automatically, making the email service provider think the email has been opened. While this is new to Apple, this has something Google's Gmail has been doing since 2013. We are already seeing changes in our newsletter software of choice, with a move away from headlining statistics to do with open rate. Instead, they are using the "click to open rate" (CTOR) – that is the number of unique clicks divided by the number of unique opens.
Apple has also introduced a feature that will allow users to hide their email addresses (called "Hide My Email") when subscribing to newsletters or sharing their email address. Hide My Email allows a user to generate random email addresses when completing an online form or registering for a website, so you don't have to reveal your real details. Emails to the random address will then be forwarded on to your actual mailbox. This feature does require the iCloud Plus service.
Private relay
Apple are launching 'iCloud private relay', a VPN-like service that will encrypt information for Safari users by using two separate internet relays.  This will hide IP addresses, locations and browsing activities.
Both of these features, despite my introduction, are only available from Apple… But they are likely a sign of things to come.  While they are no doubt beneficial features for helping users protect their data online, both changes will make gaining valuable information on online campaigns and user habits much harder, and will likely have a financial impact on any company actively marketing online.
Facetime
Video and conference calls have dominated the past 18 months and become a key part of how we work and play.  While Apple have held back a number of the key updates to their Facetime from the September IOS 15 update, such as Share Play, which will allow users to watch and listen to media together at the same time, they have upgraded their video calling software to be in in line with the market leaders.  It might seem that Apple's release is tailored more to 'play' than 'work'…
However they will also be enabling screenshare, grid view, spatial audio and the ability to invite non-apple users into a call via guest link.  All these features will put Facetime much more in line with their commercial competitors such as Microsoft Teams, Google Meet and Zoom.  While I don't expect there to be a major overnight shift away from the dominant platforms in the commercial world, it will interesting to see if the introduction of a video solution tailored to iPhone and Mac hardware will further impact how we work remotely.