What is SEO?
Search Engine Optimisation is the process through which we can improve search engine traffic to your website, and find the most relevant consumers to increase conversion rates.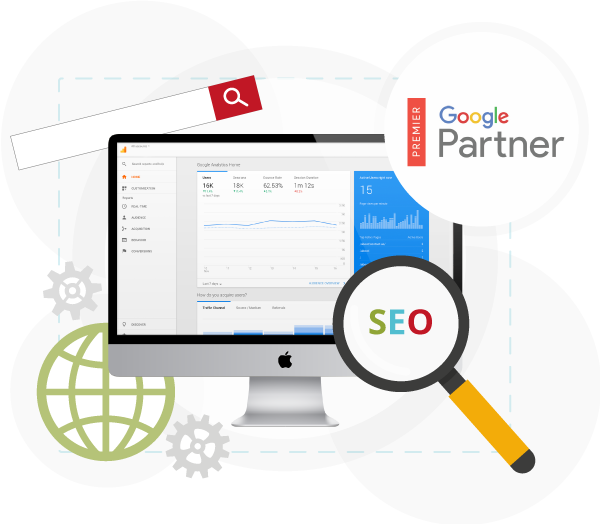 How?
Keyword Research
Each keyword encapsulates a business opportunity at the exact point the user shows intent. Making sure these keywords represent your business goals is the key to a successful SEO strategy. We target attainable low competition niches and track our positions continuously to give you the best search engine performance.
Competitor Analysis
Our arsenal of industry leading tools allows us to understand your key competitor's SEO stature. This sets a realistic benchmark and often reveals exciting opportunities that we feed back into your strategy. A universal strategy for every client doesn't cut it, every industry has different SEO requirements, that's why we conduct thorough audits in your space before we start our optimisations.
Forecasting
SEO never sits still. Search engines are always looking for the next best way to serve you the highest quality results for your search. We pick up on these changes in Google's algorithm and adapt our client's strategy to give them the greatest benefit. If you rest on your laurels you could easily see yourself dropping off the results page, what worked in 2012 would fail in 2017. Having a team with their ears to the ground, looking for these changes, is the insurance you need for your search performance security.
On-Site SEO
It doesn't matter if we're optimising or building – we make sure your site is set up to be Google friendly. Having a solid SEO infrastructure provides a strong foundation to build all future search engine optimisations. Combining the knowledge of our SEOs with our technically gifted development team, positions us perfectly to set you off on the right foot.
Backlinks
Google looks to the rest of the internet to assess the importance of your website. More specifically, they look at other websites links that mention you. This has been a crucial ranking factor since Google's inception – and things don't look like changing. We want the quality of your website to resonate across the web and we thrive in discovering creative ways to do so.