We have collaborated with Suffolk GP Federation to design and deliver a brand new system, designed exclusively for Podiatrists in order to:
Ensure excellent patient outcomes

Boost productivity safely

Reduce administration for practices
This past week, the team travelled to Liverpool to officially bring the new self referral platform to market at the Royal College of Podiatry conference, held at the legendary ACC Liverpool venue. This gave us an excellent opportunity to engage with potential buyers, and users to further strengthen the system.
The College of Podiatry conference is the largest of its kind in Europe and we showcased our exciting new system, designed to improve outcomes and support the patient pathway as well as deliver practical help for clinicians.
While there, we offered live demonstrations of the platform, both the administrative back end including how clinicians could tailor the system to their specific particular practice and also the pathway through which the patient is guided.
"This system enables those with the greatest medical need to access podiatrists with the right skillset to give the best care for that patient. All the while reducing the number of wasted hours, improving patient outcomes and giving the patient agency over their own care pathway. This makes life easier for GPs, Podiatrists and most importantly patients.

The brilliance is in how adaptable this is. The different elements can be customised to then suit the needs of the service. During the pandemic Suffolk GP Fed had to drastically change how we handled our podiatry caseload. Despite everything we were still in a position to give advice and support to new patients, and focus our resources on saving the limbs of those most in need all thanks to our referral system."
Philip Holloway – Podiatrist / Suffolk GP Federation
We also ran a prize draw in which entrants had to guess the right answer to a footie question! Overall, it was an excellent show and the podiatry community are a fantastic bunch to be around.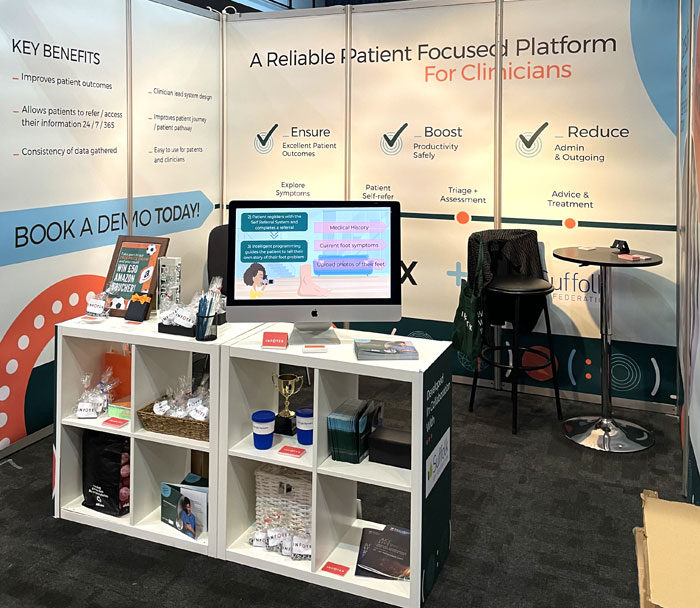 Want to know more about our self referral platform?
Though created specifically for Suffolk GP Federation and podiatrists, the bones of the system offer a very solid and exceptionally efficient pathway for any customer or patient type via full end to end onboarding, assessment, appointment scheduling and appropriate advice.
It is a clinician lead system design, and can be adjusted exactly as required. All outcomes are based on carefully planned question sets which you can alter to support your clients and practice behaviours.