Apprenticeships are a great way to throw yourself into a role and learn on the job. Hear from our Production Assistant, Jasmine, about her experience starting out as a Production Apprentice at Infotex. 
The team here at Infotex won't mind me admitting that on my first day as an apprentice I felt quite scared at first! For someone who is just 18, starting out in a new business surrounded by people who are a lot more experienced than you can be daunting. But not a single person made me feel uncomfortable, and everyone helped me in every way they could. It only took a matter of hours for me to learn that Infotex is a very warm and friendly business, and provides that personal touch of friendship that is so valuable, rather than being just a bunch of colleagues.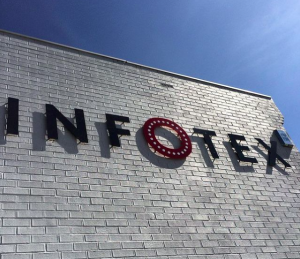 My tasks involved in my typical day as a Production Apprentice involved:
Minute taking for my manager in meetings

Content loading for clients

Testing of websites

Google Training

Google Assessments 

Requirements Meetings

Client Management 

Project Plans
On top of these roles, I had to complete coursework which made up about 30% of my work. This was probably the most daunting challenge of my year, and involved pieces on management, minute taking, client relationships, staff relationships, and IT exams. I was overwhelmed at first by the amount I had to do, but with a checklist to help me understand which ones were the highest priority, I was able to get through them without any problems. I believe that what I learned most during my year was to do with time management, and getting things to the right people at the right time. In fact,  I found the year really rewarding. Especially when I finally passed the whole course, including the IT exam that came with it. It was soon after that that we had an Infotex Christmas Meal at the Riverside Waterfront, where we had a great time as friends rather than colleagues. 
Throughout my year as an apprentice, I was guided by my manager, Katie, who made me feel like a colleague more than an apprentice and taught me everything I know, including everything that is still involved in my job now as her Production Assistant: assisting in meetings, scheduling work plans, projects, loading content into websites, and looking after several clients. Katie has always tried her best to understand what I might be struggling with and take that into her own hands by setting up a meeting to teach me the correct way of doing things. I'm grateful to her for allowing me this position and showing me the right direction with my work as we move into the future, particularly more recently, now that working from home has made solid work-relations and connections all the more important for maintaining sanity in otherwise lonely times!