Internet Explorer was first released in August 1995 as a core part of Windows 95. It raised controversy at the time for the fact that it was bundled into Windows, resulting in lawsuits against Microsoft for monopolistic practices. This lead, in no small part, to the downfall of the previously leading browser Netscape Navigator.
Internet Explorer, or IE in tech circles, became the defacto standard and by the early 2000s over 90% of all browsing was being performed via Internet Explorer.

Competitors started to challenge for Internet Explorer's throne, with potent competitors in the shape of Mozilla Firefox emerging in 2004, and Google releasing the first Chrome in 2008.
Firefox and Chrome took a new approach to browsers, with regular updates adding new features, which developers could leverage to create a more interactive web. IE started to lag with updates being few and far between, generally being bundled into their large Service Packs.
Starting with Windows 10 (and retro-fitted to Windows 7) Microsoft eventually moved their main browser to Microsoft Edge which has subsequently been re-architected to share the rendering engine underpinning Google's Chrome.
So where did this leave Internet Explorer? Internet Explorer 11, released in 2013, is the last version of the platform and is still installed on the majority of Windows 10 PCs for compatibility purposes, but buried away to encourage people to use Edge. Unlike IE, Edge receives regular updates keeping pace with its main competitors. Currently Edge sees around a 5% market share, far below the lofty heights that previous IE versions once commanded.
Today, Internet Explorer languishes at around 1% market share which is almost entirely within large corporate networks, often running internal systems with lengthy update cycles and / or legacy software.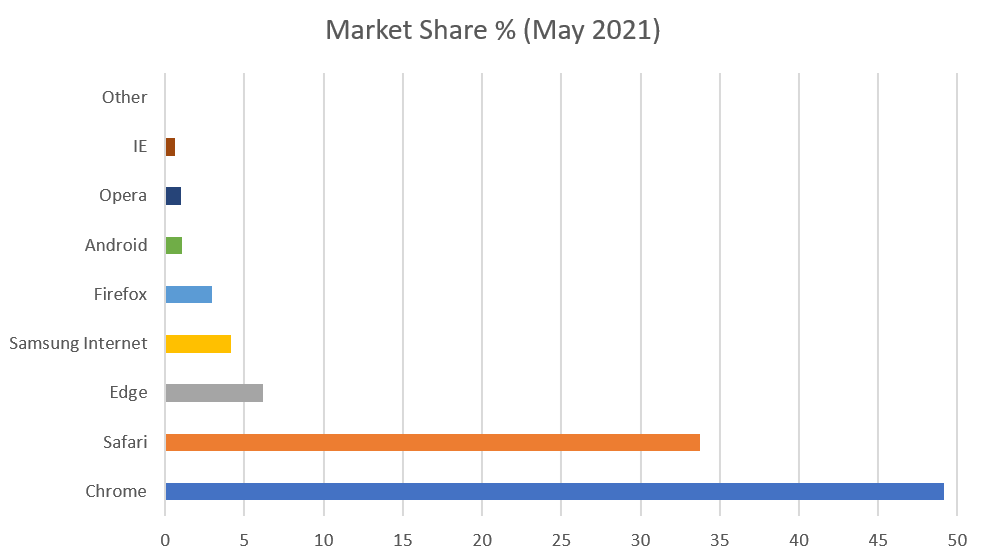 In 2020 Microsoft acknowledged that Internet Explorer has reached the end of the road and that they plan to cease support for it within their Microsoft Office 365 suite with effect from August 2021.
With the release of WordPress 5.8, which is scheduled to occur in July 2021 we will see WordPress, the dominant website Content Management System (CMS), cease support for Internet Explorer 11. As primarily WordPress agency Infotex will be following suit.
What does this mean?
By ceasing to support a browser, this means that we will no longer be targeting it during development or testing that your website functions correctly on Internet Explorer. This allows us to focus on browsers that support modern CSS & JavaScript features, offering greater interactivity and performance than was previously possible.
At this time we will not be taking actions to specifically cause your website to be unusable by Internet Explorer so you are unlikely to see any immediate impact. However, unless specifically agreed to the contrary, we will also not be fixing any Internet Explorer specific issues which occur going forward. This means that over time your website may become less usable within Internet Explorer.
WordPress have similarly stated that they will be removing testing for Internet Explorer 11 gradually over versions 5.8 & 5.9 and it is anticipated that the first area that will be impacted will be the content administration areas which utilise modern features to provide the high levels of user experience that site administrators come to expect today. Users on Internet Explorer 11 and earlier may also see a banner within their administration areas advising them to upgrade to a more modern browser.
Goodbye to the friend we all loved to hate and welcome to a more interactive web of the future!