A well-designed interior not only needs to serve a purpose or function, but also needs to create a sense of character. This is especially important whilst considering the interior styling of your office.
Infotex are currently undergoing some redesigns to the interiors of both the Melton and London offices, which has prompted a lot of thought lately behind what really makes a great office interior.
Acknowledging these three simple guides can help ensure that the right atmosphere is being established in the office: Function, Mood and Personality. The function of the office is vital for everyday running, ensuring that employees are making the most of the space and facilities provided.
Creating the right mood is imperative to guarantee that people are working in a relaxing and productive environment, which will reflect in the way they work. Finally personality should be injected into the design of the office. This is your chance to have some fun and really showcase the ethos and character of the company and it's branding.
---
Ways to brighten up your office space
Lighting
Lack of natural light can have negative impacts on mood and productivity. Natural light is a much-overlooked benefit in office design, but it should be one of your major considerations in office design and layout.
An office space requires fresh and clear lighting to brighten up the room, especially on dull winter days when people may be feeling sluggish. Upgrading your lighting is a cost effective way to give the office a lift and boost moral. Taking into account the function of the room will be a huge driving factor for what type of lighting you get and where it should be placed.
For example in a room such as a meeting room where presentations will be held, it is advised that dimmer switches are added to allow people to control the level of lighting. The addition of desk lamps is also a great way for employees to control their own level of lighting around their own working space.
Colour
Colour is something that will massively affect the atmosphere of the office. Bright and vivid colours will give a sense of energy to areas of the office, whilst dark and dull colours will create a more somber feel.
Certain spaces in the office may require a more calm and soothing colour scheme, depending on what the area is being used for. Most importantly it is vital to ensure that the design is in keeping with the branding and personality of the company.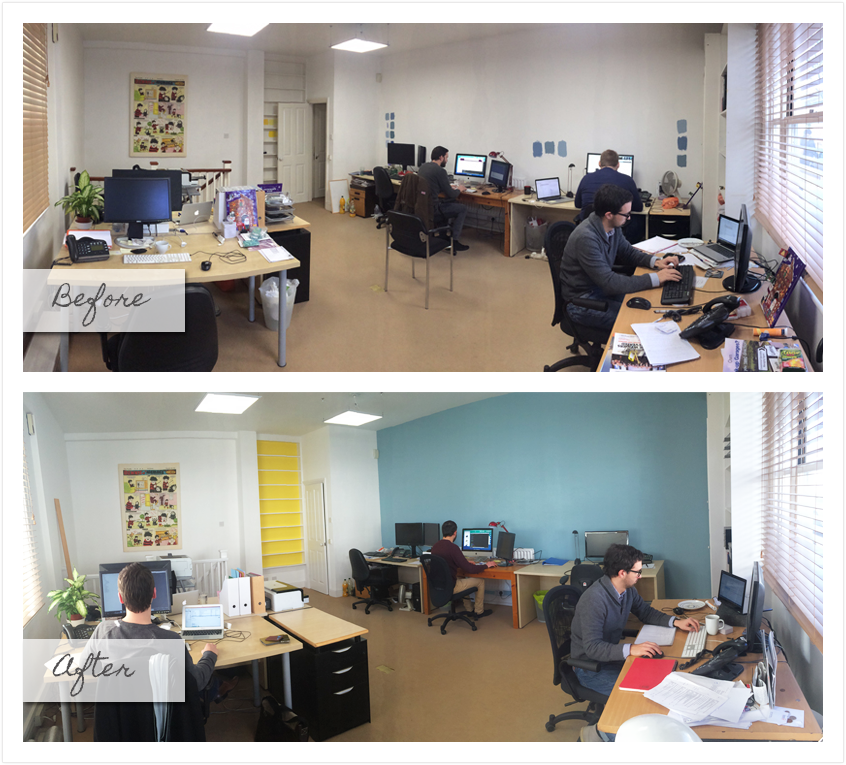 Furniture
Every office comprises of two very important items of furniture… the desk and chair. These are the two most important things to consider whilst kitting out your office.
The ergonomic design of every desk and chair should be taken into account, ensuring maximum comfort and support is being provided to employees for those long working days.
Finishing touches
Those simple finishing touches are what will really complete the design and pull the whole project together.
Adding greenery to the office is a great way to bring the outdoors in and add some life to your office space. By using standing plants as well as small desk plants you can inject more colour into the office and significantly freshen up the room.
Hanging artwork will ensure that the walls aren't left looking bare and empty. This is a great opportunity for you to incorporate some of your company's accomplishments into the design. By introducing case study posters into the office you will not only be adding a sense of design and creativity to the office, but it is also a brilliant way to showcase what your company stands for and any key information and ideas that are significant to the ethos of the company. A prime example of this are the wall murals created for Sony Music by The Graphic History Company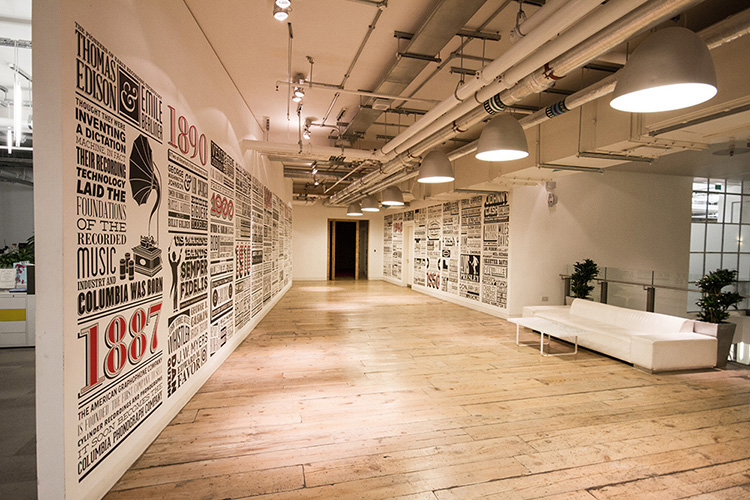 http://theghc.co/page.php?id=projects
---
Breakout spaces
The work area in the office should be flexible and dynamic, encouraging the productivity of workers.
Creating breakout spaces allows employees room away from their desks where the can go to be creative or just somewhere where they can relax and eat lunch. Introducing hot desks in a quiet part of the office means that people have a private and secluded place to work if they need space or a bit of peace and quiet. This allows employees to focus on their work without any distraction.
---
Creating a professional feel
It is not only important to create a productive working atmosphere in the office for the employees, but it is also vital that you are aware of how you come across to clients.
Branding the office should be just as important as branding your stationary. The complete brand identity of the company should be carried throughout the whole of the office design; any ideas and colours should be embedded into the design of the office making sure that the right message is being sent across.