We are delighted to announce Infotex have been accepted into the Crown Commercial Digital Outcomes 6 framework, which will be live from 10th August 2022.
Crown Commercial Service supports the public sector to achieve maximum commercial value when procuring goods and services.
Acceptance onto the framework allows local government and healthcare organisations access to services provided by Infotex. Our ambition is to work more closely with a wider range of organisations in order to design, build, improve and support the back-end systems that sit within healthcare and government to produce better outcomes for all.
Frameworks are agreements between the government and suppliers to supply certain types of services under specific terms. Infotex Ltd have been accepted to provide:
Performance analysis and data

Service delivery

Software development

Support and operations

Testing and auditing

User experience and design
As a digital outcomes supplier, we must:
Jonathan Smith, Director of Infotex Healthcare Systems commented "We are delighted to be accepted onto the framework. It gives us greater opportunity to support the NHS and wider services using our experience in the development of the systems we are already delivering into the care sector".
"This additional platform reflects the hard work and dedication of our team to really deliver systems in the right way, to the right audience. We can continue to support healthcare teams and patients on the path to better digital assessment and care which is so important."
Most recently, the team launched a digital self referral platform that allows the smooth and carefully managed assessment of podiatry patients which decreased our client's 800+ patient backlog to manageable levels within just a few weeks.
Take a look at a review by Dr Hinkes of this system.
In 2019/20, CCS helped the public sector to achieve commercial benefits worth over £1bn – supporting world-class public services that offer best value for taxpayers.
For further information about Infotex's health systems get in touch.
A new feature-length documentary "Explorer" hits cinema screens this month, looking at the life of adventurer Sir Ranulph Fiennes. Kicked out of the SAS, he has since been crowned as the "World's Greatest Living Explorer" and dubbed "gloriously and refreshingly mad" by Prince Charles.
Infotex have been involved with Fiennes' projects for over a decade. We created the Transglobe Expedition website, which hosts an archive of material relating to his journey to circumnavigate the globe. Rather than the more traditional east–west route around the equator, Fiennes' team travelled north-south via the Sahara Desert, the Northwest Passage and snowmobiling across both poles – including a break to play cricket at the South Pole.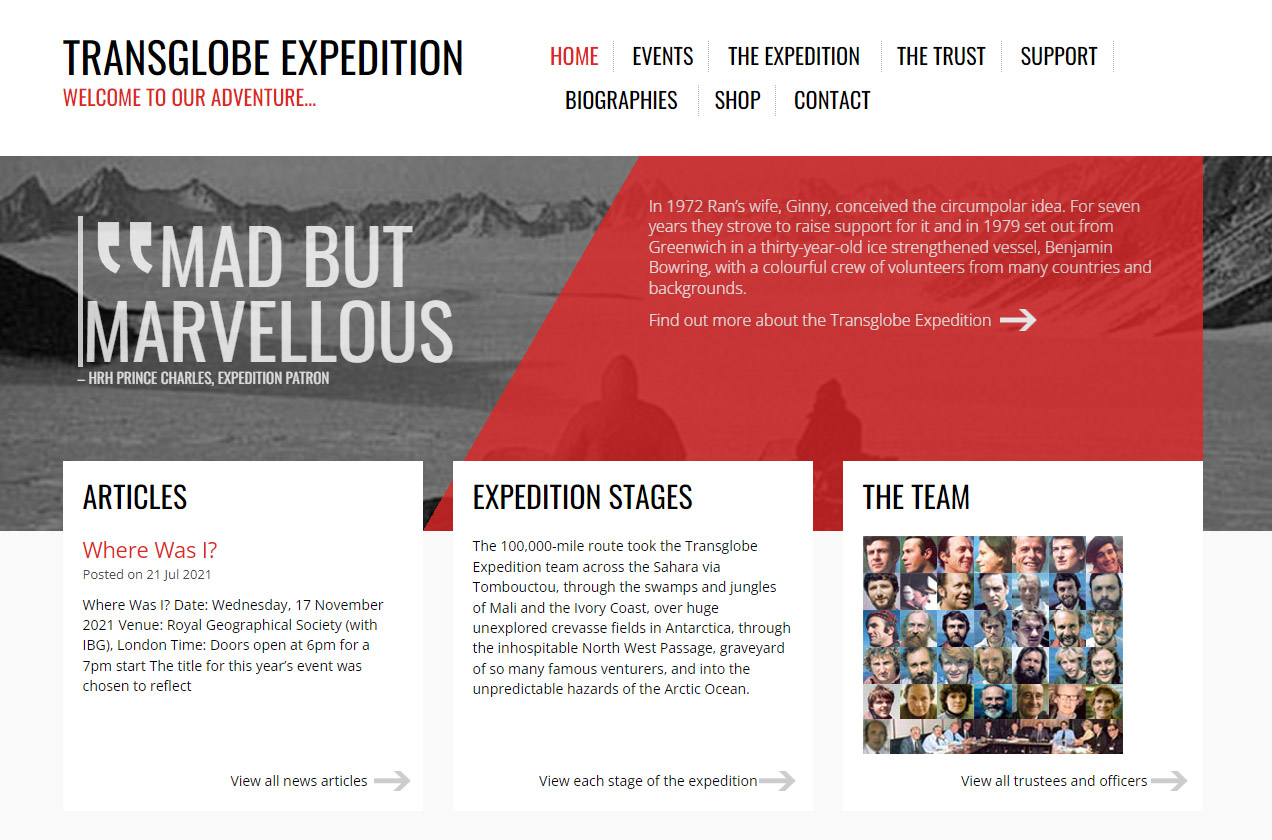 In 2013 we were invited to create a site for The Coldest Journey. This expedition had the aim of being the first team to ever cross the Antarctic during a polar winter, where temperatures can go as low as -70C. Unfortunately, Fiennes had to pull out early in the project after suffering frostbite, but the team went on to raise over $10 million for Seeing is Believing, a global initiative to tackle avoidable blindness. The website had clear donate buttons, a live tracker to follow the team's progress across the ice and a login area for schools to access educational material.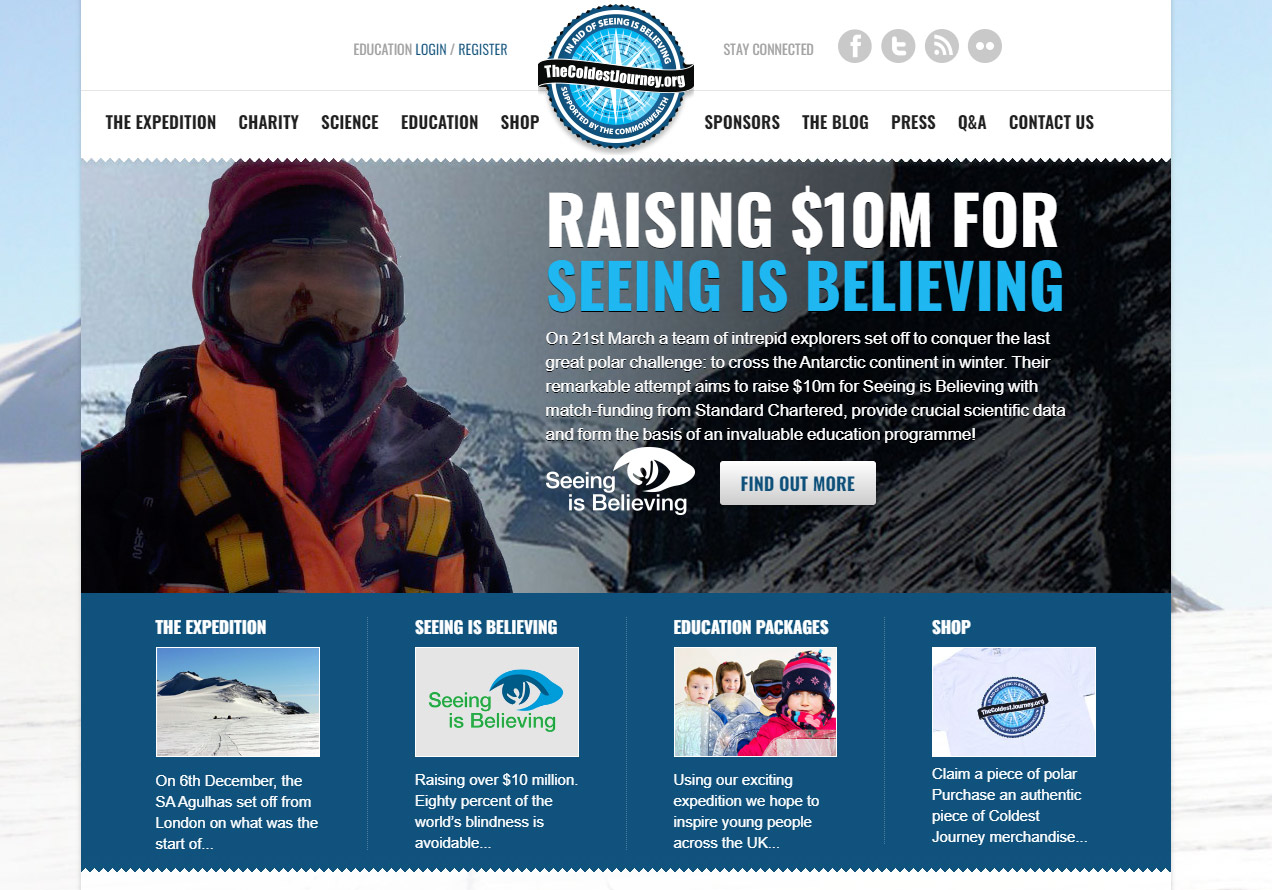 It's well known that Fiennes has a rule to never pay anybody for anything at any time in relation to his adventures, and, yes, this does extend to the websites we've produced. Still, we're proud to have supported his projects over the years, and look forward to seeing Explorer soon.
Watch the trailer below.
In March I reported on our office closure.  Last week we held the first of our quarterly "All Company Gatherings" since then.  The format of these gatherings is an evolution of how we used to gather together in previous years – in an age before words like "covid" and "pandemic" were in our vocabulary.  We have enjoyed on many occasions the opportunity to spend extra time together, and do something unusual, not specifically about our work, but often related to it in some way.  Events have usually been based in Suffolk, which is where the company is rooted, and included sailing trips, barbeques in remote fields, country house sleepovers, and visits to arts and crafts centres.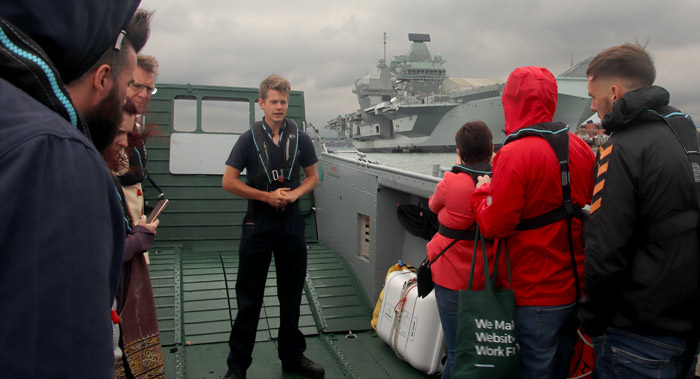 This time, released from our "Suffolk HQ" constraints, we branched out and chose Portsmouth as the location. The rationale behind this decision was characteristically eclectic.  In January we had set the dates for 4 gatherings across the whole year, and asked everyone to keep their diaries free.  Around that time, I also happened to enter my newly acquired sailboat in the Round-the-Island race, which is a 1200-yacht yacht race around the Isle of Wight.  This was on 25 June, the day after our Summer Gathering.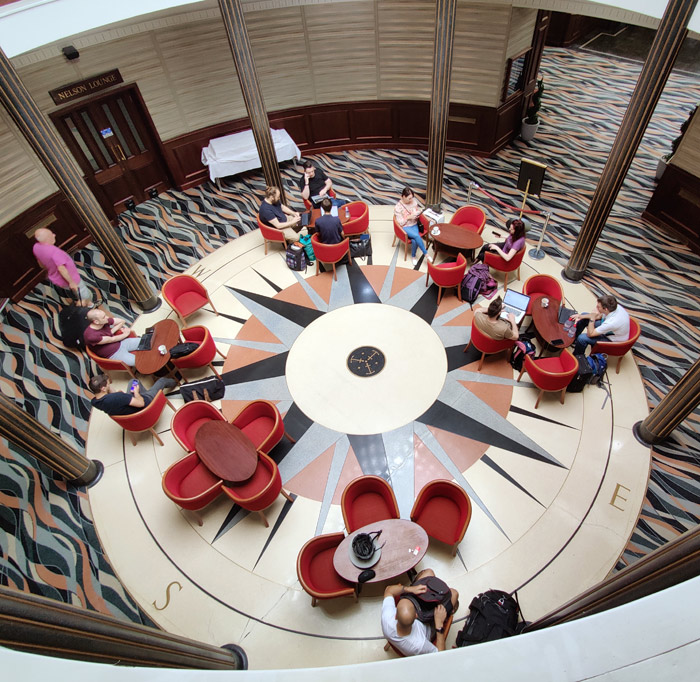 Realising I had a formidable logistical challenge looming – to spend 2 days with the company and then get onto the water and across to the island on the Friday evening – I just needed to persuade our head of production Katie, who has assumed the role of "chief gathering organiser", that we could go to Portsmouth.  Leveraging some of the tactical persuasive skills learned from my children, I was able to make the argument that it was high time we headed further afield, several of our staff live and work in Surrey, Sussex, Kent and London, so how nice it would be for them to have the Suffolk mob make the effort this time.  She was quickly persuaded and seized the opportunity to create a fantastic company event. 
In our maritime hotel next to the historic Portsmouth Historic Dockyard, we all soon grasped what a fascinating and fun place Portsmouth is – steeped in maritime history, packed with things to do and interesting mixture of serious stuff going on – university, MOD, shipping, business – blended with a holiday atmosphere, the bars and restaurants of course all brimming with potential.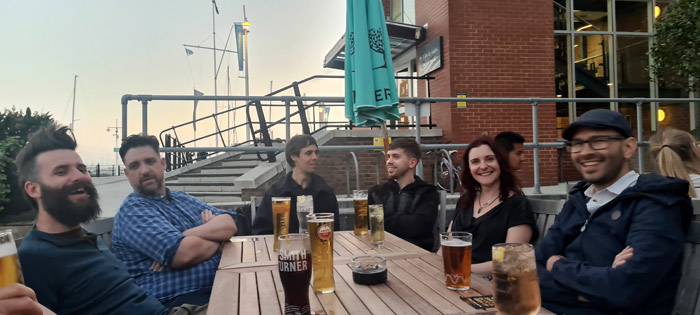 During our visits, we were able to carry on working operationally, and also spend a useful afternoon discussing the world we are in, our place in it and our own strategy for the business. Reflecting on these, we set ourselves the challenge "how  can we improve Infotex in a time of climate emergency and facing economic uncertainty".  We have committed the business to work on projects that aim to do more with less, so that we can help our clients to beat inflationary pressures, and we can operate using fewer resources. Over the summer, our ideas will be developed into projects, and when we next gather in October, we aim to pick up the best projects and move these forward.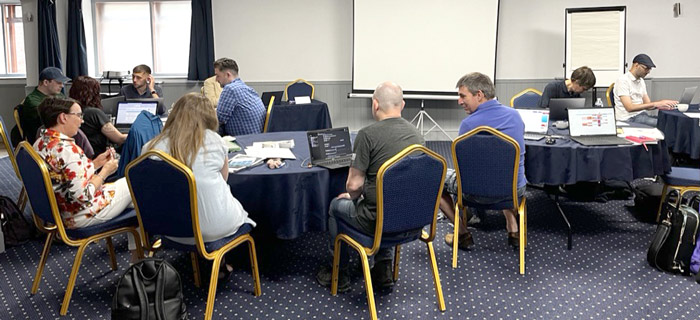 Outside of work, we had a vibrant and competitive escape room session, which taught us all more about ourselves, followed by a visit to Boathouse 4 in the Royal Naval Dockyard, and a tour of Portsmouth harbour in their restored landing craft, which everybody who likes boats and naval history (like me) loved, but that might not have been everybody!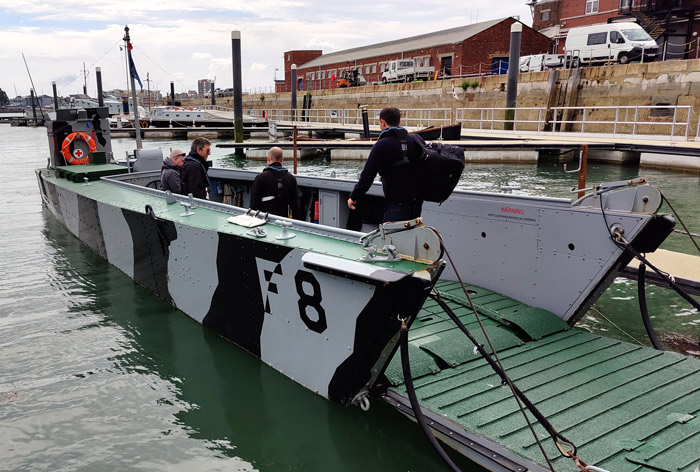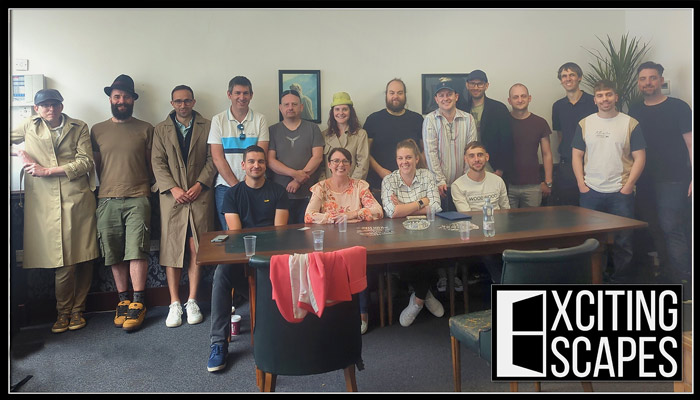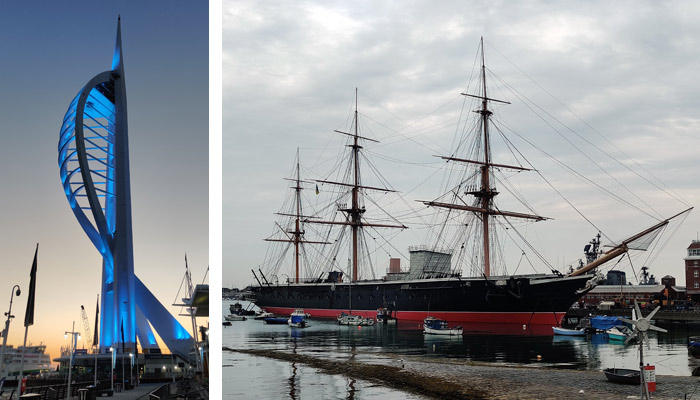 Imagine the excitement of going travelling, visiting those far-off places that you've always dreamed of.
Perhaps you're finishing university and intending to take a gap year (or two) to travel the world. Maybe you're taking your family on their first holiday abroad or simply heading off with friends for a well-earned holiday. Whatever the reason, the challenge of storing your travel documents securely, whilst ensuring you have access to everything you need in an emergency is vital. That's where Mayday comes in.
Mayday is a web portal that can be accessed via a physical QR-coded tag, which can be worn as a bracelet, necklace, or simply as a keychain on a bag. Mayday offers vital support in a range of situations, including:
Emergency – In an emergency (e.g. you fall seriously ill) the QR code can be scanned by a 3rd party which will bring up critical data to assist you such as medical information, allergies and emergency contact details. There is also a local language 'help message', should the 3rd party not speak English.
Document storage – store all of your travel documents, itinerary and other important files. Access them from anywhere in the world at any time, perfect to avoid lots of printouts or needing access to a printer, and as a back-up in case your phone gets stolen.
Family & Friends – share your QR code and a PIN with friends and family so that they can access your itinerary and other documents as needed. No more panicky phone calls from worried parents!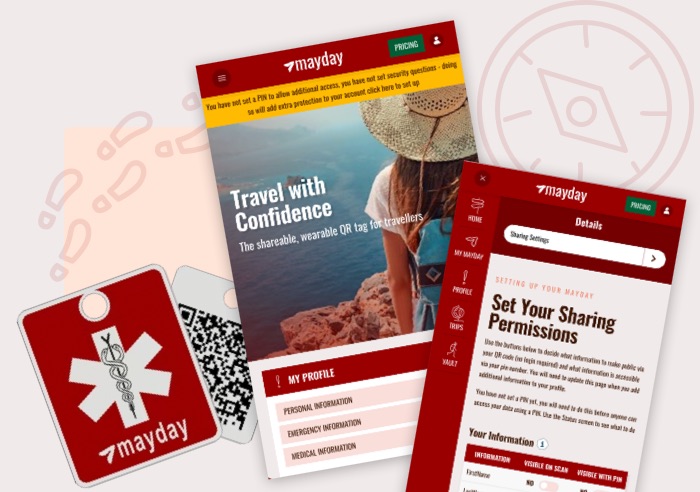 User experience and security were at the forefront of this project. With highly sensitive and personal information, we needed to be sure that everything was stored securely. Therefore we have added varying permission levels which are controlled by the account holder so that only the correct information is displayed upon scanning the QR code.
Our design team worked closely with our technical team to ensure that we developed an intuitive on-boarding process with clear signposting throughout.
"The Mayday team were a delight to work with. They 'got' the brief right away, hit the brand position first time, and delivered on time and on budget."
James Dunford Wood, CEO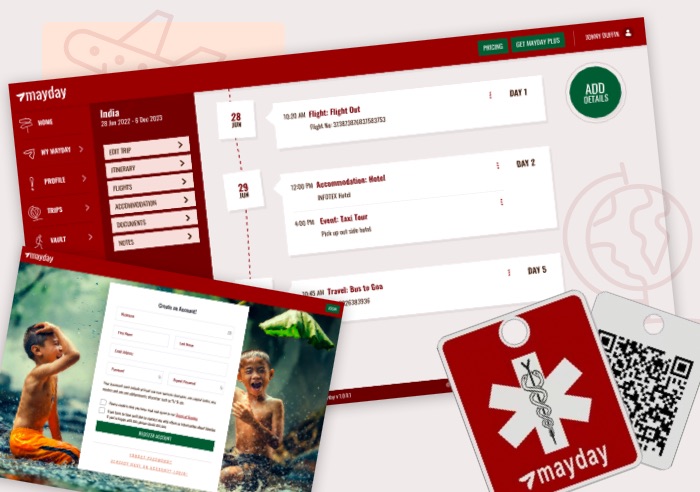 Mayday provides reassurance to both the traveler and their friends and family and we're excited to continue to support Mayday as the platform grows.
Head over to mayday.travel to take a look and sign up for yourself.
This limited-edition article is available for a short time only… read it now before it's too late!
Just kidding. But you get the idea…We only need to look at the speed at which loo roll stocks flew off the shelves at the start of the pandemic, or the difficulty of getting hold of lateral flow tests after the announcement of Omicron, or the hype around queuing for ticketed events (Glastonbury comes to mind, and Adele's recent tour) to conclude that people respond quickly to news that a product is only available for a short period of time.

With everything and anything becoming available to buy online, stock "drops" – the marketing phenomena by which limited-availability products or services are released without much warning – are increasingly being employed by sellers to create new hype, energy and brand loyalties in the market.
Limited stock drops might not be the right strategy for your business, but nonetheless you can learn from the marketing tactics that fuel the phenomenon.
What are limited product "drops" and why are they so successful?
The rise of product "drops" is associated with the rise of "sneaker culture" in the 70's and 80's. With cheap, widespread mass-production, street-wear brands found a way to paint their products as rare or luxurious, creating hype and brand loyalty.
But stock drops have come a long way since the rise of e-commerce, and now the powerful business tool has fully entered the mainstream.
Marketing ploys inspired by stock drops take many forms, from limited editions to spontaneous releases. They tap into the same strategy that drives the success of price reduction sales, creating one-off items that ask the customer to make a sudden decision in the face of extreme buying pressure. The urgency and immediacy of stock drops feed into the customer's Fear Of Missing Out (fomo) and drives decision-making buying actions. They are accompanied by a sense of community – the proximity of waiting in line for a specified product creates both customer-to-brand and customer-to-customer intimacies and engagement.
Not only does dropping stock for a limited time only create a new illusion of a product being special and one-chance-to-buy, but it can actually help a manufacturer save money on overheads, because they don't have to make more than will be sold.

Who is acing the limited drop strategy?
The most notable examples are the brands that brought the marketing phenomenon to the attention of the retail industry – the big street-wear names. Street-wear giants Supreme are most notable for being the first brand to make a big name for itself through limited production runs, which they continue to succeed with today, releasing a new product drop on a weekly basis. Other brands such as Nike and Adidas have followed suit by structuring their supply chains around creating buzz and excitement around the next limited-availability product, supported by apps such as Nike's SNKRS and Adidas' Confirmed.
Now all types of brands, from luxury fashion to fast-food restaurants and hotel-booking sites are using the marketing tool to bring in revenue. Even Amazon employs the tactic sometimes by giving Prime members a certain window of time to watch a series' episode in advance, before the whole show airs.
The internet and the rise of the drop
For releases that create even a small amount of buzz, the internet can take it to the next level. Social media, news platforms, and online communities further expand the brand's marketing. As you would expect, social media contributes to circulation of information around a product drop as users spread excitement about what's coming up next, allowing micro-communities to flourish and hype to grow. Furthermore, apps such as Shopify's Frenzy and websites like thedropdate.com keep consumers up-to-date on the latest releases from brands.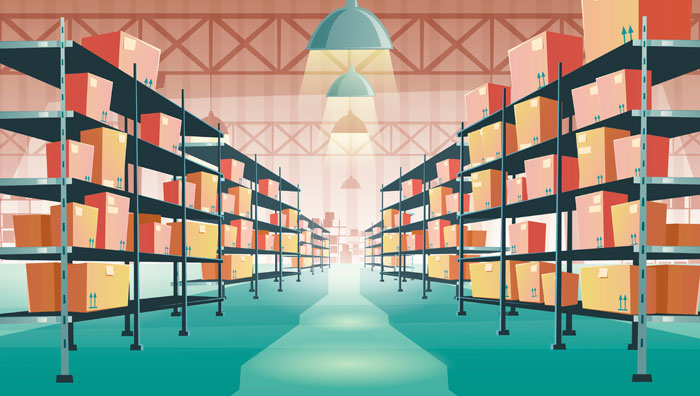 What you need to know about limited drops for your e-commerce website
By advertising products as, for example, limited-availability! or almost out of stock! your e-commerce website needs to be fast enough to offer a super quick, convenient check out procedure with a secure payment gateway.
The long queues that are characteristic of stock dropping to a brick-and-mortar store can be created online, too. Brits are used to this, supposedly; it's in our culture to queue for high-demand products (in fact a 2017 study showed that Brit spends 52 days of their life in a queue). So, if you're predicting high traffic for your website, it's essential you are prepared to deal with website queues.
Real-time tracking notifications
Even if you don't want to change your manufacturing plans to ride the dropping trend in a big way, you can increase the must-have appeal of what you're selling through smaller tactics, even just in the language you use on your website.
For example, many e-commerce websites have real-time notifications that inform consumers of live updates into other buyers' behaviours. For example, notifications might appear on the screen saying: x number of people bought this item in the last hour, or John just signed up for our newsletter, you can too…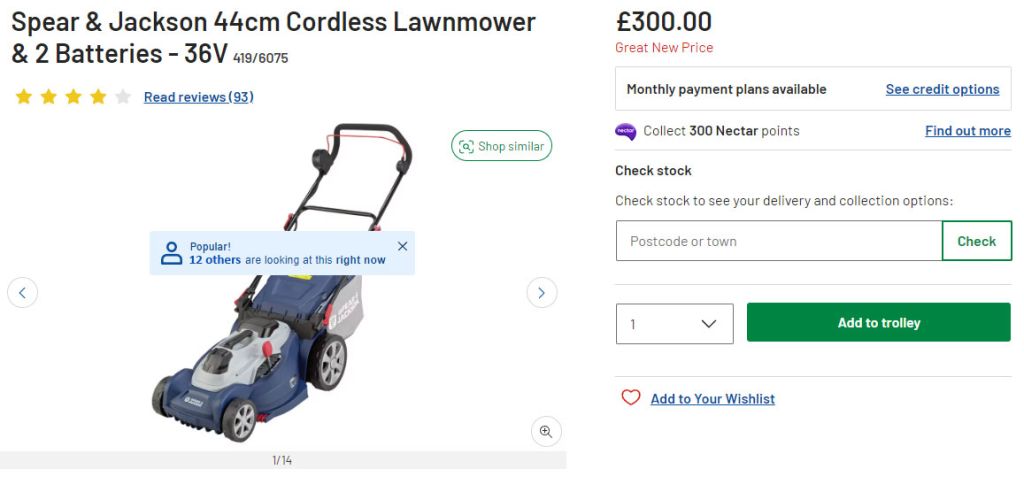 But drop the idea if it's not for you
Whether or not to employ limited drop marketing tactics is highly dependent on your target audience and service. You should only target your audience with a limited drop if it will make them feel understood, and closer to your brand. Sometimes, a thoughtful, personal slowed-down shopping experience is still preferred over novelty items, so think about who you're targeting so that your customer feels understood. The last thing you need is for your audience to feel that your brand is disingenuous or trying to create a product into a high-demand item when it is not.
Nevertheless, it is worth asking how to douse your brand in a certain must-have appeal, even if that appeal is about the experience you offer.
Apple have stormed forward with the announcement of IOS 16 this month, which will be compatible with the iPhone8 onwards – leaving behind some much-loved Apple models including the iPod touch, which was discontinued recently.
A decisive end to two decades of the iPod led to a trip down memory lane for some of us at Infotex. We asked some of our team to share their stories about their music listening habits and what the iPod has meant to them over the past two decades.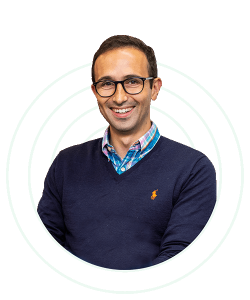 "To a 14-15 year-old boy it was a complete game changer!"
James Fulford, Account Manager
James' first (and best) iPod – a 4GB green iPod mini, 2nd generation – was one the greatest bits of kit he's ever owned, he says. It transformed his 40 minute school commute on public transport with its 1,000 songs and 18hr battery life. "No one needs more than 1,000 songs…" he says, "whoever says they do are lying!"
Now James has an iPhone with access to 2TB of cloud storage, which is used for a lot more than just songs but would be capable of storing c.2,000,000 songs (definitely too many songs!).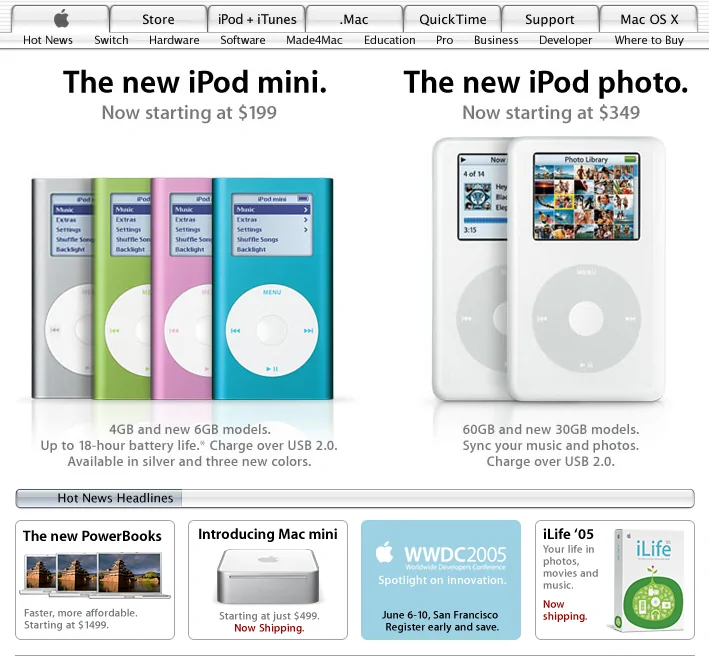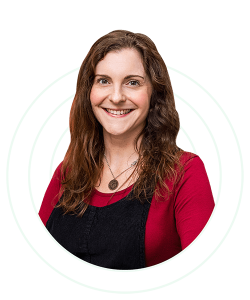 Our Production Manager Katie's love for her first iPod – a purple Nano given to her by her (now) husband over a decade ago – kickstarted her desire for more Apple products, and it wasn't long afterwards that she got her first iPhone.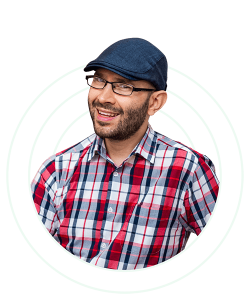 Whilst Michael, our developer enjoyed listening to podcasts, thanks to the hard drive capacity. "This completely changed my life, the most memorable podcasts were "The Skeptics Guide to the Universe" and "The Bugle" (both are still going and I still listen to them)."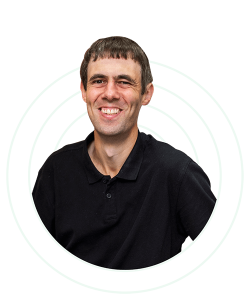 "That iPod touch was my reliable friend for emergency notifications overnight for many years, as well as pumping out a steady stream of 1980's rock 'n roll music for many long days during a house renovation where there was no internet connection. It is still sat close to me now!"
John Harman, Infrastructure Manager
Remember the days when hours were spent burning CDs to listen to in the car? For John (aka Moz), this ended in 2006 with the purchase of an iPod Nano 2nd generation (2GB), for use listening to podcasts in his car via a tuner add-on that created "iPod FM". Moz's podcast passion outgrew his storage capacity, so his birthday present in 2009 was an upgrade to an 8GB 4th generation Nano, which still works today. As a developer, but not an Apple user, Moz needed a simple way to do browser testing on iOS, so later he upgraded from the Nano to an iPod touch.
Although nowadays Moz's music and podcasts are primarily handled by his (Android) phone, he is still close to his iPod touch and iPads. Like Katie, the iPod was Moz's first dip into the Apple ecosystem.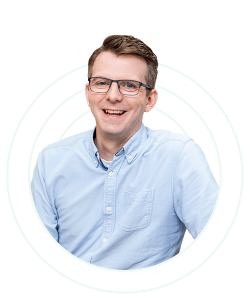 Not everyone jumped on the iPod bandwagon. Account Manager Kris Parker opted for the DAH-220 – a clever cassette tape shaped MP3 player, so you can load it into a tape deck and play your music – ideal for cars in the early 2000s! With only 256mb of storage, you had to be very selective over what tracks you put on it.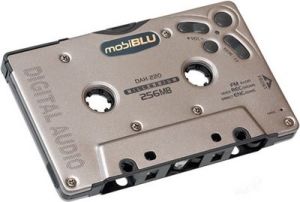 ---
Whether the discontinuation of Apple iPods marks an inevitable end of simple music players or not, we will always feel nostalgic about the time these small devices transformed music and podcast listening forever!
By Mark Hinkes, DPM.
Patient throughput is a pain point for many health care systems worldwide. In the US, when a patient with diabetes wants an appointment for foot care, they merely call the podiatrist's office and ask for an appointment. Those patients who pay cash, have Medicare or PPO insurance (assuming the provider participates) usually have no problem with coverage. Those patients who have HMO insurance may not have the luxury to go "out of network," and therefore may not be able to receive your care. Not only are there constraints on access by payor, but the time frame in which a patient may get access to care can vary. Several other questions for practices arise even after addressing payor issues. Is the patient new to the practice or requesting a follow-up appointment? When is the next available appointment? Is the nature of the visit emergent? In any case, access to care is usually achieved in a reasonable time frame.
In the US, we often take the ease of scheduling an appointment with a podiatrist for diabetic foot health care for granted. But scheduling an appointment in health care systems in other countries can be lengthy, complex, frustrating, and can result in unintentional tragedies. Some health care systems are not fine-tuned for patient throughput and patients with diabetes may become subject to a series of what might seem unreasonable bureaucratic steps that delay care. All too often, the delay in accessing care means that a problem that was at one time non-acute becomes critical and may require hospitalization or even result in an amputation.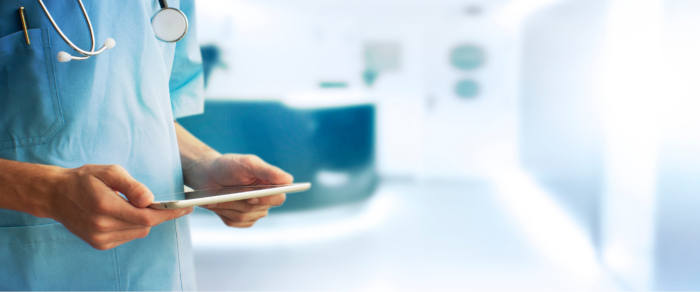 Challenges to Foot Care in the UK: One Patient's Story
Here is a story about a typical experience of a patient in a bureaucratic single-payor system that has a pain point with the issue of patient throughput. James is a 65-year-old male with type 2 diabetes and obesity. His blood sugars ran slightly elevated over many years and despite the recommendations of his primary care physician, he pretty much ate what he liked and used tobacco without regard to the long-term effects on his health. His attitude was quite cavalier. "Whatever it is, it won't happen to me," was his mantra. He lived a life of denial.
He recently developed a "sore" on the bottom of his right foot and only realized he had developed an ulcer when he saw blood and some exudate on his sock. Thinking the problem would heal itself in due time, he opted not to go to his primary physician, but instead to "give it some time to heal on its own."
After waiting for a month, he realized the ulcer was not going to heal and in fact, a wound that was the size of a dime a month ago was now the size of a quarter and much deeper than he remembered. The development of redness and tenderness in his foot was the catalyst that made him ask for an appointment with his physician.
James lives in England and his health insurance is paid for in his taxes, so he, along with an avalanche of people, receive their health care from NHS England with no charges, deductible, or co-pay. Often times the demand for care is higher than the system is able to support and this is where patient throughput becomes an issue.
It is important to understand the cycle of events that James went through for an appointment to see a podiatrist. James first needed to get an appointment with his primary physician for an evaluation. That could take up to 14 days. If the primary physician felt unable to treat his ulcer, a consultation referral would be made by an acknowledgement letter (no phone call, no email, but by a letter!) to a podiatrist. Another 14 days could pass before acknowledgement of the consult request. Once identified as needing podiatric care, the actual appointment could be delayed for another 4 to 6 weeks. So, James could wait/in the queue for 8 to 10 weeks before he gets access to care. The longest a patient will wait from the time they are referred to the primary physician and before starting any podiatric treatment could be 18 weeks, or well over 4 months! (1)
James was eventually seen by a podiatrist and later hospitalized for treatment of his infected ulcer, which led to a below-knee amputation of his right leg.
The Pain Point: Where Can Change Begin in Patient Throughput?
The scenario James experienced has likely played out for thousands of people needing foot health care from NHS England. James was not alone. The most frustrating result of throughput issues is that patients are stranded in the queue and care is delayed. It is quite likely that had these patients been seen more promptly, their foot health issues may not have required treatment of complications requiring hospitalization, and in some cases amputations, both of which generate increased expenses.
The facts are that around 2 to 2.5 percent or around 60,000 to 75,000 patients with diabetes in England have an ulcer in any given week. There are over 7,000 lower limb amputations in people with diabetes in England each year, and the likelihood that someone with diabetes will have a leg, foot, or toe amputation is around 23 times that of a person without diabetes. Every year, approximately 8 out of every 10,000 people with diabetes undergo major lower extremity amputation (above ankle), and 18 out of 10,000 have a minor amputation (below ankle). (2)
A Partial Solution – Facilitating Patient Throughput Using a Digital Health Tool
While there has been significant progress in identifying at-risk patients and facilitating their entry into the system for medical care, NHS is working with one company who has led the way with a unique digital tool to facilitate patients' throughput and more prompt access to foot health care. Their efforts have accelerated a change from using 19th century methods to a 21st century solution to one aspect of the problem of patient throughput.
To address the patient throughput issue to podiatry services that would lead to better access to care, NHS is working diligently to resolve the problem with Infotex, a London based digital health company. Infotex designed a digital self-referral tool for patients who would like an appointment with an NHS podiatrist that literally lets them skip the process of an appointment with their primary physician, saving 28 days of waiting time in the queue. The tool prompts patients to answer a series of questions and asks for a photo of their foot. A podiatrist at NHS reviews the documentation and decides on the nature of the foot problem, the immediacy / necessity of care, the type of care needed, and the location of the care.
The Infotex tool thus facilitates patient throughput by removing one time-consuming step in access to care. It expedites care by directing the patient's request for foot care directly to a podiatrist who evaluates the request and refers the patient to the appropriate provider. It will be interesting to see how this tool impacts patient outcomes in England and what other countries, like the US, can learn from its results.
Dr. Mark Hinkes is a Doctor of Podiatric Medicine who recently retired from clinical care after 40 years' service. 20 years in private practice in Miami, FL and 20 years at the Veterans Affairs Medical Centers. In Nashville, Tennessee he served as the Chief of Podiatry Services and Director of Podiatric Medical Education. He has been the Chairman of the Preservation Amputation Care and Treatment (PACT) Program for over a decade.
References
1. Personal communication with Deborah Keating, Head of Sales, Infotex
2. Improving footcare for people with diabetes and saving money: an economic study in England (PDF) Diabetes UK. Available here . Published January 2017. Accessed April 20, 2022.
Healthcare systems in practice – understanding the need and how Infotex can help.
We launched Infotex UK Systems just before the COVID-19 hit. We were excited about its potential to support the NHS at the time but throughout the last 2 years we have really been able to explore how critical well designed, value for money systems will be for trusts and CCGs\ICSs.
The NHS is ramping up its focus on digitising itself, its staff and providing better channels through which patients can engage with practitioners and also help determine how best to manage their care.
The expectation is that as a result of the epidemic, all technology will see a jump forward but that any used within the Healthcare Industry will see a more poignant increase in pressure to deliver.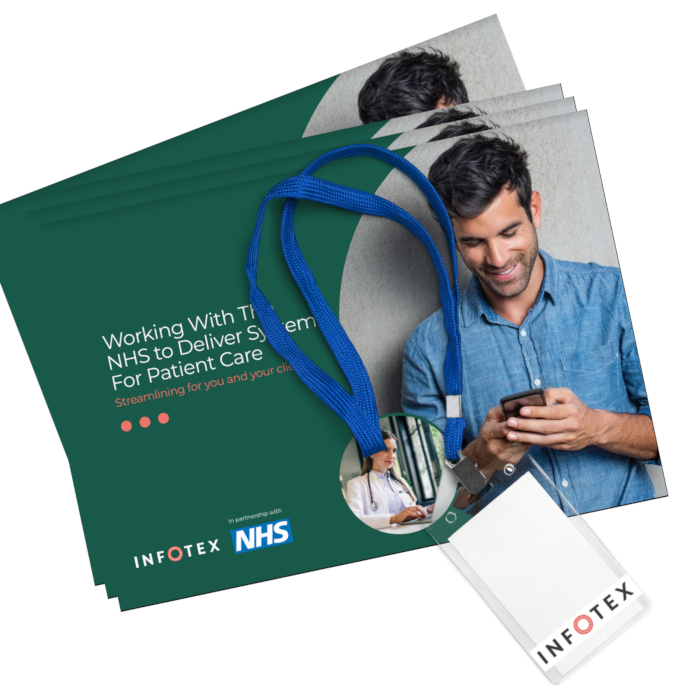 With this in mind, we are excited to be attending a number of key shows across the year so we can purposefully engage with operations and administration leaders to understand their actual and specific needs and challenges. Though we have gained enormous information through careful research, the best way for us to deliver value is to speak directly with those looking to improve their systems as each team and trust have such a vast range of requirements and challenges (even if they can broadly be categorised together).
We next plan to attend THE HEALTH PLUS CARE SHOW, in London on the 18th-19th May.
It is FREE to attend for healthcare professionals, you can find the show guide and other details at healthpluscare.co.uk/digital.
The show will cover 4 key areas;
Integrated care systems
NHS Trusts
Primary Care
Local authorities
Topics we hope to explore include:
How trusts will be working more closely together and the common challenges in meeting this around systems
How CCGs\ICSs will be looking to adopt new technology to overcome the backlog and also bridge gaps until more rounded solutions are ready to implement
How individuals are feeling about the increased need to move systems and operations over to digital platforms
We are looking to speak to anyone that is working in the healthcare sector that would like to share their thoughts and experiences of patients facing AND internal administration systems so we can better meet the needs of patients and the CCGs\ICSs we hope to work with.
Get in touch if you would like to chat either online or in person!
"The Healthcare Show in 2022 provides that long-awaited opportunity for the NHS to come together to reflect, respond and re-organise in the face of the monumental challenge it has endured over the past two years."
www.healthpluscare.co.uk
Want to arrange a meeting at the show or find out more about our systems? You can reach the team at:
debbie.keating@infotex.uk or via LinkedIn
alex.rawlings@infotex.uk or via LinkedIn
We hope to see you there!
To find out more about our healthcare solutions please visit www.infotex.uk/healthcare-systems or contact us for a brochure.
We'll also be at:
NHS Confed Expo: 15th – 16th June, Liverpool
Royal College podiatry show: 7th – 9th July, Liverpool
Integrated care Expo: 1st July, Newmarket
Google Analytics is a (usually) free web tracking tool, and the most popular visitor analytics service. It tracks users across websites it is installed on, and provides data on how people are using and interacting with the site. The majority of websites that use Google Analytics are using Universal Analytics.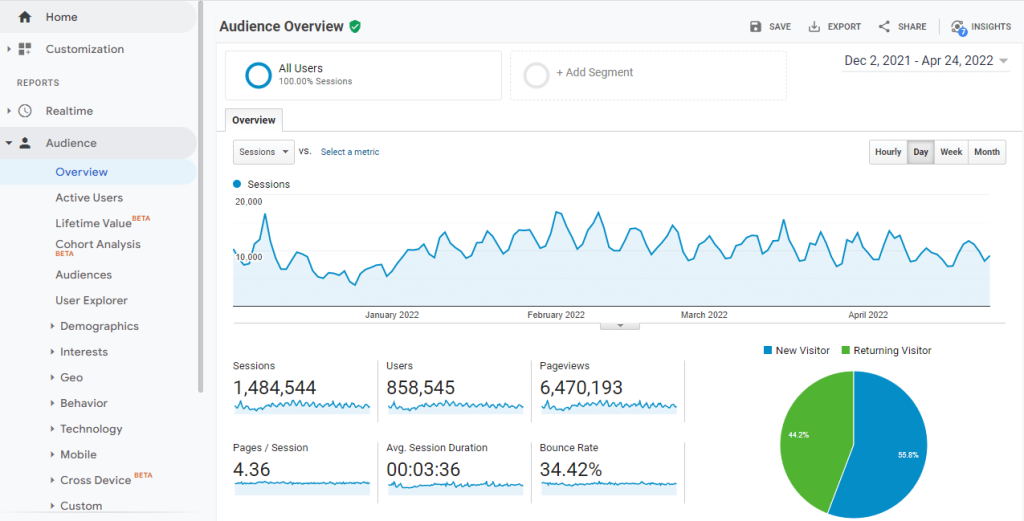 In October 2020 Google launched Google Analytics 4, and last month Google announced that Universal Analytics (sometimes called GA3) will no longer process new data from 1st July 2023. This leaves just over one year to make the transition to Google Analytics 4. After this date, Google's analytics solution for websites will be Google Analytics 4.
Google Analytics 4 marks a large shift in terms of both measurement and reporting moving from session based to event based. The new version is cited as privacy-focussed, as it will eventually become a cookie-less solution and as standard has IP anonymization on by default. It will also utilise machine learning to fill in the gaps of web users who opt-out of cookie tracking and help make predictions on your data.

This change in measurement from session based to event based means much of the existing reports and metrics in the current interface are either removed or replaced.  Don't expect to see the same reports that you're used to. While some data is lost from moving away from session based data, the new event model includes certain events being measured automatically including scroll tracking, outbound clicks (clicks to other sites), file downloads and video engagement.  
What does this mean for you?
In the period between now and July 2023 we are recommending sites implement the new GA4 version of Analytics and run this in parallel with their Universal Analytics. This gives a window of time to not only get used to the new version, but also to collect data to allow date comparisons for reporting. If you'd like to get a taste of what the new Google Analytics 4 reporting tool looks like you can access Google's Demo Account.
Currently, GA4 feels a little way off from becoming the web's primary analytics tool but we expect to see it grow in functionality and popularity as the July 2023 date nears. However, GA4 is the next generation and in 2023 and beyond it's a tool we will all be using a lot more.
If we're working with you on marketing and reporting and you're not already on GA4, we'll be in touch to discuss making the transition. If you'd like more information about GA4 or to discuss getting started with GA4 on your website, please do get in touch with us. 
The year is 2019, Coronavirus is not yet a global issue but one business is about to start its own epidemic. A widespread contagion for fitness fever around Suffolk…
When Luke Read and his Airborne Fit team came to us that year with their vision we built a website to best match that and their brand which all parties were delighted with.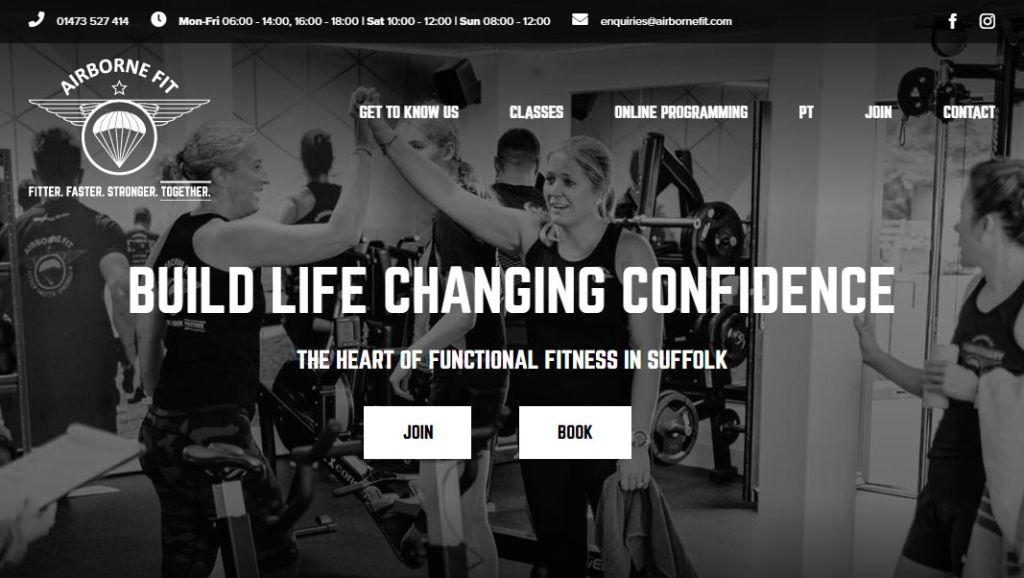 Two and a half years later, their business and market sector, like many others, has vastly evolved. It became quite obvious that their website and brand no longer matched who they are and what they're really about.
With that in mind, and after various meetings with the client, we amended the current website to create a sleeker and simpler look. We adjusted its focus towards the warm, team spirit which Airborne Fit strives for, while also keeping an element of passion and hard-work across the site.
The new and improved website is now live and the most notable changes include:
Addition of 'More Than Just A Gym' and 'Online Programming' pages
Testimonial section across the site
A 30-day free trial sign-up form
New static banner with simple call to action buttons
New colour scheme and imagery throughout
It's been a pleasure working with Luke and Michael at Airborne Fit on this website refresh project and we believe the changes have really helped achieve the new image they came to us for. Take a look for yourself!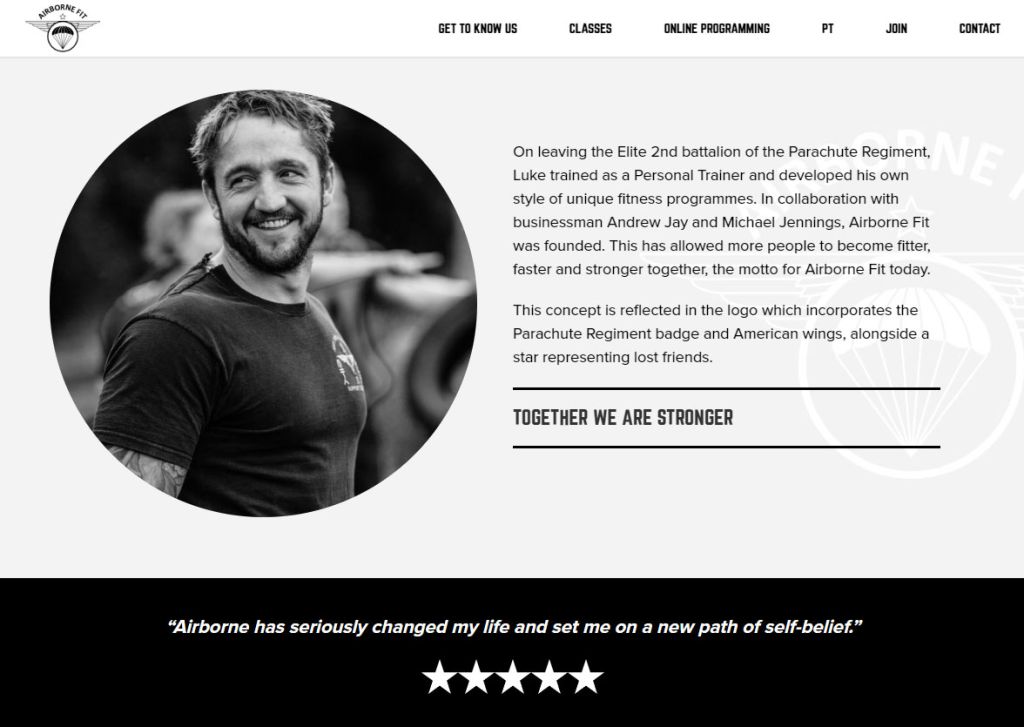 "Infotex were brilliant from start to finish with redesigning our website to reflect the change of look and feel we wanted post-pandemic. Communication throughout was brilliant, they listened patiently to our aspirations for it, fed-back creative ideas we hadn't thought of and brought our ideas to life to deliver a final product that mirrors exactly what we wanted. We now have a website that is dynamic, yet feels totally personable, clean and simple to navigate. Thank you guys."
Michael Jennings – Airborne Fit
If you have an existing website that needs a refresh, please do get in touch. Whether you're an existing client or someone looking for some new specialist website support, we're more than happy to help!
Woodbridge School is a local independent school in Suffolk offering pre-prep, prep, senior school, and sixth form education. The school is deeply embedded into the community of the town of Woodbridge, and is part of the Seckford Foundation – founded in 1587 by philanthropist Thomas Seckford. 
Woodbridge School recently approached us to take over the hosting and ongoing support of their lively website. We initiated the takeover project with an audit and health check of their site to ensure everything was in order, and now we continue to support the site's security and functionality, including supporting their ongoing marketing via social media and landing pages.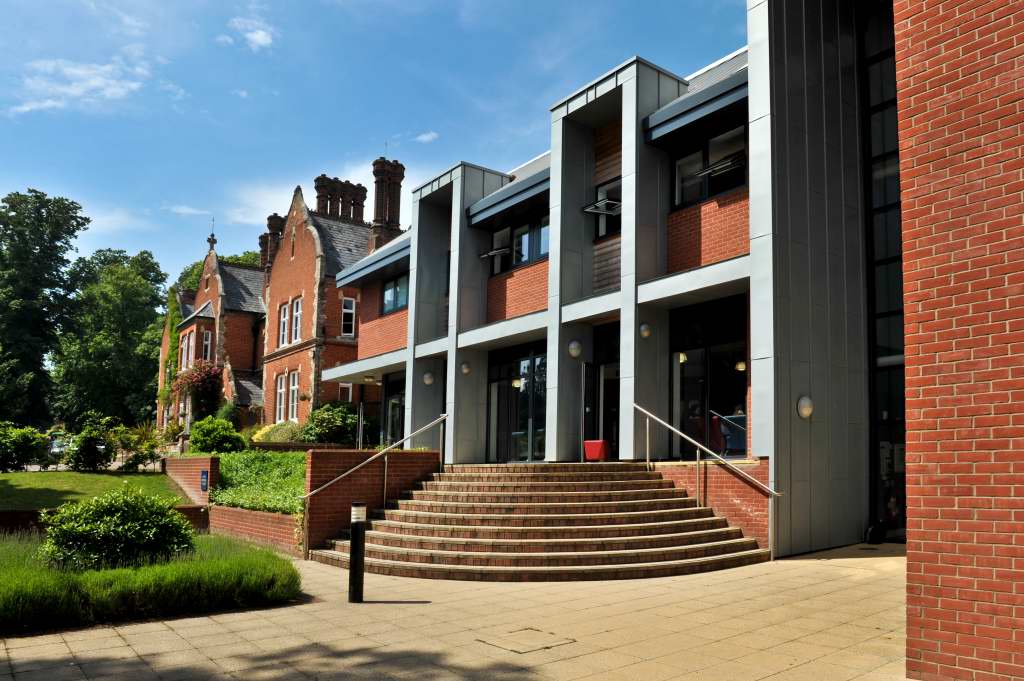 Like the proactive staff and students, their website is a busy one! It is always being updated with news, events, and information to keep all of the members of the Woodbridge School community updated with everything they need to know.  
To learn more, you can visit the website or sign up to their Open Day, Saturday 24 September, 10am- 3pm, where you can take a tour of the school, speak to staff and students, and meet the headteacher. 
"It is great to be working with Infotex and their real technical competence for maximising the value of our website"
Gemma White – Director of Admissions, Marketing and Communications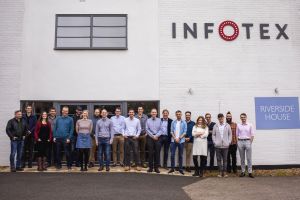 A wise advisor, someone I admire and respect, once said to me "Strategy is What Happens, not what's Supposed to Happen".   What Has Happened to our offices is, perhaps, just such an example.
In 2020 we made the decision to close our small London office, amidst the drama of the pandemic and lockdowns. This week we have said a final goodbye to our head office in Melton, Suffolk. 
Riverside House has been our home for just 5 years, 2 of which have been lost to the pandemic. But we have always had our head office in Melton since 2004, so this is a big change.  
We have opted to make working from our own homes our default mode, with flexible hours to boot, but we are aware that this will have consequences, so we see this as an evolving story.  
The abruptness of the pandemic jarred so many businesses into adopting, at scale, remote working practices that have been in place for years.  In Infotex, as in many businesses, we had already been working for a long time remotely with clients and staff across the world, on Hangout, Teams, Zoom and Skype, with all of the benefits.
Scaling this up to become the default taught us about new positives.  For our staff who have always worked remotely from "the office", having everyone on the same level has resulted in a new closeness within the business.  Our daily chats mean that all of us see and hear more of each other than we used to, and our teamwork has improved through the flexibility of being able to make up teams so flexibly (although we tend not to use Teams, preferring Google Meet for its immediacy).  
Having overall responsibility for the business, I feel more connected to all of our team of 25 than I ever have.  Maybe that's a damning indictment of how I was doing things before!  Or maybe I am deluding myself.  Certainly, this sense of connection has made me eager to find the ways and means to spend more time actually together.   So far, we have had three 2-day "gatherings", where the whole company works in one location.  These have all been enjoyable, and constructive and important for our business.  Now that we no longer have our building, we are free to roam. Our next gathering, in June, will be in Portsmouth.  This is a welcome relief to our minority "Staff in the South", who are relieved not to have to journey to Suffolk this time. It will no doubt invoke a nautical theme, and plans are afoot to visit the historic dockyard.
In the meantime, like so many other businesses, we are free to meet with one another and our clients in a variety of locations, many of them regulars. Serviced offices and workspaces offer the ideal answer for providing us with stimulating and enjoyable working environments when needed.  For some of us, having somewhere to go is beneficial and needed, so this option always remains available to us all.  But not being constrained by a rigid structure is an important step forward and feels like a step forward.
Propelled by events, we are following a new strategic direction, which is modern, flexible and resilient, and fills us with confidence.  But it wasn't supposed to happen.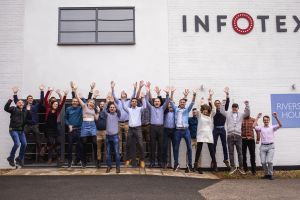 Every project starts with a chat
Discover how our team can help you on your journey.
Talk to us today