For the majority of the time, the Infotex team are working from home. We asked some of our team what their setup looks like, and what tools they have at their desks to help them get on with work more productively. 
Cameron
When I started working from home, working at the kitchen table did not work for me at all. Working at a single screen in a non-professional space was unlikely to be productive so now I have a small home office set up in the box room. I have a shelf above my desk for my laptop and screen. It is also the dressing room, so the views are limited… but I make sure to take good breaks at lunch and walk the dog.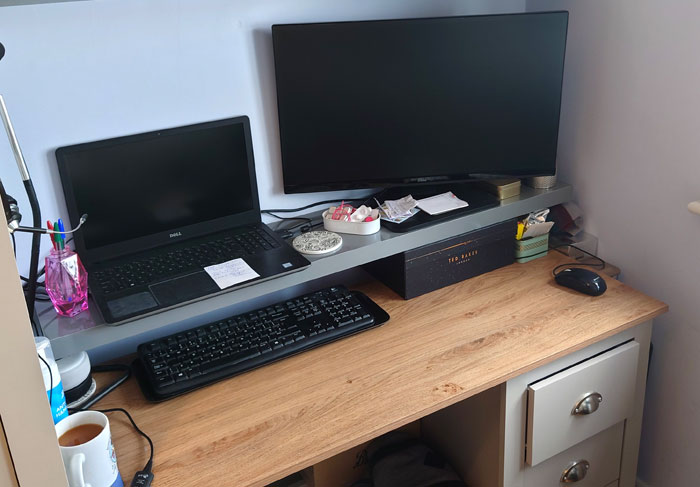 ---
Debbie
I am fortunate that my children have grown up and flown the nest so I have set up my office in one of our spare rooms. I have a stand for my laptop, a special chair for my back, and a homemade footstool because being short I can't touch the floor! I do not have any particular gadgets for my desk but I do take an extra-strength vitamin D tablet every morning. From my office window, I am able to see the blackwater estuary in the distance.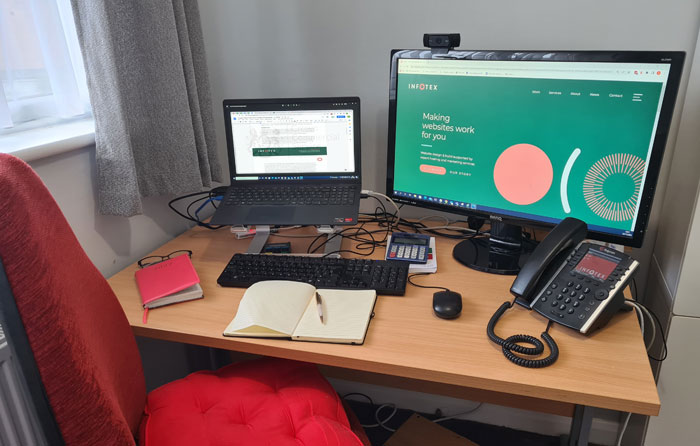 ---
John
I work in my home office which also doubles as a bedroom. I started out with a portable table and never really liked it so over Christmas 2020 I spent a day making a custom desk – it's one of the best things I've done. Being custom the height is just right and it is relatively sturdy with no wasted space. Best of all the monitors are raised giving additional space and the right height. When I was in the office I had persistent neck pain but since the change I haven't noticed it. Next step is to varnish the desk top, which should be over the Christmas break this year.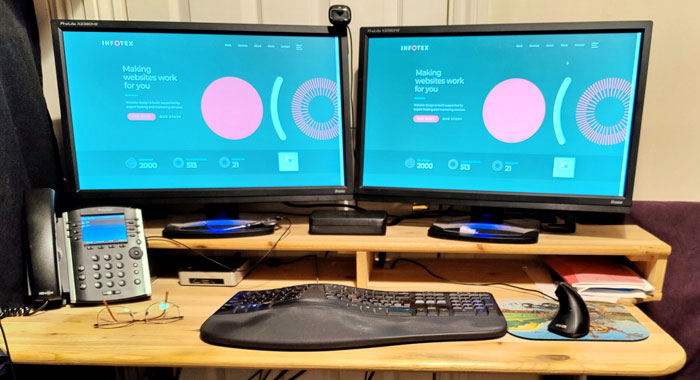 ---
Katie
After 3 months of working at my kitchen table, I needed more space and longed to not have to pack everything away each evening. I am now in what used to be my children's playroom, it is quite small but works perfectly.
My monitors are on adjustable arms to give me as much desk space as possible. As well as a lamp directly above my desk I have a light therapy lamp for the winter time which does help with the lack of daylight.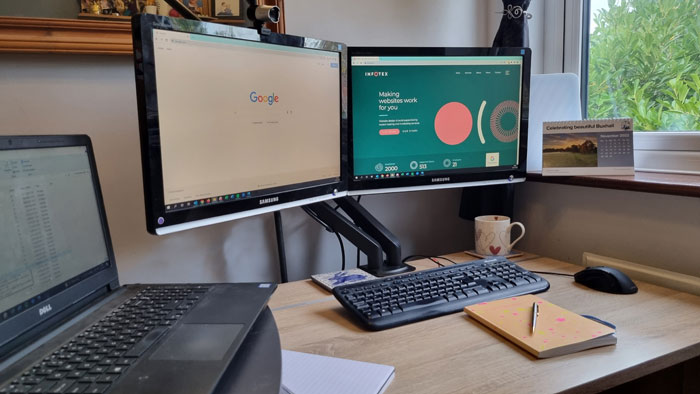 ---
Michael
I have been working from home since before it was cool, so I have spent a lot of time and effort getting my setup just right. My main hobby at the moment is video game development, so I spend a lot more time behind my desk than the average person.
Here is a breakdown of what I use:
Mechanical Keyboard: 

I use a mechanical keyboard as they are tactile, durable, and responsive (

editor note: and very noisy

). The one I use can switch between multiple devices with the push of a button.

Headphones:

 People often recommend noise-cancelling headphones, I do not agree with this, sometimes you need to hear things around you (like the doorbell) – so there are headphones with a "passthrough" feature that plays back whatever is being recorded by the mic (you can turn it off).

Chair:

 I've got a Herman Miller Aeron – even refurbished this was an expensive investment but I spend a lot of time in it.

Monitors:

 I prefer large high-resolution monitors so I can fit lots of open windows on them and it helps switch to different tasks quickly.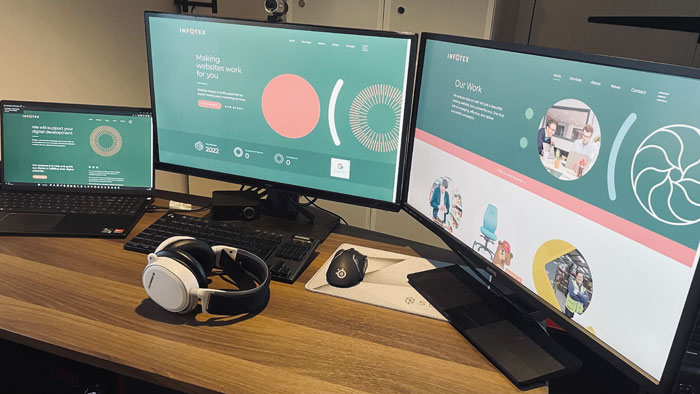 ---
Richard H
From my home office window I can see the tops of some bushes and trees with a rambling rose growing over it which looks lovely when it is in bloom. For a change of scenery, I'll occasionally work in the living room or conservatory. 
Lighting is important to me – I don't use anything special, just a 100W equivalent LED bulb so that there are no shadows in the room.
I've built a monitor stand out of some old kitchen units to support my two monitors to get them to the correct height. I've raised my desk to a suitable height using bricks as an adjustable desk is excessively expensive! I have a decent adjustable chair (but I do partially regret not getting a proper osteopath approved one) and a foot-stool built from more old kitchen unit pieces! Why didn't you buy one: They are expensive and I like upcycling spare items.
---
Chloe
Being a one-screen worker, and not nearly precious enough about my back, I like moving around and working from my laptop with cable headphones in whichever library, café, or kitchen will have me! Because of my work I have few meetings and so can afford to be in more bustling, noisy places, or in silent zones of a library, and find I really thrive off the changes in scenery.
On days when I work from home I have a desk that belongs more to the house plants that live there than it does to me, but they make space for me when they have to…
October 2022 is Cyber Security Awareness Month.
This is a topic which started over 10 years ago and is led by the USA's Cybersecurity & Infrastructure Security Agency (CISA) and is shared with the European Cyber Security Month (ESCM).
While the topic may seem ethereal and mired in complicated titles, the principle behind it is very simple and one which every business should take time this month to consider if you haven't already.
What are you doing to ensure that your business is safe online?
October is a month when many businesses start to focus on the busy period ahead and getting the basics in place before that rush could save you valuable time later on so here are some thoughts and actionable tips.
Cyber Security starts with the simplest of things, which hopefully everyone reading this knows and implements already:
Move beyond pass

words

, have passphrases or better still random generated strings of characters

If it needs to be memorable use 3 random words put together

Every passphrase should contain a mixture of numbers, lowercase letters, uppercase letters and punctuation, the longer the better – increasing a passphrase from 8 to 10 characters can make it hundreds of times stronger and if you're not using at least 8 characters already, you should

Never re-use any passphrase. Every site must be different to prevent an attack on one site allowing attackers into others

Consider using a password manager to store your passphrases such as LastPass or Dashlane. These only present the passphrase on the expected domain to reduce your chances of being phished, many are free for personal use and low cost for businesses.

Use Multi-Factor Authentication for everything you can. This requires a second piece of information alongside the password such as a code that is texted to the registered phone.
It's more than just good passwords
Have you considered becoming Cyber Essentials accredited?
Infotex have gone through the accreditation process, and while we had a good security understanding beforehand this has helped focus everyone's attention on the issue. 
Phishing
Phishing is when a fraudulent email is sent to you asking you to take some action believing the email originated from someone else you know. This is one of the biggest threats to any organisation today with almost a quarter of breaches in the Verizon Data Breach Report 2022 started via a phishing attack.
It is believed that around 3% of all phishing emails successfully entice their viewer to click the link. The emails are often very convincing using a combination of familiarity, based on information colleagues have posted about themselves online (sometimes unwittingly), and also a sense of urgency. It is always worth taking that moment to check because clicking a fraudulent link could be the start of a chain of events you'll never forget.
Phishing doesn't just happen via email. Text messages and phone calls are also becoming more common targets for phishing attackers as awareness of email phishing rises. 
Ransomware
Ransomware is designed to prevent you from getting access to the files on your computer by encrypting them. You are then invited to pay a ransom to unlock the files. 
It is generally recommended not to pay ransoms as you can't be sure that the attacker will fulfil their side of the deal. You're also funding organised crime and encouraging future attacks. It is better to invest in good protection and well-protected, external backups that are not directly connected to any device. Ensuring your computing devices and programs are up-to-date and have good antivirus software installed costs very little but offers a lot of protection, also maintain a good policy on keeping the operating system and software patches up to date, such as Windows Updates, finally if you run as a limited user rather than an administrator that often reduces the damage an attacker can inflict.
The Fun One – Play Capture The Flag
Within Cyber Security the term "capture the flag" is an exercise whereby one team set out to obtain some item of data held by another team within the business. If they are able to obtain it then both teams stop, learn how it happened and agree on steps that can be taken to ensure that a genuine attacker could not do so, thus increasing the overall security of the organisation.
You don't need formal "red & blue teams" to do this, even the smallest of businesses can benefit from trying this, perhaps start by seeing whether one staff member can find the login password (or passphrase) for another member of staff's computer. is it on a post-it attached to their monitor, is it the name of their child / cat / favourite holiday destination? Do they leave their PC logged in while they take their lunch break allowing anyone to walk up-to and use the PC in their absence?
The aim of Capture The Flag is not to belittle anyone but rather for everyone to learn from the experience and collectively improve your defences.
---
These are just a few of our thoughts, there's much more advice available online as well as events in both the virtual and physical world but now you've read this article do ask yourself whether even that advice is genuine or is someone trying to get information out of you?
On Sunday 9th October 2022 an Infotex team completed The Suffolk Whole Hog – a gruelling 5 miles (8km) run through multiple muddy and wet obstacles. This time the team was raising money for BIG KID Foundation which strives to see no young person lose their life or potential to youth violence.
We have combined our fundraising efforts with a team of runners who were tackling the London Royal Parks Half Marathon and so far have raised over £12,000.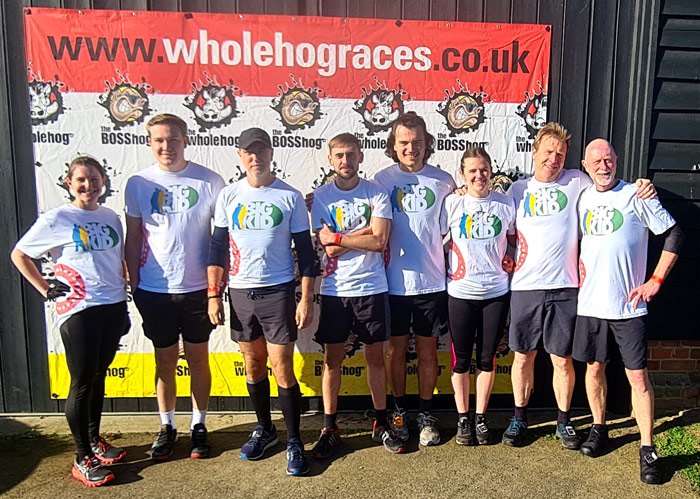 The Team
On the start line were Ant Agar, Chloe Agar, Katie Robinson, Matt Adlem and Will Ridd from Infotex. A special thanks goes to Will for stepping in with just 2 weeks' notice after James Fulford suffered an injury. The numbers were swelled by friends and partners Kevin Bolton, Shaun Bailey and Theo Glashier.
The Race
Taking place in the picturesque surroundings of Wantisden Valley, there was an early morning nip in the air following overnight lows of 4°c. However, by start time the sun was out and the mercury was just breaking through double figures.
A group warm-up was led by the enthusiastic Whole Hog staff and followed seamlessly into the start of the race, with the team's pristine white t-shirts disappearing into the distance. Thanks to Suffolk company EcoTeePrints.com for all the help with our amazing shirts – they definitely made our team easy to spot.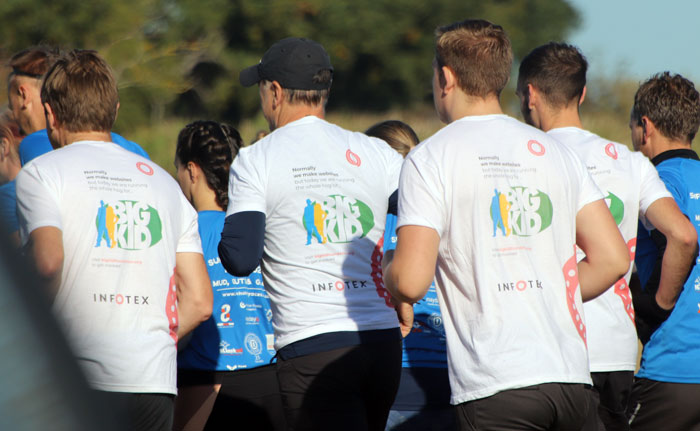 Thereafter followed 5 miles of off-road running, which involves a nice early soaking from a firehose to get the blood chilled and obstacles that wouldn't look out of place in a SAS selection course.
The ones the team talked about most after the event described a lot of in-the-water, under-the-water, in-the-tunnel experiences, enhanced with an infusion of mud, so that it seemed to be coming out their pores when they returned.  Some of the mud, we understand, was more-than-mud, the clue being surrounding fields of free-range pork in production.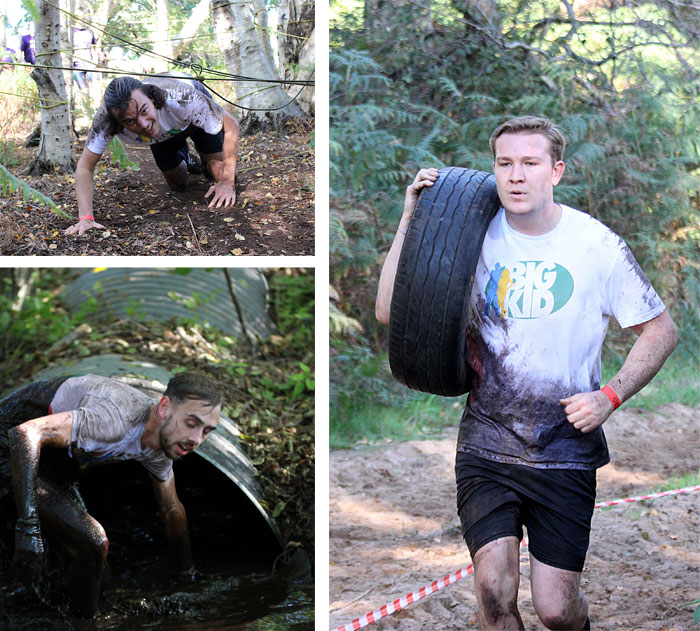 One section late in the course saw competitors scrambling through a tangle of elastic ropes while being showered by freezing water, then up a hill to rapidly slip down into a deep, dark and murky pool to go under and over a series of beams.
As they got out of the water the foul stench of the following obstacle was met by equally foul language as they realised they had to go under a low cargo-net through some mixture of thick sticky mud and other unidentified farm-yard deposits.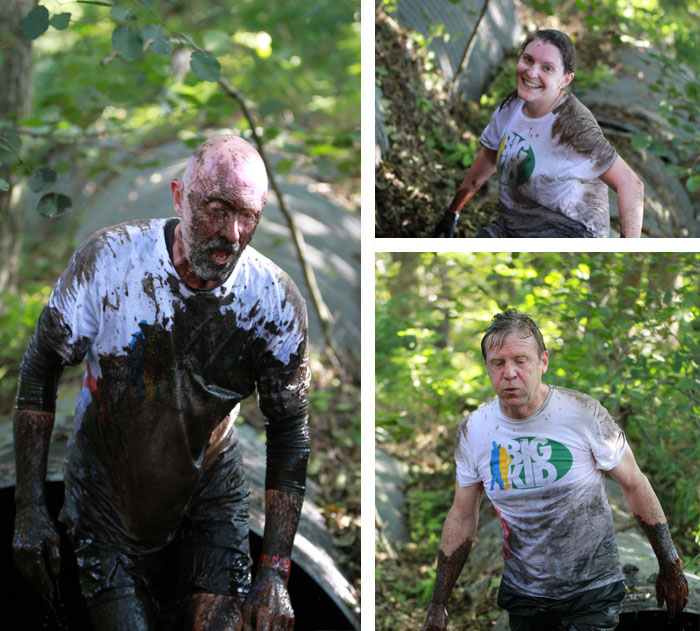 The run into the finish culminated in a steep rope climb up a 10ft stack of hay bales, before a staggered descent down the other side.  Then a welcome rinse under a hose, which the organisers had thoughtfully provided.
The Results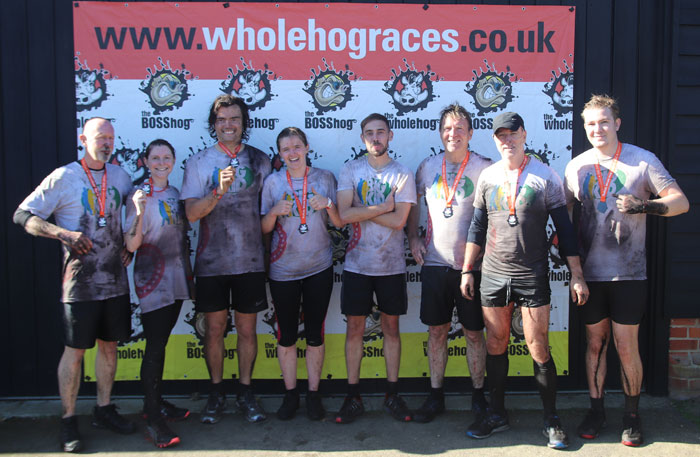 Matt and Shaun came home first and second from our team and, despite being sent temporarily the wrong way by marshals, beat last year's time by some distance (52:54 / 56:10). These fantastic times put them in 4th and 6th overall for the entire event!
Theo beat the hour mark with a 59:59 (9th overall), and Kevin not far behind in 1:00:16 (11th overall).
Our Production Manager Katie clocked 1:04:36 which made her 4th fastest female on the day!
Father / daughter combo Ant and Chloe crossed the line together, followed not long after by Will – all finished in under 1 hour 20 minutes and in the top 105 competitors out of 659.
About BIGKID Foundation
If you wish to find out more about why we're supporting BIGKID this year please view our "A Whole Hog and Half a Marathon for BIGKID" article.
To find out more about the charity itself visit www.bigkidfoundation.org
Finally, and most importantly, to support the efforts of our team (and our friends who ran the Royal Parks Marathon) you can still donate here.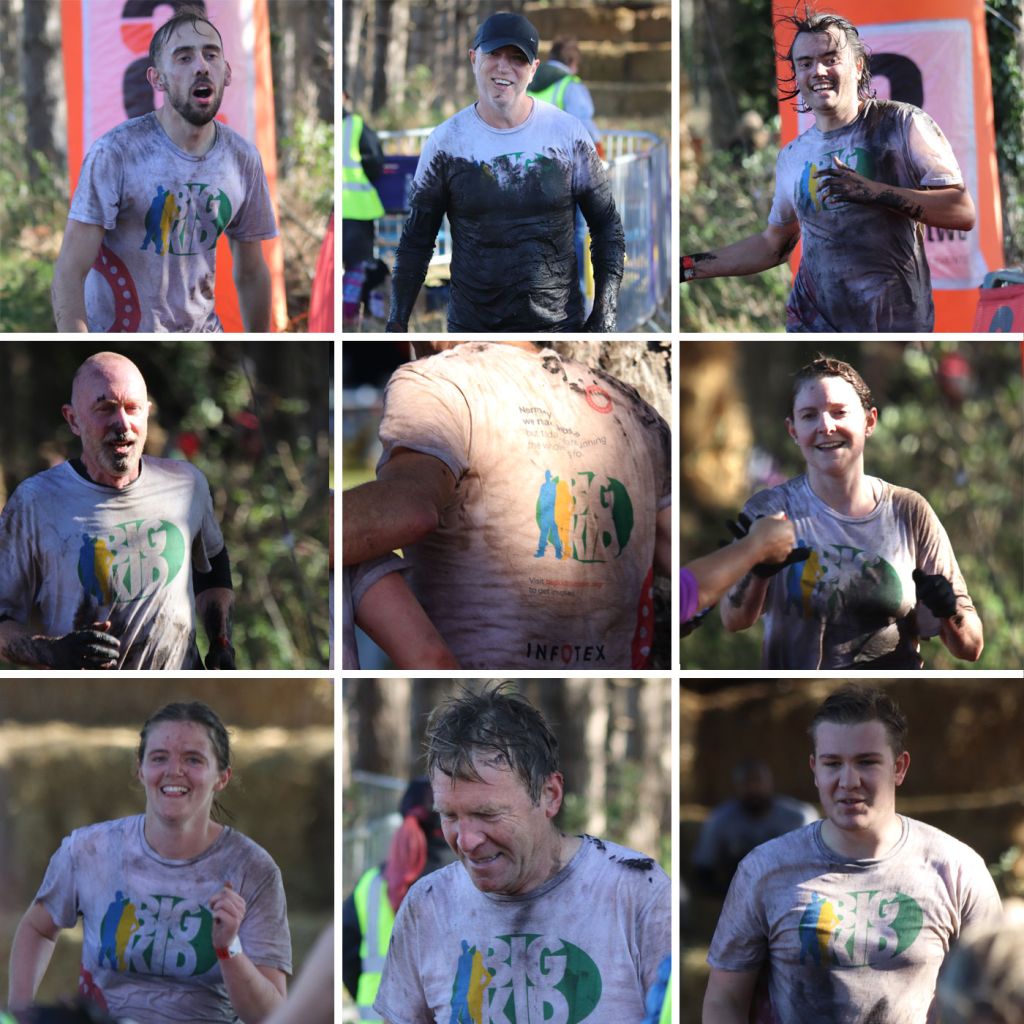 To those of you who supported us for the Whole Hog last year – Thank You! The money you helped raise for Home Start will have a lasting impact: it has enabled the equivalent of more than 52 isolated families joining life-changing support groups, 113 families accessing one-on-one support, or 227 families receiving emergency supplies. 
Your generosity made it all worth while, so we are at it again; preparing to get muddy in a smelly way, sweaty, and (as we now know) pretty bruised, but all with a purpose. 
This year we have chosen to join forces with our friends running in "Sam's Team" in the hope we can attract greater support for BIGKID Foundation, who are a smaller charity facing huge challenges as they work tirelessly to meet demand. Trust us when we tell you that if you are going to give some money to charity, this one deserves your backing. And so does the Infotex team, who after a complacent start (we've done it once before, how hard can it be?) are now feeling the fear… training is well underway, but it's not as easy as we thought. 
Training updates from the team are only slightly concerning…
Chloe: Last year I was excited because I didn't know what was coming, but this time I am more apprehensive because I know what's going to hit me… the strong smell of pigs and a mass of mud to the face. 
Running has been really difficult this year (I like to blame that on the heat), but I've taken up squash and bouldering to try and build some strength for all those obstacles, so maybe I won't be last again…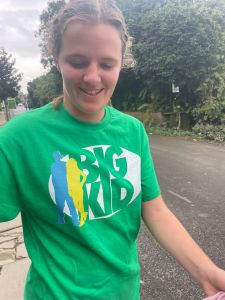 Ant: I'm feeling my age!  It's all very well trying to deny it, but aging is a real thing that happens to all of us – as I am learning …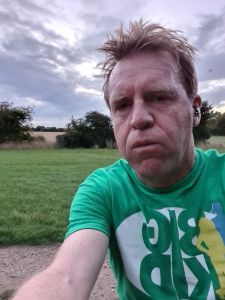 Katie: It's been harder to find time to train this year (or I've found more excuses) but I've stepped it up in the past few weeks and the Autumn weather is very welcome after such a hot summer!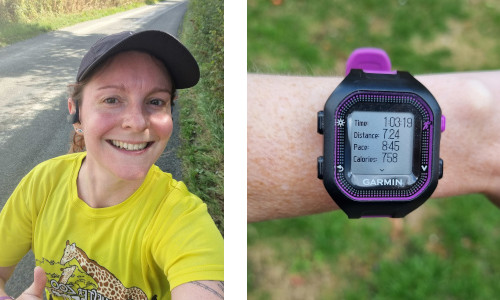 Our team members might have a way to go before feeling ready on the 9th of October, but sore legs are ever accompanied by a sense of hope and inspiration that maybe we can raise even more money this year. 
We're running in solidarity with a group running the London Royal Parks half-marathon on the same day and have joined forces with them to double up our support for the BIGKID Foundation. 
Injuries
We've already had one team member have to pull out following an injury whilst on honeymoon (don't ask)!   Here's the evidence ….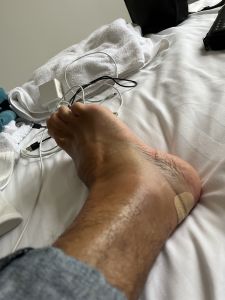 Happily, our new apprentice Will Ridd has stepped in at the last minute to fill his space.  When we last caught up with Will, he was expressing doubts, but we have promised him he is in for the experience of a lifetime.  I'm not entirely sure that made him feel any better.
A bit more about the BIGKID story
changing the world one kid at a time
While still in sixth form in 2000, Shaninga Marasha began a mentoring programme for students at risk of exclusion and on their final warning.  After a few years, the mentoring grew into a bigger programme of youth engagement that Shaninga and friends implemented through touring music events. Realising the potential of their grass-roots action and working in schools, they formed a charity in 2006 based around running workshops and activities to improve life skills for young people. Now they run Community Engagement, Mentoring and Leadership Programmes for countless young people in London. Read more about The BIGKID Foundation's story here.  
Many of the young people that BIGKID work with are gang affiliated and have been excluded from school. Your donation (and we encourage donations of any size big or small) could make all the difference in helping a young person build confidence, stay in school, get qualifications, and build a better life. For £25 a month you can sponsor a young person – giving them a mentor, invaluable support and encouragement, and helping to change their life immeasurably. 
To donate please click HERE. Thank you so much to everyone who chooses to donate, every donation really does count, any amount.
It's that time of year again.  Not Halloween, nor Christmas.  The Suffolk Whole Hog run takes place on Sunday 9th October.  Training needs to start immediately, if it hasn't already. We are a bit amazed at how quickly it has come round again.
Last year we entered an Infotex team of 8, all of whom managed to complete the course, some in a competitive spirit, to raise more than £2,500 for Home Start, who provide families with much needed support in times of urgent need.
This year we have expanded our team and our ambition. We have joined forces with friends in London to support a London based charity  – BIGKID Foundation, and I thought I'd share a bit about how we got here….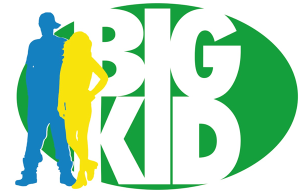 Some years ago, our local sailing club at Aldeburgh hosted its first week hosting a group of BIGKIDs to teach them to sail.  Sometimes I think that we are all just children really, but these "big kids" are specifically years 9-13 students from schools in London, whose circumstances have combined to make life harder than it should be, with the consequential risks to their chances to do well in life. 
Through volunteering at the local sailing club, a few of us in Suffolk learned about the fantastic work that BIGKID does, to offer these youngsters a community in which they can find opportunity, friendship, kindness and support, outside of home or school.  Basically it is access to good people who can inspire and build confidence in those around them to feel able to fulfil their potential, and to discover their ability to help others to do the same.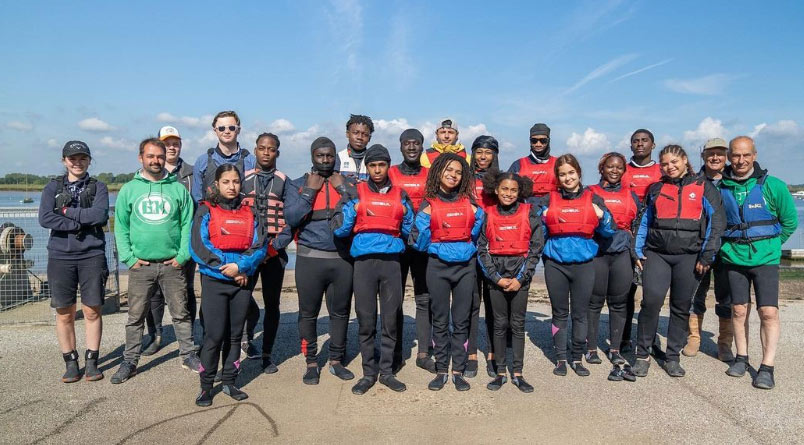 Through the sailing connection, the occasional day volunteering to help left me profoundly impressed by the people I met. The students were all incredibly impressive, with a zest for life and ambitions stimulated by the BIGKID approach – its amazing staff and also the sheer pleasure and excitement of forming the kind close friendships borne of a competitive yet supportive community.  Talking to the staff, they tell me with pride about the new BIGKID headquarters in Brixton, where young people from all across London go daily after school to take part in all sorts of activities.  They tell me how BIGKID is able to go into schools that are experiencing difficulties with specific groups of disruptive students –  identified as at risk of getting drawn into criminal gangs, drug dealing or worse – and turn these kids around by showing them how to become young leaders, role models for their peers.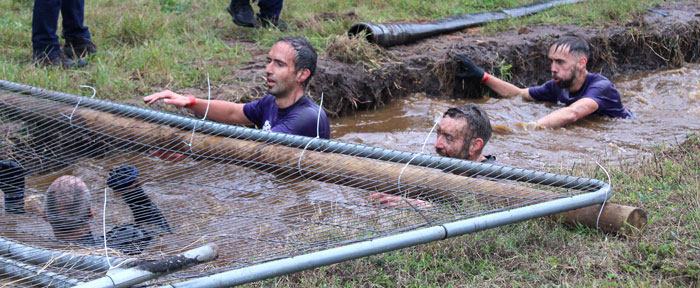 This year, we are running simultaneously with a group of BIGKID friends running the Royal Parks Half Marathon in London at the same time as our Suffolk Whole Hog.  This is a group which my daughter Chloe and I would be running in, if we had not already committed to Whole Hog, so we decided to join forces instead for a bigger impact. We will be deepening our relationship with an organisation connected to us, by supporting them financially (yes – we will be writing to you), in a manner which I know they will approve of. My secret ambition is that they will send a team of BIGKIDs to the Suffolk Whole Hog next year, for the sheer joy of it!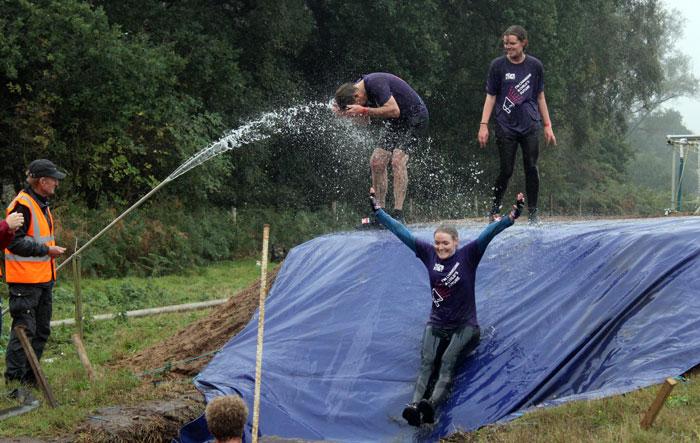 BIGKID is a small charity that does tremendously important work with very little, and they really do deserve as much support as we can all give.
You can donate at: www.peoplesfundraising.com
Thank you so much to everyone who chooses to donate, your support means everything.
At Infotex we have a very talented team who have a wide range of interests outside of work.
While I spend my work hours mainly staring at lines of code on a screen understanding how to make our systems fast yet reliable, outside of work I can often be found tinkering on physical things and have had a passion for model and miniature railways for many years and, like so many, find steam to be intriguing but had never taken it any further.
However, in 2017 with my long-suffering now-wife's encouragement, decided to change all that and build our very own miniature fully working steam engine. Never one to do things half-heartedly instead of building the more common quarter-size steam tractor we decided to build a half-size road-going Foden steam lorry.
The plan was that parts would arrive each month just needing finishing, painting and assembly over 2-3 years – how hard could this be!
With the boxes soon piling up, we realised one garage wasn't going to be sufficient so called in some family favours to store more parts boxes and had also built a much-needed shed / workshop by Autumn 2019.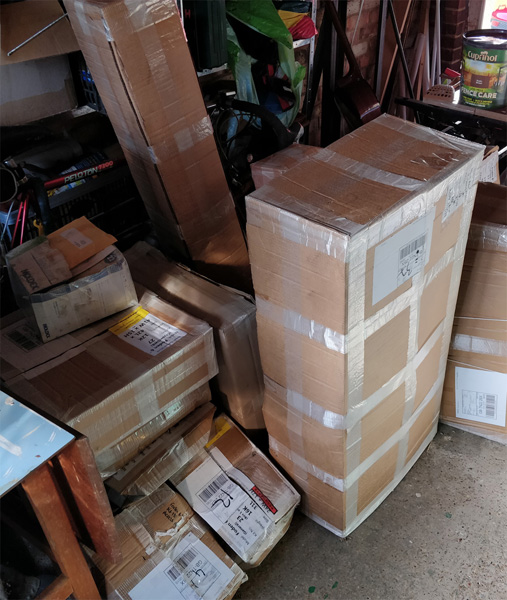 At this point the project didn't really resemble anything lorry-like, being effectively a set of steel rails laid upside down across props with various parts pointing at the sky.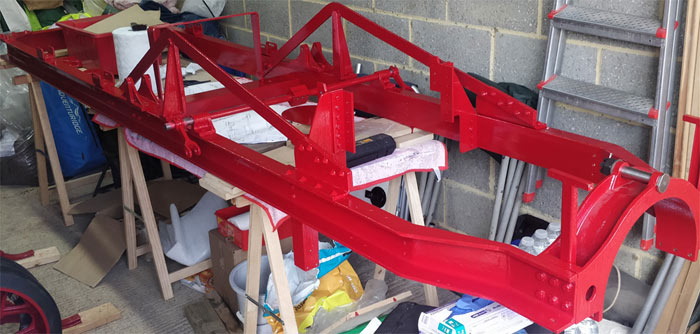 As it happened, with COVID-19 lockdowns I had a lot more time on my hands during 2020 & 2021 meaning that while many were tending their gardens or counting their toilet roll stocks I could mostly be found in the shed beavering away. 
Joking aside I do believe that having such a project has a significant positive impact on one's mental health during those dark times by giving a purpose to life and something to focus on and look forward to when so many other aspects of normality were closed off for us all.
In August 2020 in a brief period of time when some friends with muscles were allowed out of their houses, we turned the chassis up the right way and started to attach wheels. The process of turning this heavy, yet so far from being complete, construction did bring home that this was going to be quite a large model when complete!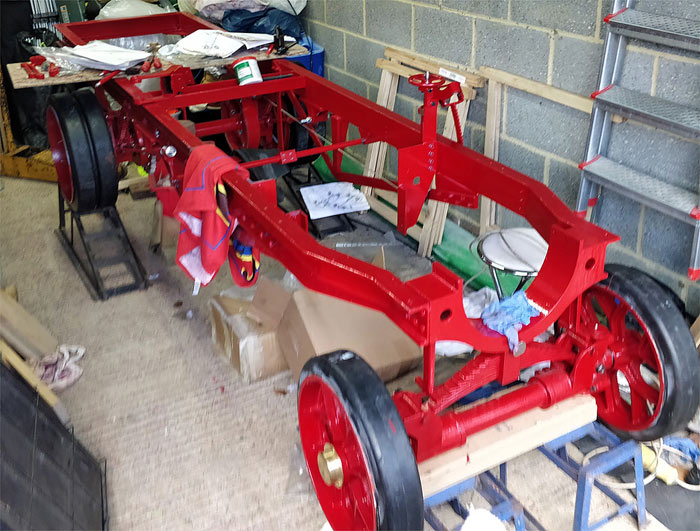 Working away almost every weekend for the next 18 months turned this into a 12' long, 4' wide,  5'+ tall model steam lorry weighing in at around 1.2 tons!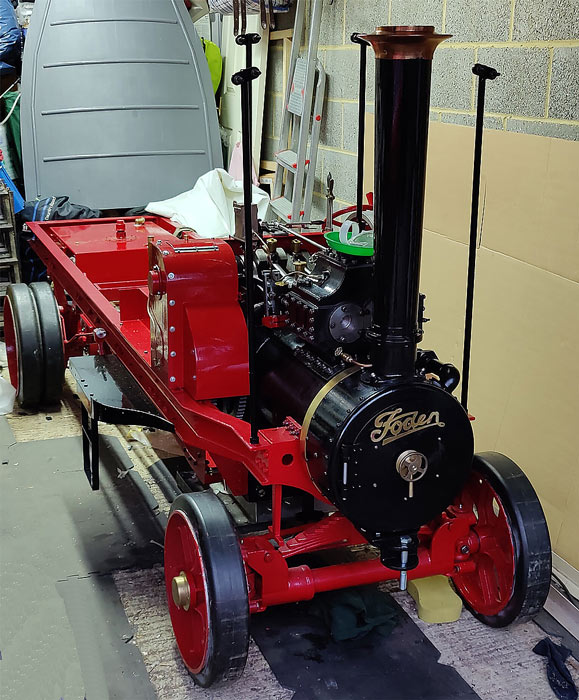 Having finally worked out how to move this behemoth, come May 2022 (almost 5 years after starting), water was finally put into it (and poured out of many places), eventually we reached a point where it was safe to light a fire which showed up much more serious problems with a faulty water injector and bent main shaft, the latter requiring stripping back down much of the mechanics.
By August 2022 replacements were fitted, everything rebuilt and its equivalent of an MOT passed!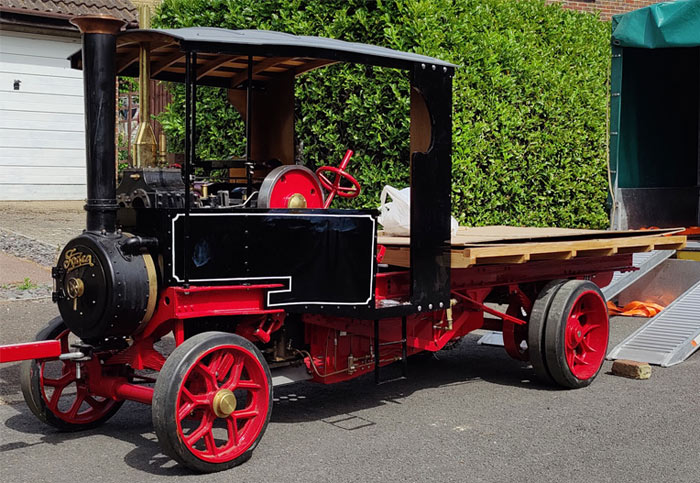 While still some way off completion visually, the engine has now concluded its first event without major issue and the smiles it put on many faces, young and old, as well as my own, through the obligatory layer of oil, makes so much of the effort worthwhile. I do now have a list of "snags" to fix, hopefully the main build and road registration will be completed for Summer 2023.
It's interesting to compare the process of building this with that of my day job with websites & servers.
At times there's a lot of very un-glamourous work and it can feel like every step forward is coupled with 2 steps back with each and every stage of the project taking 10x longer than expected but if everyone grits their teeth and works through it eventually you'll have something satisfying and functional that puts smiles on faces.
What's the next project…..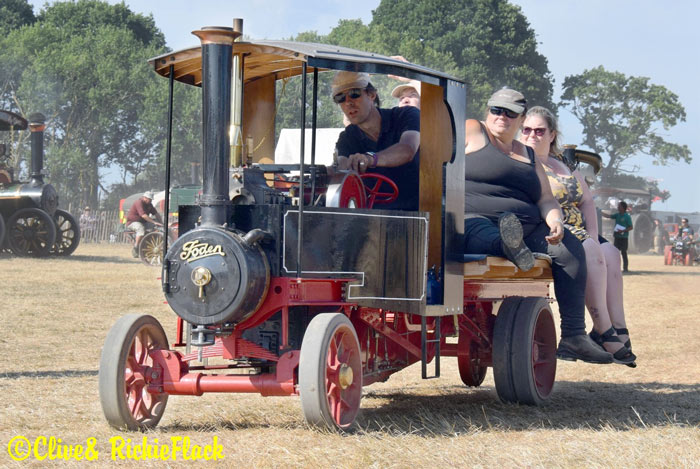 It's not every day our beloved pets get a mention, but 26th August 2022 is International Dog Day. We felt it was a good time to show appreciation for the dogs that keep us entertained as we go about our work
Extra personalities hanging about during work can be a great morale booster and dogs are known to alleviate stress and anxiety in the workplace. There are some well-known characters amongst this lot, as many of them used to come into the office. Even now that our default is remote-working, many of the dogs like to make themselves known throughout the day on our video calls and have been featured in many a company chat!
So here's a little peek into the lives of the canine companions who look after some of our team behind the scenes.
---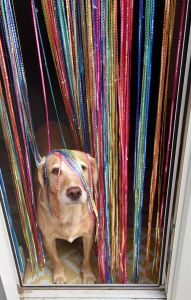 Amber is Cameron's personal supervisor; she comes into the office at 8.30am and remains on duty until 5pm when she clocks off for her dinner. She can be regularly heard during calls, with her opinions and suggestions. 
Despite being very dedicated to her hours, she does actually tend to sleep on the job quite a bit, although she's always super quick to greet anyone at the door.
---
Juggles is called juggles as he has three spots on his head and when he was a puppy Jonny used to say they are his juggling balls. He was born at a puppy farm and Jonny found him at a rescue centre at 10 weeks old.
The Infotex team has a sweet spot for Juggles because he came into the office pretty much every day for over 5 years. He proves wrong the stereotype that whippets are lazy – he loves his walks! He is scared of most things though… especially zip wires for some reason. He spends most of his life under a blanket and whinges if he doesn't have one.
---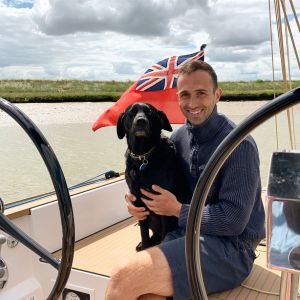 Jessy is a rescue dog and a cross between a black lab and a springer spaniel (loyal… but crazy!). She spends most of her time lying on the sofa, in the sun, or on a boat. She enjoys long walks, sneaking off to go hunting, or going on a sailing adventure with James.
She is a very picky eater… her favourite food is kettle chips sweet chilli & sour cream.
---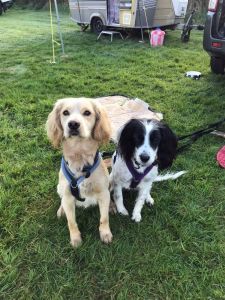 Moz's black and white Springer Spaniel, Jazz, (affectionately known as "Woofit") and Cocker Spaniel, Buzz, (affectionately known as "Dufus") are a sight for sore eyes, but don't be fooled… they're a troublesome two.
1-yr-old Buzz is still in puppy-world with whirlwinds of energy and only 2 speeds: sleep and turbo. Jazz is an 11-yr-old rescue but she thinks she's a puppy; she can sleep anywhere including at the feet of the friendly librarian at the library. She's faithfully by Moz's side during work, but her mad barking and star-jumping has been heard in the background of a few online meetings!
Of course being a techie Moz has attached a Bluetooth activity tracker to Jazz so that he and his wife can monitor her every move from their phones (think a Fitbit for dogs). They are also on a waiting list for the GPS enabled version for Buzz so that they can work out where the little tyke has run off to next.
---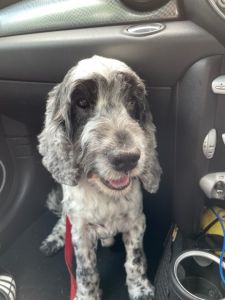 Murphy is Jono's 10 year-old cocker spaniel.  Joining in with video calls has become a favourite day-time activity of his, as well as eating any food that he can steal. He has a particular love of getting hold of any type of fruit…
---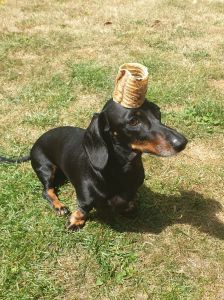 Pickle is Matthew's small but mighty friend. She overcame a dramatic and difficult time last year when her health suffered and she had to have an IVDD. Completely out of the blue, her back legs became very wobbly which resulted in a week of surgery. Following that she had next to no use of her back legs, but gradually, after 5 months of physio and slowly increasing her walks, she was back doing what she does best and even went on a camping trip last September. Since then she's continued going from strength to strength and is currently on her second of two camping trips already this summer!
---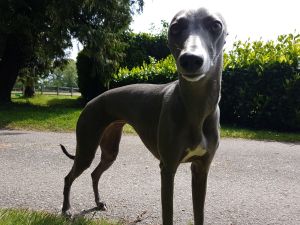 Ellie used to come into the office a lot, but now can be found wherever she thinks is warmest – usually under a blanket or in the sun. While she is in her element running about on land, she hates water and has sometimes been dragged onto a boat on the River Alde with Ant, much to her dismay.
---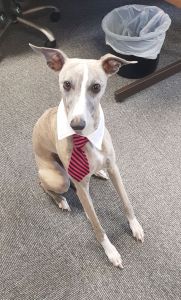 Willow is another whippet who made herself well known in the office. She would often be found sitting on Cameron or Matt's lap having a cuddle (and secretly being given food!). Willow kept Katie company when we moved to working from home but sadly she passed away in February this year. Katie says the house really isn't the same without a dog and so has got a new family member moving in soon – a Doberman puppy called Raven.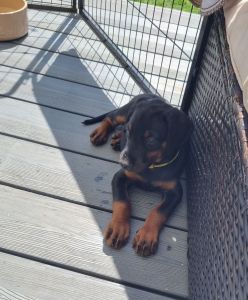 ---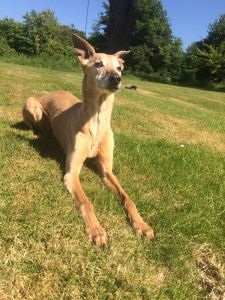 Lucy was the first dog to consistently make herself comfortable in the office back in the 2000s. Making sure Ant got his health kick with a midday walk, we remember her for her lunch-time stretching. She is no longer with us, but she set the trend for more team whippets to arrive in the following years, as you've seen!
Who said dogs are man's best friend? It was no word of a lie! There are over ten million dog pets in the UK today.
Dogs aren't for everyone, of course, but we are certainly grateful for ours.
We are delighted to announce Infotex have been accepted into the Crown Commercial Digital Outcomes 6 framework, which will be live later this year.
Crown Commercial Service supports the public sector to achieve maximum commercial value when procuring goods and services.
Acceptance onto the framework allows local government and healthcare organisations access to services provided by Infotex. Our ambition is to work more closely with a wider range of organisations in order to design, build, improve and support the back-end systems that sit within healthcare and government to produce better outcomes for all.
Frameworks are agreements between the government and suppliers to supply certain types of services under specific terms. Infotex Ltd have been accepted to provide:
Performance analysis and data

Service delivery

Software development

Support and operations

Testing and auditing

User experience and design
As a digital outcomes supplier, we must:
Jonathan Smith, Director of Infotex Healthcare Systems commented "We are delighted to be accepted onto the framework. It gives us greater opportunity to support the NHS and wider services using our experience in the development of the systems we are already delivering into the care sector".
"This additional platform reflects the hard work and dedication of our team to really deliver systems in the right way, to the right audience. We can continue to support healthcare teams and patients on the path to better digital assessment and care which is so important."
Most recently, the team launched a digital self referral platform that allows the smooth and carefully managed assessment of podiatry patients which decreased our client's 800+ patient backlog to manageable levels within just a few weeks.
Take a look at a review by Dr Hinkes of this system.
In 2019/20, CCS helped the public sector to achieve commercial benefits worth over £1bn – supporting world-class public services that offer best value for taxpayers.
For further information about Infotex's health systems get in touch.
A new feature-length documentary "Explorer" hits cinema screens this month, looking at the life of adventurer Sir Ranulph Fiennes. Kicked out of the SAS, he has since been crowned as the "World's Greatest Living Explorer" and dubbed "gloriously and refreshingly mad" by Prince Charles.
Infotex have been involved with Fiennes' projects for over a decade. We created the Transglobe Expedition website, which hosts an archive of material relating to his journey to circumnavigate the globe. Rather than the more traditional east–west route around the equator, Fiennes' team travelled north-south via the Sahara Desert, the Northwest Passage and snowmobiling across both poles – including a break to play cricket at the South Pole.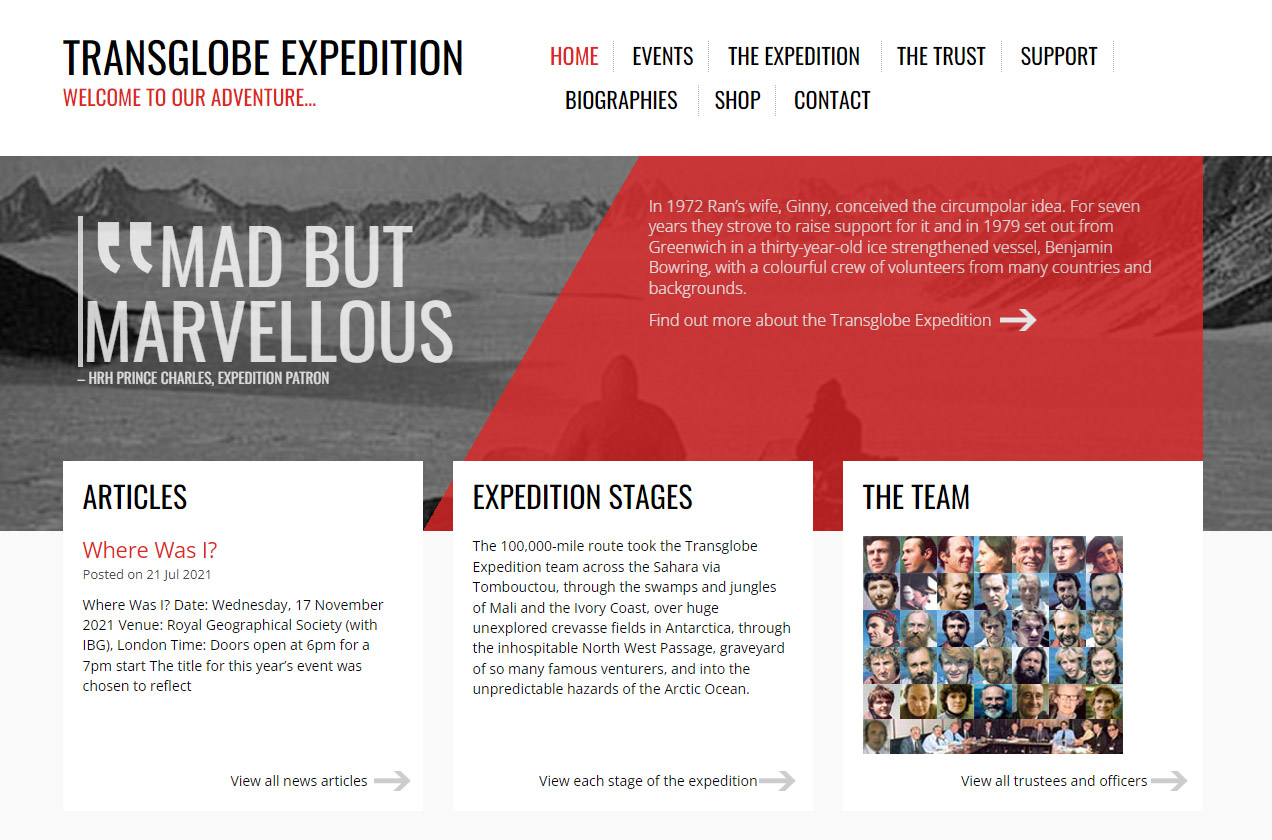 In 2013 we were invited to create a site for The Coldest Journey. This expedition had the aim of being the first team to ever cross the Antarctic during a polar winter, where temperatures can go as low as -70C. Unfortunately, Fiennes had to pull out early in the project after suffering frostbite, but the team went on to raise over $10 million for Seeing is Believing, a global initiative to tackle avoidable blindness. The website had clear donate buttons, a live tracker to follow the team's progress across the ice and a login area for schools to access educational material.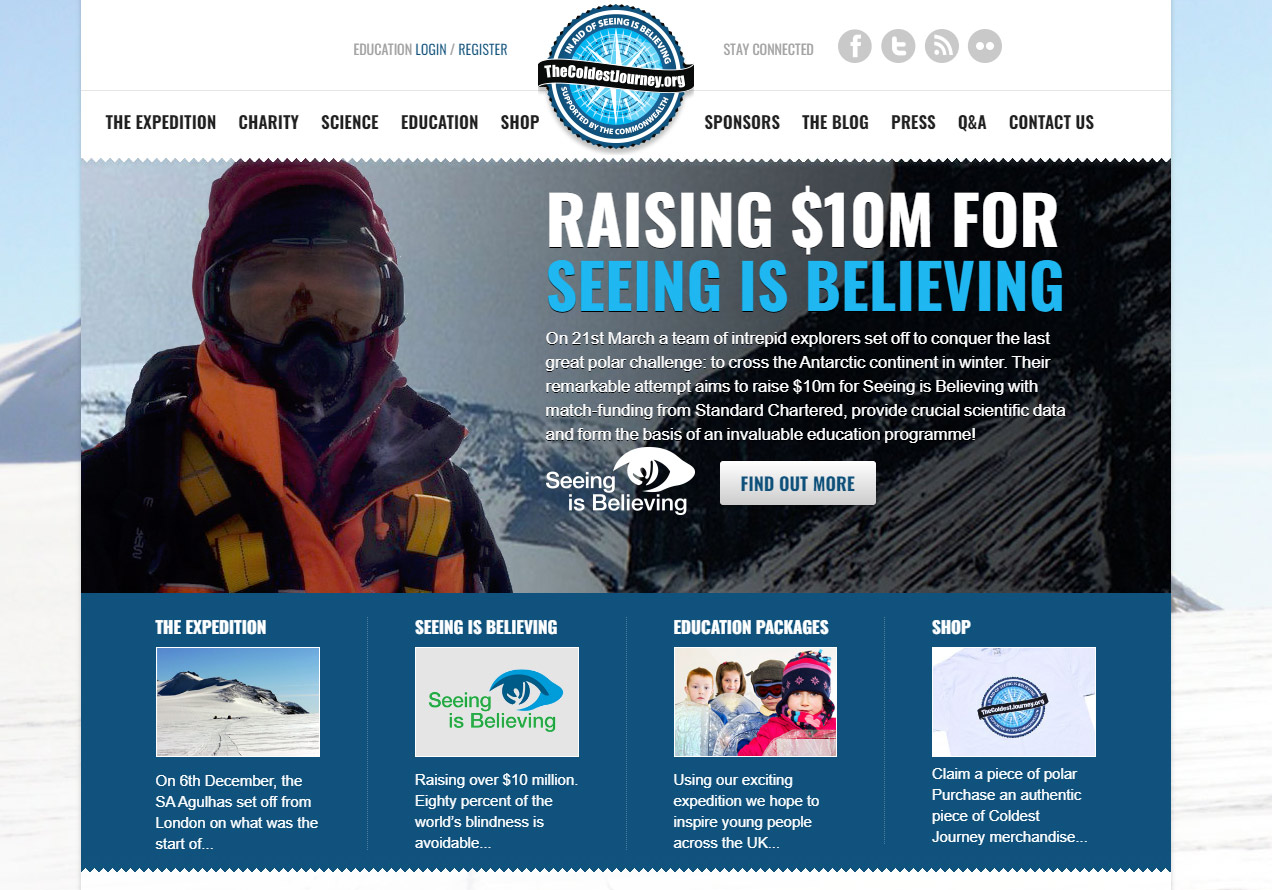 It's well known that Fiennes has a rule to never pay anybody for anything at any time in relation to his adventures, and, yes, this does extend to the websites we've produced. Still, we're proud to have supported his projects over the years, and look forward to seeing Explorer soon.
Watch the trailer below.
In March I reported on our office closure.  Last week we held the first of our quarterly "All Company Gatherings" since then.  The format of these gatherings is an evolution of how we used to gather together in previous years – in an age before words like "covid" and "pandemic" were in our vocabulary.  We have enjoyed on many occasions the opportunity to spend extra time together, and do something unusual, not specifically about our work, but often related to it in some way.  Events have usually been based in Suffolk, which is where the company is rooted, and included sailing trips, barbeques in remote fields, country house sleepovers, and visits to arts and crafts centres.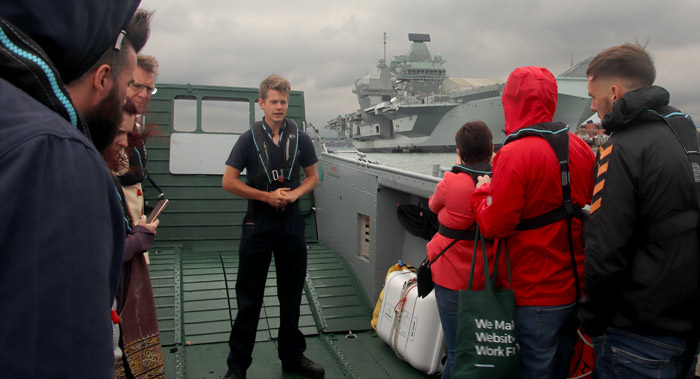 This time, released from our "Suffolk HQ" constraints, we branched out and chose Portsmouth as the location. The rationale behind this decision was characteristically eclectic.  In January we had set the dates for 4 gatherings across the whole year, and asked everyone to keep their diaries free.  Around that time, I also happened to enter my newly acquired sailboat in the Round-the-Island race, which is a 1200-yacht yacht race around the Isle of Wight.  This was on 25 June, the day after our Summer Gathering.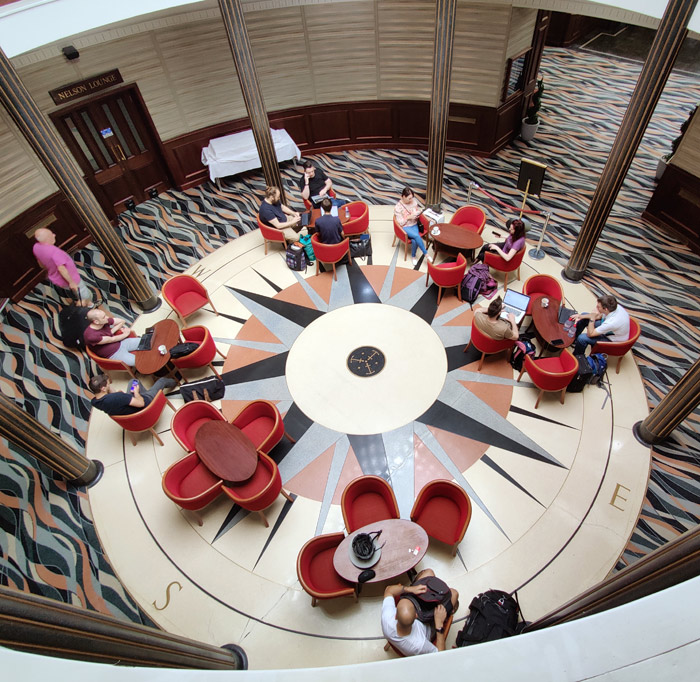 Realising I had a formidable logistical challenge looming – to spend 2 days with the company and then get onto the water and across to the island on the Friday evening – I just needed to persuade our head of production Katie, who has assumed the role of "chief gathering organiser", that we could go to Portsmouth.  Leveraging some of the tactical persuasive skills learned from my children, I was able to make the argument that it was high time we headed further afield, several of our staff live and work in Surrey, Sussex, Kent and London, so how nice it would be for them to have the Suffolk mob make the effort this time.  She was quickly persuaded and seized the opportunity to create a fantastic company event. 
In our maritime hotel next to the historic Portsmouth Historic Dockyard, we all soon grasped what a fascinating and fun place Portsmouth is – steeped in maritime history, packed with things to do and interesting mixture of serious stuff going on – university, MOD, shipping, business – blended with a holiday atmosphere, the bars and restaurants of course all brimming with potential.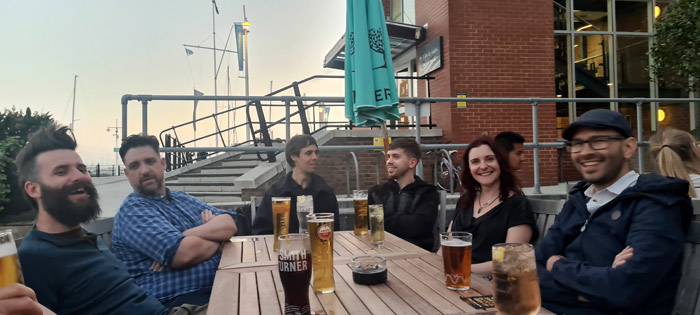 During our visits, we were able to carry on working operationally, and also spend a useful afternoon discussing the world we are in, our place in it and our own strategy for the business. Reflecting on these, we set ourselves the challenge "how  can we improve Infotex in a time of climate emergency and facing economic uncertainty".  We have committed the business to work on projects that aim to do more with less, so that we can help our clients to beat inflationary pressures, and we can operate using fewer resources. Over the summer, our ideas will be developed into projects, and when we next gather in October, we aim to pick up the best projects and move these forward.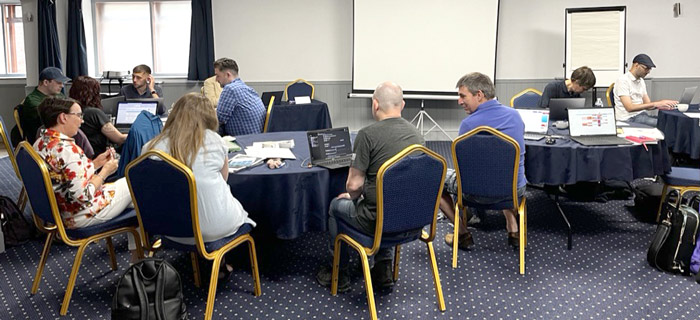 Outside of work, we had a vibrant and competitive escape room session, which taught us all more about ourselves, followed by a visit to Boathouse 4 in the Royal Naval Dockyard, and a tour of Portsmouth harbour in their restored landing craft, which everybody who likes boats and naval history (like me) loved, but that might not have been everybody!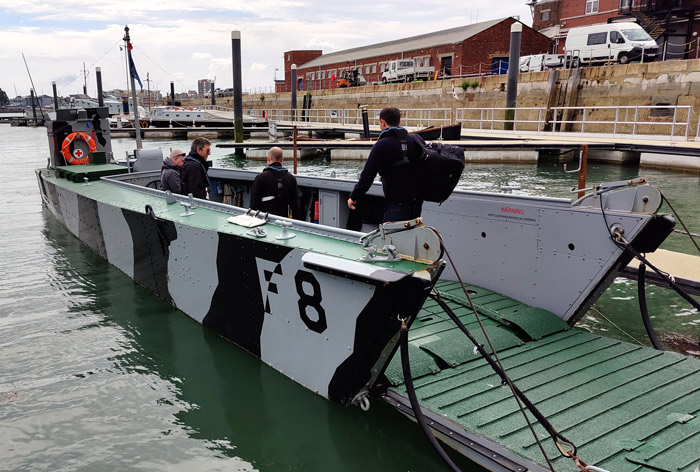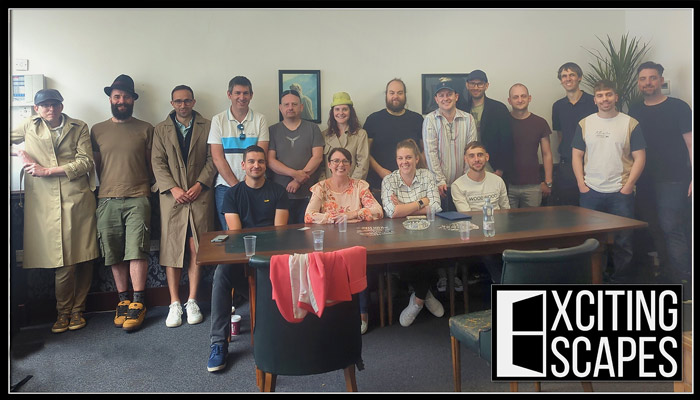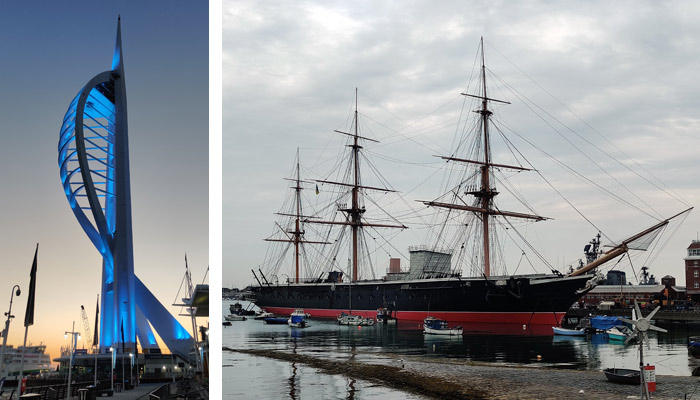 Imagine the excitement of going travelling, visiting those far-off places that you've always dreamed of.
Perhaps you're finishing university and intending to take a gap year (or two) to travel the world. Maybe you're taking your family on their first holiday abroad or simply heading off with friends for a well-earned holiday. Whatever the reason, the challenge of storing your travel documents securely, whilst ensuring you have access to everything you need in an emergency is vital. That's where Mayday comes in.
Mayday is a web portal that can be accessed via a physical QR-coded tag, which can be worn as a bracelet, necklace, or simply as a keychain on a bag. Mayday offers vital support in a range of situations, including:
Emergency – In an emergency (e.g. you fall seriously ill) the QR code can be scanned by a 3rd party which will bring up critical data to assist you such as medical information, allergies and emergency contact details. There is also a local language 'help message', should the 3rd party not speak English.
Document storage – store all of your travel documents, itinerary and other important files. Access them from anywhere in the world at any time, perfect to avoid lots of printouts or needing access to a printer, and as a back-up in case your phone gets stolen.
Family & Friends – share your QR code and a PIN with friends and family so that they can access your itinerary and other documents as needed. No more panicky phone calls from worried parents!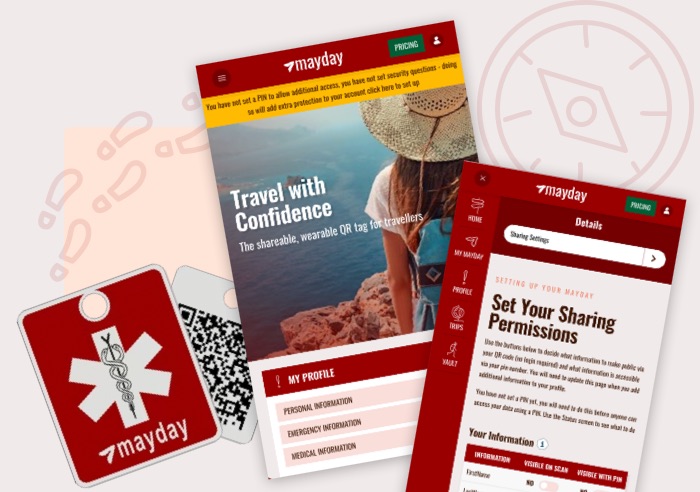 User experience and security were at the forefront of this project. With highly sensitive and personal information, we needed to be sure that everything was stored securely. Therefore we have added varying permission levels which are controlled by the account holder so that only the correct information is displayed upon scanning the QR code.
Our design team worked closely with our technical team to ensure that we developed an intuitive on-boarding process with clear signposting throughout.
"The Mayday team were a delight to work with. They 'got' the brief right away, hit the brand position first time, and delivered on time and on budget."
James Dunford Wood, CEO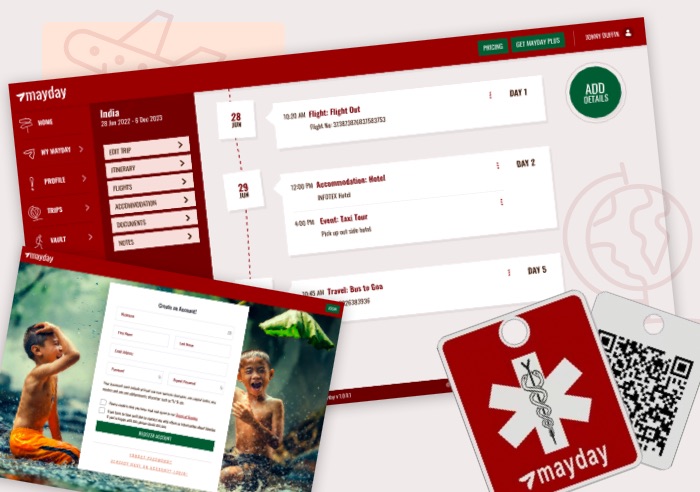 Mayday provides reassurance to both the traveler and their friends and family and we're excited to continue to support Mayday as the platform grows.
Head over to mayday.travel to take a look and sign up for yourself.
This limited-edition article is available for a short time only… read it now before it's too late!
Just kidding. But you get the idea…We only need to look at the speed at which loo roll stocks flew off the shelves at the start of the pandemic, or the difficulty of getting hold of lateral flow tests after the announcement of Omicron, or the hype around queuing for ticketed events (Glastonbury comes to mind, and Adele's recent tour) to conclude that people respond quickly to news that a product is only available for a short period of time.

With everything and anything becoming available to buy online, stock "drops" – the marketing phenomena by which limited-availability products or services are released without much warning – are increasingly being employed by sellers to create new hype, energy and brand loyalties in the market.
Limited stock drops might not be the right strategy for your business, but nonetheless you can learn from the marketing tactics that fuel the phenomenon.
What are limited product "drops" and why are they so successful?
The rise of product "drops" is associated with the rise of "sneaker culture" in the 70's and 80's. With cheap, widespread mass-production, street-wear brands found a way to paint their products as rare or luxurious, creating hype and brand loyalty.
But stock drops have come a long way since the rise of e-commerce, and now the powerful business tool has fully entered the mainstream.
Marketing ploys inspired by stock drops take many forms, from limited editions to spontaneous releases. They tap into the same strategy that drives the success of price reduction sales, creating one-off items that ask the customer to make a sudden decision in the face of extreme buying pressure. The urgency and immediacy of stock drops feed into the customer's Fear Of Missing Out (fomo) and drives decision-making buying actions. They are accompanied by a sense of community – the proximity of waiting in line for a specified product creates both customer-to-brand and customer-to-customer intimacies and engagement.
Not only does dropping stock for a limited time only create a new illusion of a product being special and one-chance-to-buy, but it can actually help a manufacturer save money on overheads, because they don't have to make more than will be sold.

Who is acing the limited drop strategy?
The most notable examples are the brands that brought the marketing phenomenon to the attention of the retail industry – the big street-wear names. Street-wear giants Supreme are most notable for being the first brand to make a big name for itself through limited production runs, which they continue to succeed with today, releasing a new product drop on a weekly basis. Other brands such as Nike and Adidas have followed suit by structuring their supply chains around creating buzz and excitement around the next limited-availability product, supported by apps such as Nike's SNKRS and Adidas' Confirmed.
Now all types of brands, from luxury fashion to fast-food restaurants and hotel-booking sites are using the marketing tool to bring in revenue. Even Amazon employs the tactic sometimes by giving Prime members a certain window of time to watch a series' episode in advance, before the whole show airs.
The internet and the rise of the drop
For releases that create even a small amount of buzz, the internet can take it to the next level. Social media, news platforms, and online communities further expand the brand's marketing. As you would expect, social media contributes to circulation of information around a product drop as users spread excitement about what's coming up next, allowing micro-communities to flourish and hype to grow. Furthermore, apps such as Shopify's Frenzy and websites like thedropdate.com keep consumers up-to-date on the latest releases from brands.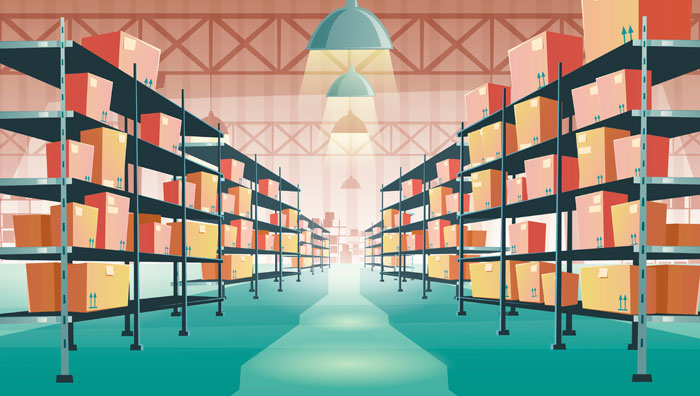 What you need to know about limited drops for your e-commerce website
By advertising products as, for example, limited-availability! or almost out of stock! your e-commerce website needs to be fast enough to offer a super quick, convenient check out procedure with a secure payment gateway.
The long queues that are characteristic of stock dropping to a brick-and-mortar store can be created online, too. Brits are used to this, supposedly; it's in our culture to queue for high-demand products (in fact a 2017 study showed that Brit spends 52 days of their life in a queue). So, if you're predicting high traffic for your website, it's essential you are prepared to deal with website queues.
Real-time tracking notifications
Even if you don't want to change your manufacturing plans to ride the dropping trend in a big way, you can increase the must-have appeal of what you're selling through smaller tactics, even just in the language you use on your website.
For example, many e-commerce websites have real-time notifications that inform consumers of live updates into other buyers' behaviours. For example, notifications might appear on the screen saying: x number of people bought this item in the last hour, or John just signed up for our newsletter, you can too…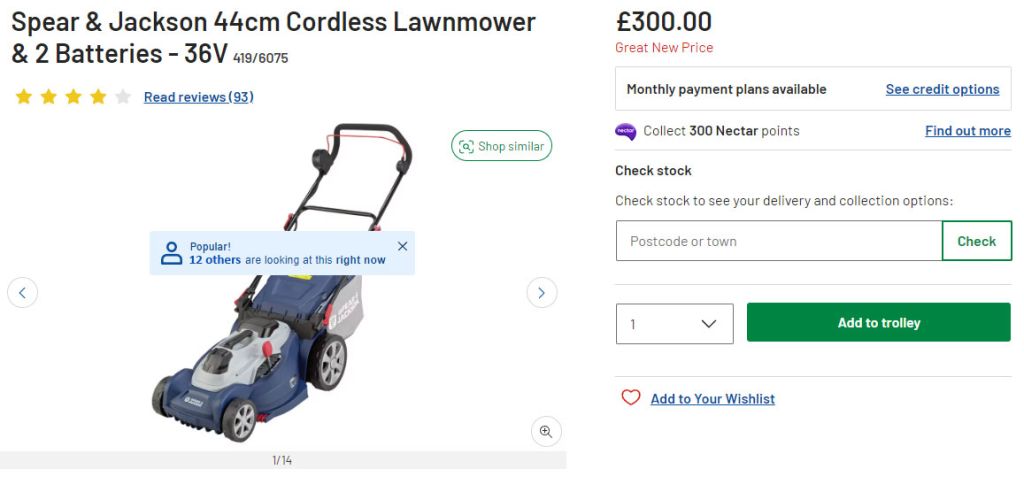 But drop the idea if it's not for you
Whether or not to employ limited drop marketing tactics is highly dependent on your target audience and service. You should only target your audience with a limited drop if it will make them feel understood, and closer to your brand. Sometimes, a thoughtful, personal slowed-down shopping experience is still preferred over novelty items, so think about who you're targeting so that your customer feels understood. The last thing you need is for your audience to feel that your brand is disingenuous or trying to create a product into a high-demand item when it is not.
Nevertheless, it is worth asking how to douse your brand in a certain must-have appeal, even if that appeal is about the experience you offer.
Every project starts with a chat
Discover how our team can help you on your journey.
Talk to us today