If you're thinking about how to help your law firm engage with the right people online, there are many adjustments you can make to your website. 
A good way to start thinking about how to improve your website is to look at the competition. Using examples from current leading family law websites, here are our top tips for how to get your website working well for you.  
1. Organic keywords
Endavour Law Solicitors, who specialise in divorce, drive a large amount of traffic to their site through organic keywords. They rank well for 'cheap divorce', which would likely bring them a lot of visitors. 
Organic keywords are words and phrases that freely attract visitors to your site through search engine optimisation (SEO).  By incorporating relevant organic keywords into the page titles, headings, meta titles and descriptions, and the body text of your general site, you help search engines like Google understand what your website and page is about, making it more likely to rank the pages higher up the search engine results pages (SERPs). Therefore, when someone searches something relevant to your services, they will be more likely to find your site.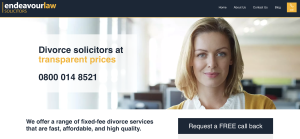 Rayden Solicitors, who advise on all aspects of family law, get a significant number of organic traffic through the keyword 'grandparents rights uk'.
Other widely successful organic search phrases for family law websites are those that include 'near me'. For example, Sills & Betteridge Solicitors see a large amount of traffic from the search 'solicitors near me'. Major Family Law Solicitors, too, saw a large amount of traffic from the search 'Divorce lawyers near me'. For this reason, it's important to always keep your firm's location and address updated on search engines, such as by adding your business to Google Maps. 
2. Pay Per Click (PPC) keywords. 
Often websites will drive a lot of their traffic via targeting specific keywords. 
While organic keywords serve to optimise your website's search engine rankings through making it more relevant to users, PPC keywords are different because they require bids in auctions in order to acquire, with popular keywords being more expensive and with a higher CPC (cost-per-click). The advertising law firm will pay a fee whenever someone clicks on an ad that takes them to the website.
This includes Google Ads, which is Google's pay-per-click solution. Paid search positions through Google Ads help a great deal for certain websites to become visible on the Google results page. 
For family law websites, the most popular and expensive keywords include: 'divorce', 'family law solicitors', 'divorce solicitors', 'family lawyer', etc. 
Stowe Family Law  ranks number one in Google ads PPC for 'family law', and second in the Search Engine Results Pages (SERPs). Example key terms for Stowe Family Law include: 'what is cohabiting', 'stonewalling', and 'divorce solicitors'.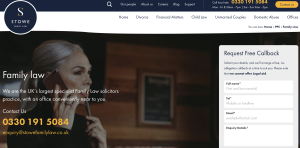 The Endeavour Law Solicitors website ranks as the second Google Ad in the SERP for a 'family law' search. Their top paid keywords are 'divorce', 'no win no fee', and 'solicitors near me'.
3. Fresh content 
If the website is active and regularly updated with fresh and new content, then Google will notice this and favour it over those that aren't. FAQs and information blogs are examples of effective ways to keep your content relevant and fresh.   
Stephens Scown, who we work with, get traffic to their website through regularly updating the Info Hub on their website with engaging content.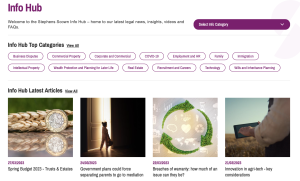 It sounds obvious, but content quality has a major influence on the Google ranking, along with whether the content is relevant or related. 
4. Backlinks and referrals 
Backlinks and referrals demonstrate to search engines like Google that your website has authority, especially if other high-authority domains are linking to it.  It's an important SEO feature for any website that wants to rank well.
5. Domain authority
Domain authority  is a search engine ranking score developed by Moz.com that describes a website's relevance for a specific subject area or industry. This relevance has a direct impact on its ranking by search engines.
6.  User-experience
An example of good user journey is The Family Law Company, another company with whom we're proud to work.
It is one thing to get users to your website, but you also have to keep them there! Positive user-experience on websites is very important. This includes the website being simple to navigate and browse, which leads to positive reviews and more likely to attract visitors. 
This helps user click-through-rate, another very important factor when it comes to SEO ranking as it gives a good indication of the quality of the website, as do other indicators such as bounce rate (the number of visitors that leave after viewing one page).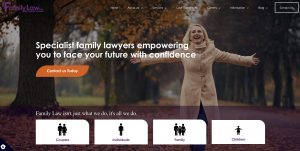 As the majority of website users are now mobile users, it is imperative that a website is also mobile user friendly, meaning that it is easy to navigate via mobile. 
7. Sitemap 
A sitemap helps search engines discover URLs on your site. However, it doesn't guarantee that all the items in your sitemap will be crawled and indexed. Nonetheless, in most cases, your site will benefit from having a sitemap.
---
If you have questions on how to optimise your law website, don't hesitate to get in touch with our team.