Choosing a platform for your ecommerce website is never easy. Finding the right combination of price, functionality, ease of development, performance and security to meet your unique set of needs can be a real balancing act – especially in a rapidly evolving market, writes Managing Director Ant Agar. 
For more than 20 years, Infotex has been on a journey of discovery: we've seen technology change, watched a multitude of platforms come and go and, of course, we've built our own as well. It's safe to say that, over the years, we've learned a lot. 
In the early noughties, we dabbled with a handful of open-source shopping systems but ultimately found them restrictive, both technically and creatively. We much preferred bespoke development, because it enabled us to guarantee our clients that their ecommerce system would work and would do the things they specifically needed of it. 
That commitment to our customers, and desire to work collaboratively to build products that directly answer a need, led to the development of our flagship products: "MozCart," "SpaceCart," and "FlexiStore," as well as, over time, more than 100 more.  They were a huge success for high profile customers including Micro Scooters, Adnams and Nomad Travel. And many of the products are still live today. 
But the age of bespoke, like the age of steam, had to end. Budgets were squeezed and clients increasingly expected generic features and third-party integrations via plugins. 
Responding to the changes, we developed ecommerce libraries on Symfony and explored Drupal commerce. We also noticed that clients were starting to request Magento sites but, although we looked into the software and supported some clients with their Magento systems, it just was not the right fit for our clients at the time. The majority of whom are small businesses with under £10million of annual sales online.
But Magento remained a name on many people's lips. In 2017, I attended the Magento conference determined to figure it out, once and for all. And I'm glad I did. I came away with a much clearer understanding of the platform itself, the ecosystem around it, the investment it requires and the businesses it suits. 
So, is Magento a good choice for your business? Here are my key takeaways:
Budget
If the maximum budget for your new website is less than £80,000, you should consider carefully whether you will be able to achieve a good implementation. 
Of course, there will always be plenty of providers out there who will say they can do it for less, but this isn't the place to skimp. 
We often hear of clients who are struggling to get the Magento platform working well for them, because they've under-invested in the build and underestimated its complexity to manage.
Hosting
This is another core area in which we often see businesses underestimate. Magento's complexity can be its strength, but it does mean that powerful hosting is a must. 
In our experience, businesses need a budget of several hundred pounds per month for the level of hosting required. If that doesn't sound feasible, it might be wise to consider an alternative platform. There's absolutely nothing worse than a slow site.
Sales 
Do you have thousands of products to sell, hundreds, or just a handful? 
The volume of product you're shifting is going to dictate whether or not the Magento system will be a worthwhile investment. 
Ongoing Investment 
Magento isn't a system that you can leave to run itself. Its complexity means that it does demand ongoing investment in both time and budget. 
From my understanding, the associated monthly running costs are in the thousands, not the hundreds; and the time and effort involved can be a challenge. 
You will need to keep investing if you're going to continue to deliver reliable performance and the expected user experience. 
The table below is intended to help you think about which platform might suit you best.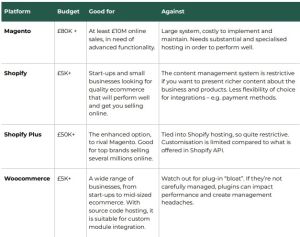 The decision to implement a product like Magento will bring cost and complexity, so it's important to consider whether your business is the right size and shape.   Our experience has been, for nearly all of our clients, that the less complex platforms can deliver all they need to grow their brands and online sales. In short, the time for Magento is when you are no longer worried about the website cost, as your business is large enough to have plenty of other things to worry about!
If you need support or guidance on what ecommerce website is right for you, we can help. Get in touch today, and we can help make a website that works for you.