Providing your potential website customers with an easy to use, stress-free, but informative checkout can improve your conversion rate and reduce time spent responding to customer's questions.
The checkout is one of the most important sections of the website. It's an essential part of a customer's journey, and their decision to proceed with or abandon a purchase can be heavily influenced in just a few clicks.
I've looked at a few options to consider implementing to improve your checkout.
Stand & Deliver
Customers are no longer just looking for free delivery, though this can be a key driver in sales. Many are now actively looking for sites which use couriers they are satisfied with. There is always a balance between delivery cost and service, but we've seen sites that offer the consumer the choice of courier so they can pick the one that operates best in their area. Not only that, there are benefits of allowing the customer to pick the day the item is delivered on – at a fee of course.
By offering this choice a huge amount of trust can be gained, though it can cause logistical challenges. Your site management has to be on-point as well, to avoid publishing bank holidays as available dates etc.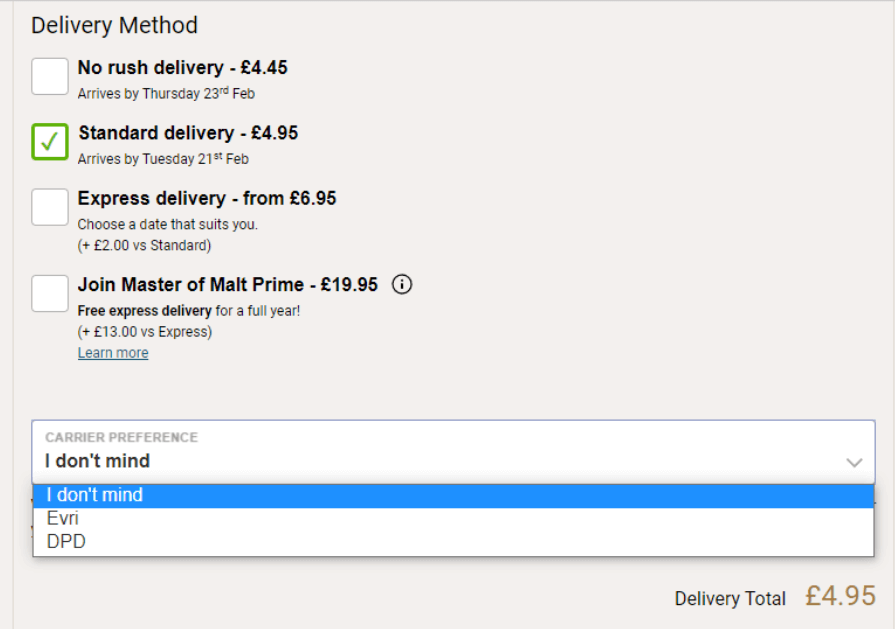 One of the best examples of delivery choice I've seen is from Master of Malt. The multiple delivery options are all clearly labelled and priced. They even allow the customer to select their carrier. 
With any delivery section two things are key to clearly publish:
when will I get my item

how much is it going to cost
'Hidden' fees during a checkout can cause a high rate of abandonment. It's not just the checkout's job to communicate these items either – having them stated clearly on the product page and influence visitors to start the checkout process. Many sites now show a countdown timer to when you have to order by in order to receive delivery for a certain date. While some may see this as gimmicky and applying artificial pressure on consumers, it's also providing valuable information on the product page. 
Boots.com shows a countdown timer on their product page showing how you can get next day delivery.
Provide Multiple Payment Options
The days of customers only having a credit or debit card are long gone. Customers have different preferences, and providing a choice of payment options allows them to pick their preferred method. So called 'accelerated' payment methods like Apple Pay or Google Pay are incredibly popular as they allow a near 1-click checkout experience. 
If you have regular repeat customers then providing a way for them to save their payment details for future use can be of benefit. Or even investigate automated repeat ordering – i.e. subscriptions – as a way for regular revenue. 

ASOS.com provides a range of popular payment methods
Buy Now / Pay Later (BNPL) can also be worth the investment, especially for higher ticket items. Adobe Analytics found that 12 per cent of online purchases made in the UK in January 2023 were made with BNPL. Klarna, ClearPay and PayPal offer methods for customers who wish to spread their payments, and Apple's Pay Later will be hitting the internet "soon" according to CEO Tim Cook [as of Feb 2023]. However, legislation is currently being drafted in the UK which will likely alter what  lenders can offer.
Simplify
During the checkout you might want to find out as much about your customers as possible, but the more you ask the more likely the abandonment rate will increase. For example, asking a customer where they heard about you isn't a good idea during the checkout as a user has to stop and think. (Asking for this in a post order feedback survey or ad-hoc questionnaires would be better). Any information that can not be reasonably associated with the essential info for purchasing is best left off.
Take It Into Account
A big turn-off for consumers is being forced to make an account before they can checkout. Ideally integrate the account registration process into the checkout – many will ask if a user wants to create an account after they have placed an order. 
Not Everyone Will Checkout 
Not everyone who starts the checkout process will finish the checkout process. Even the most successful sites will have abandoned baskets, sitting in a virtual pile gathering digital dust. 
There are a few things you can do to try and tempt them back – if they were logged in or had provided an email address you could send a follow up email a few hours after their basket becomes inactive asking them back to the site. 
You could also set up remarketing ads, which will show the visitor what product(s) they were going to purchase on ads as they navigate through the internet. This can help to keep your brand front and centre of the consumers mind while they make the decision to buy or not.