Better digital paths lead to a romantic surge in 2022!
It has been a year since we launched the website for local wedding venue Houchins. And what a year it has been!
The UK Weddings Task Force has estimated there will be a staggering 350,000 weddings in 2022. That's almost 960 weddings per day in the UK! There is an estimated £14.7bn direct spend on weddings every year and more often than not, a huge chunk of the wedding budget will be spent on the venue and services tied to that.
Houchins, an Essex based wedding venue is an elegant wedding venue with stylish grade 2* listed farmhouse accommodation. Located in north Essex it has a rich history dating back to the 17th century. Houchins came to us to redesign and deliver a new website that would provide sustainable income whilst also ensuring their customers got a good feel for their style and excellent service. This was a strategic decision following the creation of the original site we had created several years earlier.

A picture says a thousand words
They host ceremonies and formal receptions for 150 guests and evening parties up to 180, with a range of entertainment areas on site, including the house itself – all of which have been beautifully designed to create a rustic-meets-traditional aesthetic. When approaching wedding couples, it is key to find a balance between delivering the core information (such as costs, terms and conditions etc) while elevating the experience the couple will have on their big day.
A critical part of our brief was to keep the couples and their special day at the heart of the design, using imagery and customer-centric site navigation to make the point.
A total of 320,000 weddings have been postponed since March 2020
Source: www.weddingstaskforce.co.uk
"During COVID, it was sensible to pause marketing activity, instead, time invested in learning more about customers needs and enriching the online experience for them when our venue was able to open again."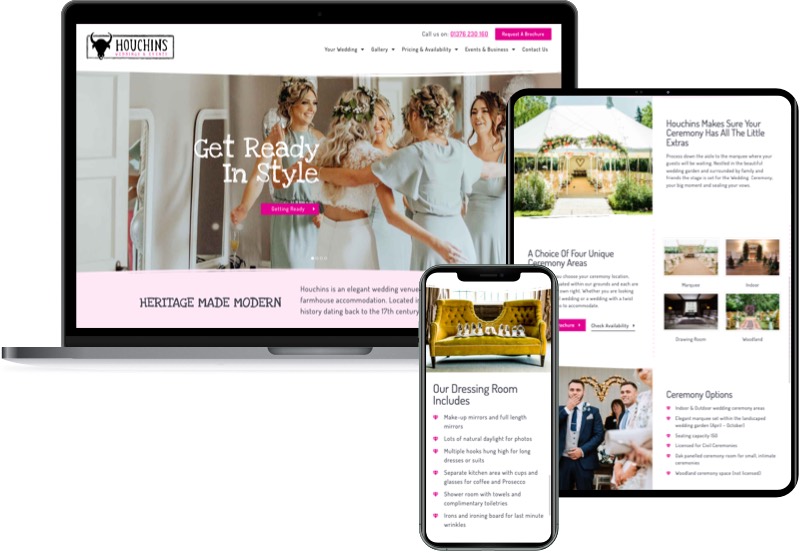 A perfect match
Houchins have demonstrated remarkable resilience over what has been a very difficult 12 months (for all in their industry) but despite this, they have grown from strength to strength. We are delighted to have played a role in their success, and decided to look back on what we have been able to achieve with them.
The original brief
Create an engaging website to capture leads, and the hearts of brides in the UK. We knew from previous experience that much of the search would occur online. As a start, we explored booking data and looked at the associated postcodes to make sensible decisions around design and potential marketing opportunities for the site.
Kris Parker, Project Manager for this re-design says "Our focus when building this new WordPress site was on mobile accessibility to suit the majority of users who use handheld devices, so clear calls to action to relevant pages are provided throughout."
We were lucky to have access to some excellent photography which helped us boost the pathway to enquiry we needed to establish for the Houchins team.
"Infotex has been a key part in developing Houchins into a significant player in the Essex wedding market." Adam Dixon-Smith – Owner
Knowledge sits at the heart of a successful site
Our customer support team were able to identify key general trends in the marketplace and we saw this mirrored in the analysis from the Houchins website. Through this research we saw:
Visits returned to growth from June.
Trends now following 2019 but on a step level higher.
Traffic is up 168% Jun – Nov 2021 vs Jun – Nov 2020 and 33% against the same period of 2019.
Keeping this in mind, we have continued to support the site and we were able to report an increase in user engagement, even before an increase in traffic as the result of improvements to the site.
Key improvements we have seen specifically in:
Lower bounce rate
Longer read time
Better conversion rates
As part of our analysis to demonstrate site effectiveness, we ranked activity (based on pageview) across the site to build a picture for the client of the customer journey and sequence of questions the customer has in their head as they navigate. This allows them and us to better understand the behaviour of their potential customers and through this we can steer more positive and deeper engagement leading to higher conversion rates.
The importance of mobile
Infotex identified a huge uplift in visitors via mobile compared with traffic in 2019. The team at Houchins need to be able to make sure their content is accessible and engaging via the website for mobile visits as 67% of traffic can be attributed to this.
Through our rank analysis we can prioritise improvements to support and propel lead generating visitors.
Looking ahead
We continue to support their marketing with Google Ads, Facebook Ads and other digital marketing activities, but we are more excited to see what 2022 has in store for the amazing team at Houchins and their lovely couples.
Visit: www.houchins.co.uk